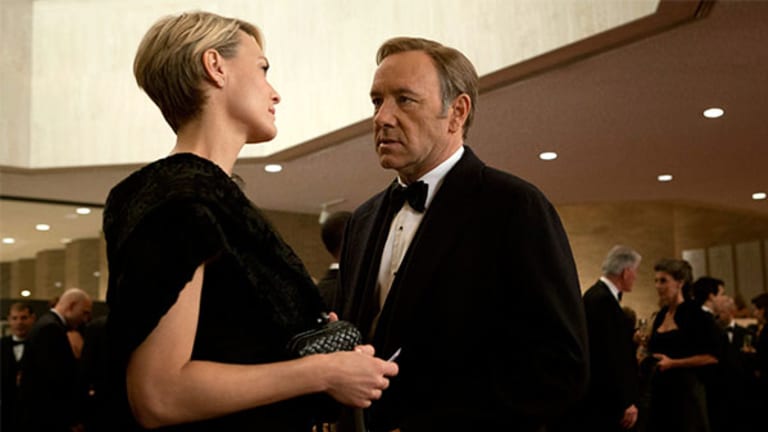 Netflix's Original Content Binge and Hollywood's Fears Could Give Amazon, Others an Opening
The streaming leader is directing more of its spending towards original content, and its size is making the media industry uneasy. Amazon, HBO and Hulu should look to take advantage.
The streaming leader is directing more of its spending towards original content, and its size is making the media industry uneasy. Amazon, HBO and Hulu should look to take advantage.
As Hollywood frets about Netflix's  (NFLX) - Get Report growing size and power, the company is suggesting it will now double down on its original content investments.
That could make for some interesting maneuvering that works to the benefit of rivals such as Amazon (AMZN) - Get Report, Time Warner's (TWX) HBO and Hulu, which is jointly owned by Disney (DIS) - Get Report , Comcast (CMCSA) - Get Report,Twenty-First Century Fox (FOXA) - Get Reportand Time Warner.
The Hollywood Reporter recently ran a lengthy column discussing the unease many in the media industry feel over Netflix's clout, as its content spending -- now above $6 billion per year, or about three times HBO's -- dwarfs that of any peer. It goes as far as to say "some executives, producers and agents who rely on deals with the streaming giant nonetheless increasingly view Netflix as an existential threat."
Studios and cable networks are said to be worried that Netflix's content spending is driving up prices and leaving them unable to compete for shows; the latter also have to be worried that Netflix's popularity -- the company had 79.9 million paid streaming subs worldwide at the end of June -- is contributing to cord-cutting.
And agents are worried the company's insistence on having global rights for its original fare "will do away with the profit participations that on breakout shows... provide steady income in an unsteady industry."
As for content creators and producers, they fear Netflix's huge spending share will hurt their leverage in future negotiations and limit their creative freedom. And some of those who have dealt with Netflix are unhappy about being kept in the dark about how their movies and shows will be marketed, and how they ultimately perform.
Meanwhile, during a Goldman Sachs conference talk held on Tuesday afternoon, Netflix CFO David Wells disclosed original content will account for half of his company's library in a few years. He added Netflix is "one-third to halfway" to its goal, that the company is comfortable with not every show it finances being a smash hit and that both the supply of and demand for quality has grown as production costs have fallen.
"You have supply and demand settling out," he insists.
What will these trendslead to? One possibility is that studios, networks and other content owners will be open to cutting relatively favorable licensing deals with Netflix's rivals, so as to strengthen their hands and (hopefully) guarantee a healthy long-term market for licensed content as Netflix allocates more and more of its budget towards original material.
Time Warner, which in 2014 gave Amazon access to much of HBO's older content through a 3-year deal reportedly worth just $300 million-plus over three years, may have been ahead of the curve here.
As it is, the size of Netflix's movie and TV show library has been shrinking in recent years, even as its subscriber base and content budget have continued soaring. The company has clearly been emphasizing original programming and hit shows/movies over library size.
That gives Amazon, Hulu and the rest more room to bid for licensed content, as well as to convince content owners it's in their interest to cut deals and strengthen their hands relative to Netflix.
In addition, the angst among content creators over Netflix's clout and business tactics provides an opportunity for streaming rivals to pitch them with friendlier deal terms -- for example, guaranteeing a high level of creative freedom, being more flexible on international rights, sharing more data and generally taking a more hands-on approach to managing relationships.
The Hollywood Reporter observes that unlike Netflix, Amazon is willing to let filmmakers it works with show their movies in theaters exclusively for a while before putting them on its streaming service.
None of this should result in high-profile content owners and creators no longer doing business with Netflix. The company's subscriber base and checkbook are just too large for that. But it could lead to a lot of them taking considerations other than a contract's guaranteed payments into account when negotiating.
In the end, it looks as if Hollywood is starting to think strategically about Netflix's long-term impact on the industry, and what role it's playing in shaping it. Having already helped create a Goliath, it now doesn't want to bring about a near-monopoly. If Netflix's competitors are smart, they will find ways to take advantage of this opportunity.
Comcast is a holding in Jim Cramer'sAction Alerts PLUS Charitable Trust Portfolio. Want to be alerted before Cramer buys or sells CMCSA? Learn more now.