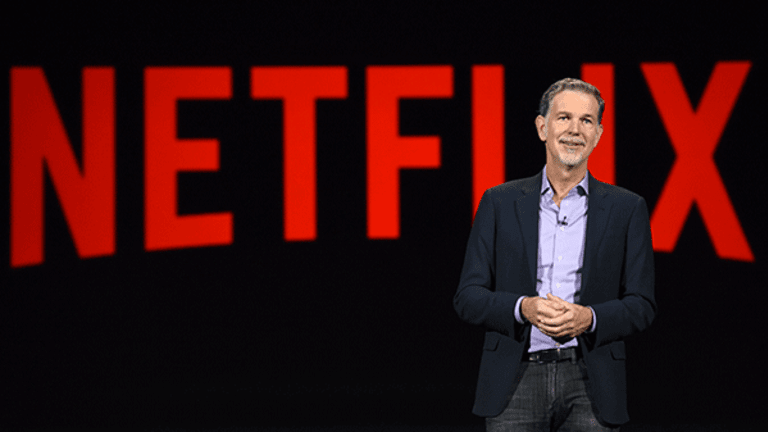 Netflix's International Growth Story Gets a Thumbs Up From Jefferies -- But Can It Beat Amazon?
Netflix's original content has made it a hit in the key foreign markets of India and Germany -- but Amazon Prime still has more subscribers in each country.
Netflix's original content has made it a hit in the key foreign markets of India and Germany -- but Amazon Prime still has more subscribers in each country.
Shares of Netflix (NFLX) - Get Report were trading higher on Wednesday after Jefferies upgraded the streaming company's stock to hold from underweight and gave its price target a boost to $135 from $95.
On Wednesday morning, shares were up 0.7% to $144.19 and are up 16.5% so far this year. 
Jefferies based its upgrade on a survey it conducted on consumers in the key markets of Germany and India that showed international headwinds appear muted, according to a note sent to investors. The firm said it surveyed more than 1,000 German consumers and 600 Indian consumers, with an even distribution across age groups, gender and household income ranges. Amazon Prime Video launched in Germany in 2014 and in India just this past December. 
"The growth opportunity appears larger than we had expected, as original content is performing well, mobile consumption is growing, competition appears limited, and the pricing plan is gaining traction," the note said.
As a result, Jefferies admitted that its previous theory on Netflix's international sub growth being hurt by both too much competition from local players and by Netflix's expensive price point (its service ranges from $7.99 to $11.99) was too negative. The firm raised its international subscribers add estimates for 2017 to 13.5 million from 12.5 million. 
In India, 63% of SVOD (subscription video on demand) respondents said they subscribed to Netflix vs. 45% of the German SVOD respondents. Meanwhile, only 10% of Indian SVOD respondents and 14% of German SVOD respondents subscribed to a local service. The majority of both groups said that the shows they watch the most on Netflix were the high-quality original shows the company has been lauded for, making most customers accepting of moderate price increases.
While both groups said a more than moderate price increase would be the most likely reason that they would cancel their plan, over 65% of both the Indian and German groups said they had no plans to leave Netflix. The subscribers in India appear to be more loyal to the platform, with only 6% saying they wouldn't accept a price increase, vs. 32% of the German participants. Despite these encouraging numbers, Jefferies said the rate of churn in newer international markets is hard to predict and thus remains a risk. 
The original series from Netflix drove stronger-than-expected subscriber growth in the second half of 2016 and upbeat outlook for the 2017 first quarter, the firm said. "Strong original content launches offset the effect of price increases and higher levels of global competition," the firm wrote. While certain of Netflix's key original series have performed well across the globe, such as Narcos, The Crown and Luke Cage, it also has plans to produce local content for both India and Germany. 
Last year, the Los Gatos, Calif.-based company announced that it had ordered its first original series set in India called "Sacred Games," based on the critically acclaimed novel by Vikram Chandra. The series will explore the corruption that goes on in Mumbai through the story of a cop vs. the country's most wanted gangster. The company also ordered its first German TV original series "Dark" last year, which it described as "a family sage with a supernatural twist" that centers on the disappearance of two young children.
Netflix's main competitor in India and Germany is Amazon Prime Video, with 74% of Indian SVOD respondents having a Prime subscription vs. 63% for Netflix, and 67% of German SVOD respondents having a Prime subscription vs. 45% for Netflix. However, 41% of Indian SVOD respondents and 21% of German SVOD respondents had subscriptions to both services. 
Netflix made headlines in late November when it followed in Amazon Prime Video's footsteps by allowing customers to download certain pieces of content to watch offline while on an airplane, subway or other areas that don't have Wi-Fi. This function is gaining more traction in India where 54% of Netflix subscriber respondents saying they use it often, vs. 23% in Germany. 
While Netflix's TV business has been a hit with consumers, its film business has lagged because Netflix can't get movies on its site until seven to 10 months after its theatrical release, Netflix head Ted Sarandos said in December at the UBS Global Media and Communications conference. "No matter what, we end up with about 1/3 of our watching being movies," he said, noting that anyone passionate about a film will have already seen it in theaters.
Now Netflix is trying a different strategy -- releasing its own films that will premiere both at the movie theaters and on its streaming platform on the same day. To help guide the company in this new pursuit, Netflix just hired producer Scott Stuber to head its film division. Stuber was previously the co-president of production at Universal Pictures, helping out with projects such as the Fast and the Furious franchise and 8 Mile, and also founded Bluegrass Films (which is under the Universal umbrella).
The critically acclaimed original hits used to set Netflix apart from competition too, but that could change as competitors start to increase their content spend. In 2017, Netflix is expected to spend $6 billion on content while Amazon Prime Video is expected to spend $4 billion (up from $5 billion and $3 billion, respectively, in 2016). 
"Based on our survey results, it appears that the majority of respondents believe that each platform's content is 'improving' or 'getting much better,'" Jefferies noted about Netflix's Indian and German users. In addition, the overwhelming majority of respondents in both countries said they thought Netflix and Amazon Prime had become more popular in the last year.
Of course, content spend also leads to the firm's other main concern (other than churn) about cash burn, largely due to content spend. Netflix sees cash burn of $2 billion in 2017, which is higher than expectations from Jefferies and Wall Street.  
"Ultimately, as Netflix and Amazon Prime Video build momentum on a global scale we expect that the growing popularity of internet television is a key tailwind for both services," Jefferies claimed. "Investment in high quality programming could be a differentiating factor over local platforms."
Netflix is expected to deliver 2017 first quarter results on April 17, which could be another potential catalyst for the stock, Jefferies noted.