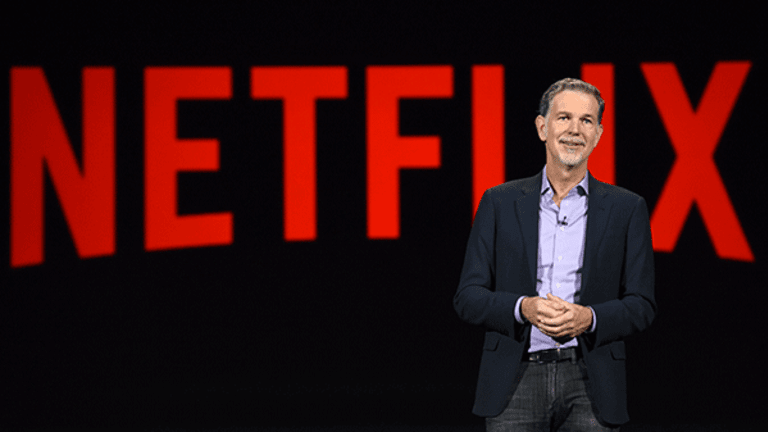 Netflix's Corporate Manifesto Reveals What Sets It Apart (Uber Should Take Note)
The streaming media giant's culture is unlike any other, and it's hard to argue with the results.
Take note, Travis Kalanick; Netflix (NFLX) - Get Report just released an updated corporate culture document that any decent person should be able to subscribe to.
The 10-page manifesto, entitled "Culture at Netflix," outlines Netflix's management philosophy and corporate culture. As the alleged locker room atmosphere at places such as Uber and Fox News have made headlines in recent months, Netflix has quietly created a culture built on respect and collaboration. The document is an update to the company's well-known slide deck about its culture of "freedom and responsibility" that was first published in 2009. 
The company devotes a sizable chunk of its new document to specific company values, which include communication, selflessness, inclusion and integrity. Two of the company's mandates are that "you collaborate effectively with people of diverse backgrounds and cultures" and that "you intervene if someone else is being marginalized," which speak to the company's commitment to a considerate workplace. And Netflix clearly states that it has no room for disrespectful people in its offices, even if they are at the top of their craft.
"On a dream team, there are no 'brilliant jerks,'" the document states. "The cost to teamwork is just too high. Our view is that brilliant people are also capable of decent human interactions, and we insist upon that."
Uber's dysfunctional corporate culture was famously one based on "brilliant jerks." By contrast, Netflix expects its employees to act like adults, and that is reflected in the office culture. Unlike Silicon Valley tech giants like Google (GOOGL) - Get Report , Netflix does not pamper its employees with corporate perks, preferring to take the old-fashioned approach in its offices.
"Our version of the great workplace is not comprised of sushi lunches, great gyms, big offices, or frequent parties," the company writes. "Our version of the great workplace is a dream team in pursuit of ambitious common goals, for which we spend heavily."
Indeed, the wisdom of providing lavish corporate perks has been questioned in recent times. Not only does it cost the company money, it can blur the line between employer and friend in a harmful way. Philosopher Slavoj Žižek has argued that these perks can actually create a buffer between employer and employee, as workers no longer feel empowered to voice dissatisfaction with working conditions because they are ostensibly being spoiled.
Netflix also doesn't make any pretensions to being employees' friends, instead emphasizing a professional atmosphere. "We model ourselves on being a team, not a family," the document says. "A dream team is about pushing yourself to be the best teammate you can be, caring intensely about your teammates, and knowing that you may not be on the team forever."
That may sound harsh on the surface, but given that Netflix expects all of its employees to share ambitious goals, the tough love makes sense. It's certainly difficult to argue with Netflix's results: the company's stock price has ballooned from single to triple digits over the past five years, and the total number of subscribers for the streaming giant just crossed 100 million. 
Netflix shares were down 0.2% on Thursday afternoon to $154.69.