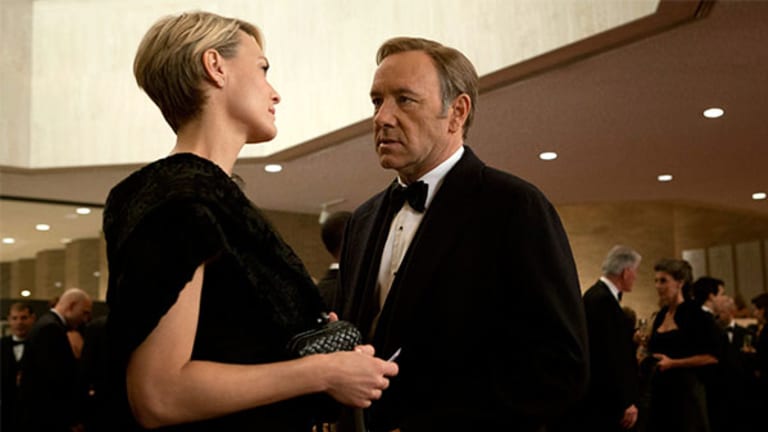 Netflix Rolls Out Teaser for Next Season of 'House of Cards' on Inauguration Day
The streaming media giant made a risky and expensive bet on the original content political drama back in 2013. But it clearly has paid off.
Netflix (NFLX) - Get Netflix, Inc. Report  capitalized on the heightened interest in presidential politics on Friday as it released the first teaser for the fifth season of its hit show "House of Cards," the series that put the streaming media giant on the original content map. 
The video clip features an upside down American flag waving eerily in a dark sky as children sing the Pledge of Allegiance in the background. The teaser also revealed the highly-anticipated release date for the new season: May 30. 
The first two 13-episode seasons of the show came out in February 2013 and February 2014, respectively, and cost Netflix $100 million combined, according to CNBC, a huge sum for a series.
Since then, the company has underwritten the production of a slew of popular original shows likely costing it hundreds of millions of dollars. But its model has proved extremely successful at attracting new subscribers and retaining existing ones. In its most recent quarterly earnings report released this week, the streaming video giant announced it added a whopping seven million customers, 5.1 million of them abroad.  
In total, the company spent $5 billion on content in 2016 and expects to spend $6 billion in 2017. The budget for the new year will allow Netflix to hit up to 1,000 hours in original content, which would be more than double what it was in 2016, chief content officer Ted Sarandos said at the UBS Global Media & Communications Conference in New York in December. 
"I think Netflix is a function of content," TheStreet's Jim Cramer said on Thursday after the company reported strong 2016 fourth quarter figures. 
In the fourth quarter, the company reported earnings per share of $0.15, above expectations of $0.13. Revenue rose 36% year-over-year to $2.48 billion, topping estimates of $2.47 billion. The company is now sitting on an incredible 93.8 million subscribers, including 4.7 million people on trial memberships. 
While there's clearly a correlation between original content spend and subscriber growth, nay-sayers continue to bring up the valuation of the stock, however, as well as its "unsustainable" cash burn rate, said Private Advisor Group'schief market strategist Guy Adami. "There's certainly some truth to that," Adami noted.
But Netflix seems to be "playing the long game" and is doing its best to grab every last potential customer, he said.
Adami said the company may not be able to sustain its current rate of growth as markets become saturated, but it still has room to grow, particularly in international markets.