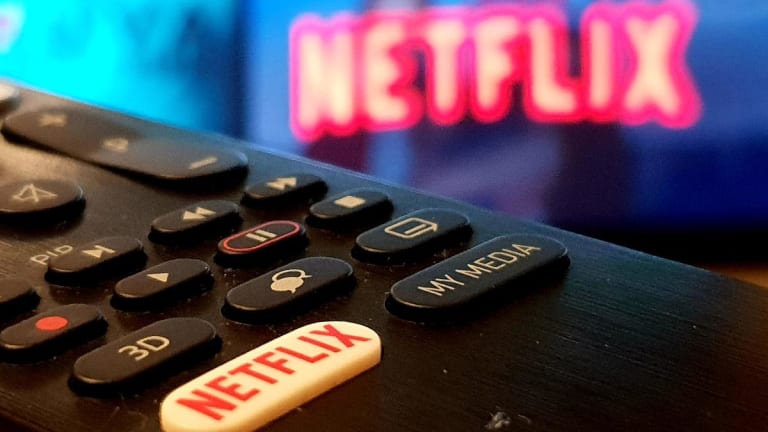 Netflix Reports Earnings on Tuesday: 5 Important Things to Watch
The impact of Netflix's recent U.S. price hike, cash flow guidance and Disney-related commentary are among the things to track as the streaming giant reports.
Netflix's (NFLX) - Get Report shares have mostly tread water since the company delivered a solid Q4 report in January, after having soared during the weeks immediately preceding the report.
A strong Q1 report could help Netflix break out of its trading range, if one arrives on Tuesday afternoon.
The consensus among analysts polled by FactSet is for Netflix to report Q1 revenue of $4.5 billion (up 22% annually) and GAAP EPS of $0.58. However, as usual, Netflix's subscriber figures and guidance are likely to have a bigger impact on how its shares move post-earnings than its revenue and EPS numbers.
In January, Netflix forecast it would see 8.9 million streaming paid subscriber adds in Q1 (7.3 million international, 1.6 million U.S.). For Q2, the analyst consensus is for Netflix to see about 5.5 million paid net adds (4.77 million international, 678,000 U.S.).
Consensus estimates for total streaming net adds, which include changes to free trial subscriber levels, stand at 7.96 million for Q1 and 5.38 million for Q2. Beginning with its Q4 report, Netflix has stopped providing guidance for free trial subscriber adds.
TheStreet will be live-blogging the release Netflix's Q1 shareholder letter, which arrives after the bell on Tuesday, along with its "earnings interview," which starts at 6 P.M. Eastern Time; please check our home page after the close on Tuesday for more details.
In addition to Netflix's subscriber figures, here are some things for investors to keep an eye on.
1. The Price Hike's Impact
Shortly before its Q4 report arrived, Netflix announced across-the-board price hikes for U.S. streaming plans. The price of the non-HD Basic plan rose by $1 to $9/month, while prices for the HD Standard plan and 4K Premium plan each rose by $2 to $13/month and $16/month, respectively.
Netflix's guidance for Q1 U.S. paid streaming net adds signaled the company isn't worried that a large number of subscribers will cancel in response to the price hikes. With the hikes having gone into effect in March, Netflix's Q1 U.S. subscriber figures and Q2 guidance should let us know to what extent Netflix's confidence was warranted.
2. Average Selling Price (ASP) Trends
Netflix's subscription average selling price (ASP) rose just 3% annually in Q4, after having risen 8% in Q3. A strong dollar was a headwind, and so was the fact that even on a forex-neutral basis, Netflix's international ASP rose only 6%, a slowdown from Q3's 11% growth.
With a strong dollar still an issue and the U.S. price hike having only gone into effect near the end of Q1, Netflix might not have seen a lot of ASP growth in Q1 either. Q2 is likely to be stronger, as Netflix records a full quarter of the U.S. price hike's impact.
3. Disney-Related Commentary
Disney (DIS) - Get Report , as many readers likely know, is just a few days removed from announcing that its anticipated Disney+ service will launch in November and cost just $6.99 per month or $69.99 per year. The media giant also detailed its plans to have Disney+ feature plenty of original Disney content and family-friendly material from recently-acquired Fox Networks, in addition to hit Disney, Pixar, Marvel and Star Wars films.
Shares of Netflix, which will see a major content-licensing deal with Disney expire at year's end, have dropped about 6% since Disney's disclosures. Any commentary that Reed Hastings and other Netflix execs give on their plans to counter Disney -- for example, by stepping up investments in kids-friendly material or acquiring intellectual property -- will be closely watched.
Disney is a holding in Jim Cramer's Action Alerts PLUS member club. Want to be alerted before Jim Cramer buys or sells DIS? Learn more now.
4. Free Cash Flow (FCF) Guidance
In spite of the U.S. price hike, Netflix chose to keep its 2019 free cash flow (FCF) guidance unchanged in January: The company said it still expects 2019 FCF to be similar to a 2018 level of negative $3 billion.
Will Netflix revise its guidance in the Q1 report? The price hike, together with continued subscriber growth and the fact that Netflix's 2018 cash burn wound up being at the low end of a prior guidance range of $3 billion to $4 billion, would make it less than shocking if the company favorably revised its FCF guidance.
On the flip side, if Netflix chooses to keep rapidly growing its content spend -- it totaled over $13 billion last year on a cash basis -- ahead of the Disney+ launch, 2019's cash burn could very well look a lot like 2018's.
5. New Viewing Stats for Hit Originals
Netflix has become a little more willing lately to share viewing data for some of its popular originals. In its Q4 shareholder letter, the company provided stats for horror film Birdbox, psychological thriller You, British comedy Sex Education and Spanish original Elite. Look for the company to share some additional numbers in its Q1 letter.
Disney is a holding in Jim Cramer'sAction Alerts PLUS Charitable Trust Portfolio. Want to be alerted before Cramer buys or sells DIS? Learn more now.