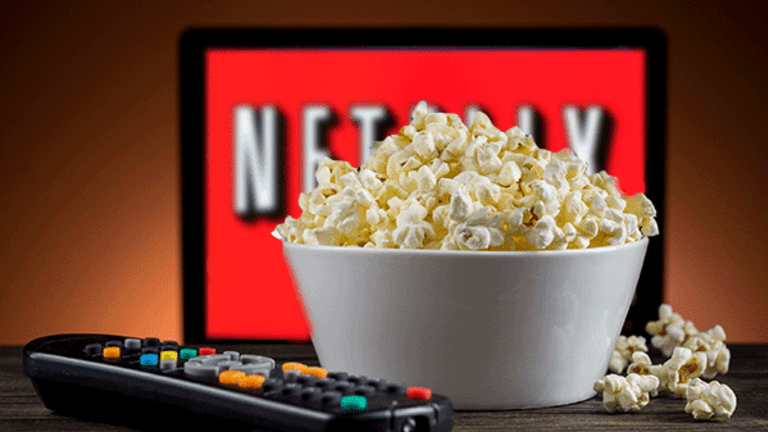 Netflix Planning to Create More 'Choose Your Own Adventure' Content This Year
The streaming giant is experimenting with producing interactive content in which viewers get to choose the direction of a plot, while Apple is making similar moves.
If you sometimes wish you could choose the ending to your favorite show, you might want a Netflix (NFLX) - Get Netflix, Inc. Report  subscription. The Los Gatos, Calif.-based streaming media company has plans to test interactive content that will let viewers have a say in how the story of their favorite Netflix original shows end with a click of their remote, dailymail.com reported. 
"Once you have got interactivity you can try anything," Netflix CEO Reed Hastings told the publication. 
In order to pull off this experiment, production teams would film scenes around different plot lines for a series so that viewers would have a choice for which route they wanted to take. The format is reminiscent of the choose-your-own-adventure books from the 1980s and 1990s where the reader is the protagonist and gets to make choices throughout the story about how the plot unfolds. 
Some of the decisions available will be linear, such as choosing whether a character in the Netflix original series Orange is the New Black becomes a gang member or not, or which relationship Princess Margaret ends up in for The Crown. Other choices will be more substantial, such as letting viewers map out different plot lines using their remote as a tool. 
"We're doing work on branch narrative so you are actually making choices as you watch," a source told dailymail.com. "All the content will be there, and then people will have to get through it in different ways." 
The source went on to claim that the project was "an experiment" and the company was waiting to see if it was successful or not.
Netflix's first trial run for this type of interactive content will be with a kids show later in 2017, according to the source. If that experiment is received positively, the company will then experiment with adult shows. 
Netflix first released interactive elements with the children's series Kong: King of the Apes in April 2016. The series includes shorter locked episodes called "Battles" that only unlock after you've watched certain episodes. To let you know when you've unlocked an episode, achievement icons pop up on the screen while you're watching the longer episodes. 
Netflix has been on the original content scene since 2013 when it released its hit series House of Cards. The company expects to spend $6 billion on content in 2017, up from $5 billion in 2016. But competition in the space is heating up with Apple (AAPL) - Get Apple Inc. Report confirming earlier this year that it plans to start offering original content to its 20 million Apple Music subscribers, who pay $10 per month for the service as a way to grow that part of its services business. 
Apple is a holding in Jim Cramer's Action Alerts PLUS Charitable Trust Portfolio. Want to be alerted before Cramer buys or sells AAPL? Learn more now.
Interestingly, after Apple announced it was getting into original content, Apple Music head Jimmy Iovine said the company wasn't interested in acquiring Netflix because its original content plans had "nothing to do with what Netflix is doing," according to his interview with Variety. In addition, when asked about a possible purchase of Netflix at ReCode's Code Media conference, Apple senior vice president Eddy Cue said, "We might be better buying somebody or doing that, but that's not what we're trying to do. We are trying to do something that's unique. . . "
Yet the way Apple is talking about setting its content apart is by creating an interactive experience. For example, when developers pitch apps to judges on the Apple original reality competition show Planet of the Apps, due out this spring, viewers will be able to download and test the apps presented on the show or click on additional video clips to learn more about a contestant.  
These two company narratives show that interactive story-telling is where the original content industry is headed, although passive story-telling will always be available for those who want it, Loup Ventures founder Gene Munster said. "Increasingly the 'choose your own story option' will be part of our everyday content consumption," he said. "It makes sense that Apple and Netflix (will) chase after that opportunity." 
Munster also noted that Loup Ventures maintains that the chance of Apple purchasing Netflix is "slim to none." 
Netflix sent the following comment to TheStreet: "Netflix is constantly exploring ways to create a better experience for its members. We first introduced interactive elements to our Kids series, Kong, in April 2016. We will continue to experiment in this format to learn more about what our members enjoy."