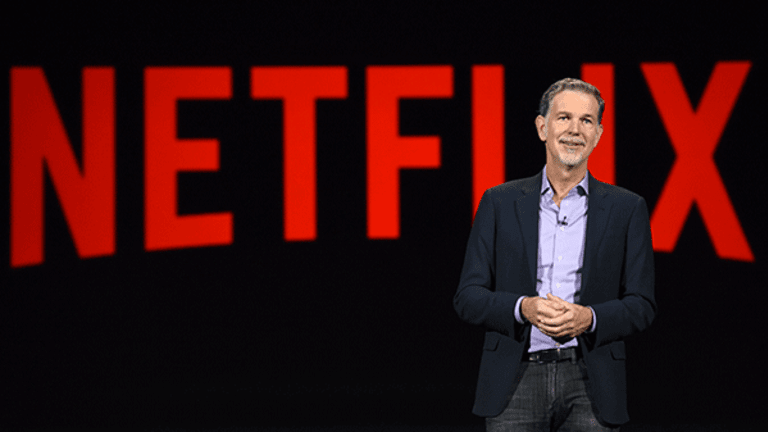 Netflix Is Being Underestimated by Wall Street
U.S. subscriber numbers could soon catch up to the number of pay-TV customers, MKM analyst Rob Sanderson says.
When Netflix (NFLX)  went public in 2002 the notion that it would one day come any where near 100 million subscribers in the U.S. may have seemed like an impossibility.
But, with original programming budgets that rival (and sometimes top) traditional studios like Metro-Goldwyn-Mayer Studios Inc., Viacom Inc.'s (VIA.B) Paramount and Comcast (CMCSA) Universal Studios, and the age of cord-cutting sweeping the nation, that dream of a massive U.S. subscriber network seems to be upon us, at least according to one Wall Street firm.
Netflix hit 50.85 million domestic subscribers in the most recent quarter, which means it could exceed 60 million subscribers sooner than expected, or according to MKM Partners analyst Rob Sanderson. There is even the possibility that Reed Hastings media company could reach the high-end of the 60 million to 90 million goal it has maintained since 2012 despite skepticism from some on Wall Street. 
"We think the outer boundary is more plausible than most investors believe," Sanderson explained. 
Sanderson raised his price target to $195 from $175, citing optimism over its broad market appeal and potential for domestic subscriber growth that will translate to an even bigger budget for original content production. Netflix has said it will spend $6 billion on original content in 2017. Sanderson estimates that Netflix will trade at $273 per share by 2020, based on a forward price to earnings multiple of 22.5 times.
"...This mass appeal will also apply globally into hundreds of millions of homes," he added.
Shares of Netflix were down 0.7% to $161.87 on Friday morning, after hitting an all-time high of $163.84 in intraday trading on Thursday. Netflix's previous record high was 161.78 on May 15. The stock was propelled to new highs on Thursday after Piper Jaffray analyst Michael Olson issued a note to clients with fresh optimism for Netflix's earnings, predicting that outsized international subscriber growth could lead to the company achieving profits in 2020 that are double analysts' current expectations. 
Sanderson's bullish stance on Netflix stems from his view that the Los Gatos, Calif.-based company's subscriber growth could easily mirror that experienced in the pay-TV industry. The industry added about 2.8 million new subscribers every year for about 30 years before being in about 87% of U.S. homes (or having 102 million subscribers). The broadband industry has also added approximately 3 million new subscribers over the past eight years, Sanderson added. Both trends point to Netflix experiencing a "lengthy period" of 2-3 million new subscribers each year, he said.
Netflix CEO Reed Hastings, meanwhile, has an even more bullish view on the company's growth.
"If you step back and say, 'Is internet video going to be in every home in America in 10 years?' that's a pretty clear 'yes,'" Hastings said on the company's 2015 fourth quarter earnings call. "It's looking very good. We're at 39 million in the U.S., adding 5-plus million a year, so the trajectory's great." 
The company is now looking outside the U.S. for even more opportunities, saying in its most recent earnings report that the growth of the global internet is "gigantic and our plan is to keep investing." For the current quarter, Netflix expects to add 2.60 million new customers for a total of 50.49 million international subscribers. In the U.S., the streaming giant projects it will bring on 600,000 new subscribers for a total of 51.45 million domestic customers.
Editors' pick: Originally published May 26.