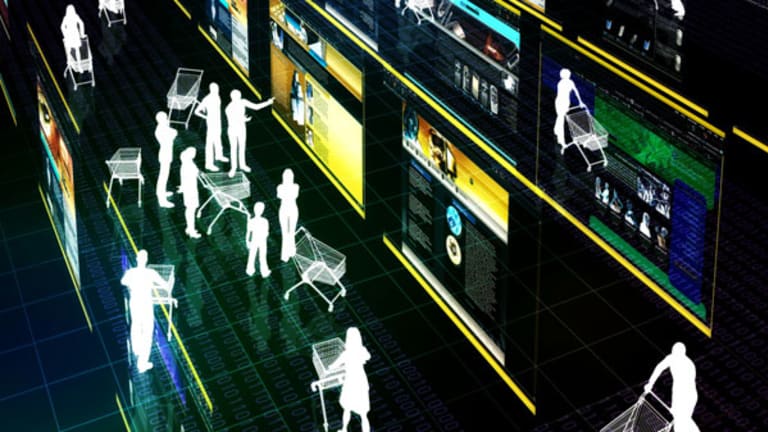 Netflix Investors: Don't Be Wooed by an Earnings Beat
Netflix is expected to top fourth-quarter estimates, but this doesn't necessarily mean the stock presents a buying opportunity. Here are the two key data points to watch.
NEW YORK (
) --
Netflix
(NFLX) - Get Report
is expected to report some subscriber recovery in the fourth quarter, which should lead to better-than-expected results. But investors should be wary about reading too much into an earnings beat.
"Netflix is poised to see a rebound in subscribers and may be in a good position to beat conservative revenue estimates, which should help fuel a near-term rally in the stock," Janney Capital Markets analyst Tony Wible wrote in a note. "However, our analysis shows that the company's guidance is reliant on DVD subscribers opting for multi-disc plans and suggests that the Street may be too aggressive in modeling Netflix's recovery."
Ultimately, this could lead to downward estimate revisions if management doesn't issue guidance materially above Wall Street's first-quarter estimates.
While analysts for the most part are expecting modest upside to fourth-quarter results, before investors get more confident in Netflix's turnaround story they should hold out for color on the true "scalability" of the streaming business and any details on just how much international growth will pressure the bottom line.
Netflix lost about 800,000 subscribers in its third quarter following the implementation of higher prices. "The key question is whether U.S. Netflix subscribers have started to re-engage with the service, especially those subscribers who churned off," noted Citi analyst Mark Mahaney.
It seems Netflix is banking on many DVD-only subscribers opting for more expensive two and three-disc out plans, as implied in its average retail per user guidance for the quarter, Wible said.
"This may be aggressive assumptions in light of Netflix subscribers having shown to be price elastic, cheaper disc rental alternatives and the massive growth in streaming hours may suggest more DVD subscribers are moving to streaming and are less reliant on discs," Wible wrote.
Netflix said earlier in the month that users streamed 2 billion hours of movies and television shows during the fourth quarter. While this is an impressive stat, streaming has proven to be a low-margin business that must compensate for the much higher-margin DVD business.
Wible estimated that Netflix needs at least four streaming subscribers to account for the loss of one DVD user.
Bernstein Research analyst Carlos Kirjney said he expects domestic streaming margin should expand to 18% over the next three years from about 8% currently. But he believes this growth will be offset by erosion in the DVD business, estimating DVD subscribers in the U.S. will fall to 4.6 million by the end of 2016 from 10 million in the first quarter of 2012.
"We still believe the key issue for bullish or bearish investors should rest with Netflix's ability to scale the streaming business, increase price (again) and/or layer on new services," Wible wrote. "Without these incremental earnings drivers, we believe investors will find that Netflix does not generate nearly as much value per subscriber as it did only a few years ago. The rebound in subscribers may act as a near-term catalyst for the stock, but the first-quarter guidance will be paramount as it could trigger more earnings revisions."
The fourth quarter also will provide the first real insight into international demand. While Netflix only launched its streaming service in the U.K. and Ireland earlier this month, this will be the first full quarter of data for its Latin America and Caribbean service.
"We continue to believe that Latin America will provide a more realistic read of the company's strength outside of the U.S. than we would be able to see from the Canadian experience," B. Riley analyst Eric Wold wrote in a note. "While greater-than-expected subscriber demand internationally could mean higher losses initially than most have modeled, we believe that it would help to lessen investor concerns that Netflix is a U.S.-only story."
The problem is that Netflix's international strategy remains a looming question mark.
"The key will be further details on the timing and investment size of Netflix's international rollouts," Mahaney wrote. "But this is a major unknown in our model and will be driven in part by the company's elective decisions as to how far and how fast to expand internationally. There is also the risk that market and competitive conditions may cause Netflix to have to invest even more aggressively in the Latin America and U.K. and Ireland markets."
While Latin America is predominantly an untapped market, there is some trepidation regarding Netflix's expansion in the U.K. and Ireland, where
Amazon's
(AMZN) - Get Report
LoveFilm service already has a major foothold.
Comments from Netflix's third-quarter earnings conference call suggest international contribution profit will amount to a loss of $120 million in the first quarter, Wible noted. "We estimate it will take Netflix eight quarters to break even based on the challenges in the international market and comments made at their Mexican launch press event alluded to losing money in Latin America for two years."
Netflix shares have rebounded in the new year, surging more than 40% so far in 2012, making it one of the best performers on the
S&P 500
.
The question is how should you trade with the stock at these levels?
"Is this merely a dead cat bounce following the 40% to 50% drop since late October? Or was that drop in the stock too much and now we are readjusting to more realistic levels with a focus on potential in 2013 and beyond?" Wold asked.
The true testament for the fourth quarter will be if Netflix shows the ability to continue to grow the streaming business enough to offset rising costs and provides an indication of demand overseas.
"While neither of the two positive drivers are likely to generate upside to 2012 estimates, we believe they would not only set the stage for stronger-than-expected revenue and EPS growth in 2013, but they would also help to reinvigorate investor interest in the Netflix story -- and more realistic long-term valuation multiples going forward," Wold wrote.
-Reported by Jeanine Poggi in New York.
Follow TheStreet.com on
and become a fan on