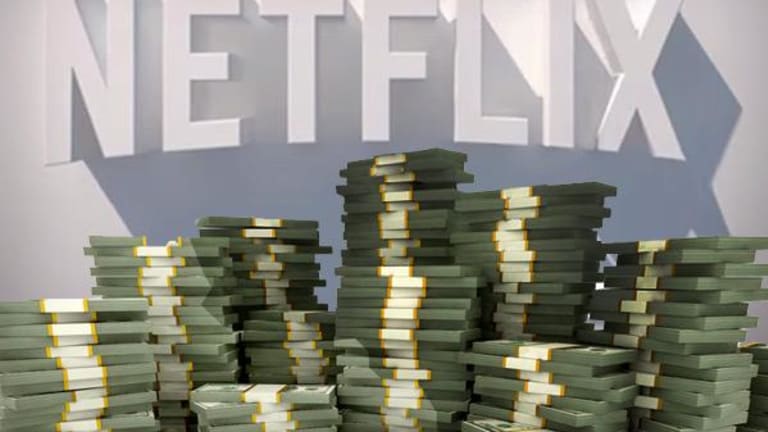 Netflix Has an Epic Setup Into Earnings
Look out, Netflix shorts, a squeeze is setting up into earnings.
Earnings season is finally here on Wall Street!
This is one of my favorite times of the year as a trader, because I love to scan the market for heavily shorted stocks that are about to report earnings. These are the type of plays that can present great trading opportunities, because if they report strong quarters and raise guidance, the chances for a big short-squeeze goes up dramatically.
One strong short-squeeze candidate this earnings season is Internet television network player Netflix Inc. (NFLX) , which is engaged in the Internet delivery of television (TV) shows and movies on various internet-connected screens. Wall Street analysts, on average, expect Netflix to report revenue of $2.76 billion on earnings of 16 cents a share.
The current short interest as a percentage of the float for Netflix sits at 6.14%. That means that out of the 423.49 million shares in the tradable float, 26 million shares are sold short by the bears. This isn't a monster short interest, but with 26 million shares sold short, and with a short interest ratio of 4.4 days-to-cover, it's a juicy opportunity that will easily spark a big short-squeeze, if Netflix delivers.
If you take a look at the chart for Netflix, you'll see that this stock has been uptrending heading into the report during July, with shares moving higher off its low of $144.25 to its intraday high on Monday of $163.55 a share. During that uptrend, this stock has been consistently making higher lows and higher highs, which is bullish technical price action.
This strong price action now sets up shares of Netflix for a major breakout trade post-earnings that could push the stock into new all-time-high territory.
Traders can now anticipate that major breakout ahead of the numbers, or wait until after the report and look for price confirmation. What's key to watch for is a high-volume move above some key near-term resistance levels at $164 to its all-time high of $166.87 a share with volume that hits near or above its three-month average action of 6.57 million shares.
If that breakout triggers post-earnings, this stock will set up to enter new all-time-high territory, which is bullish technical price action. A move over $166.87 will mean that Netflix will have no major resistance to contend with, since the stock has never traded above that level.
Some possible upside targets off that breakout are $175 to $185, or even $195 to $200 a share. Traders can use the 50-day moving average of $156.80 a share as a strong support area to exit the stock if the breakout fails, or doesn't trigger post-earnings.
Netflix's shares rose 8.9% to $175.45 after the release of its earnings on Monday,
Watch More with TheStreet:
5 Cars Likely To Be Resold Within The First Year
This article is commentary by an independent contributor. At the time of publication, the author held no positions in the stocks mentioned.