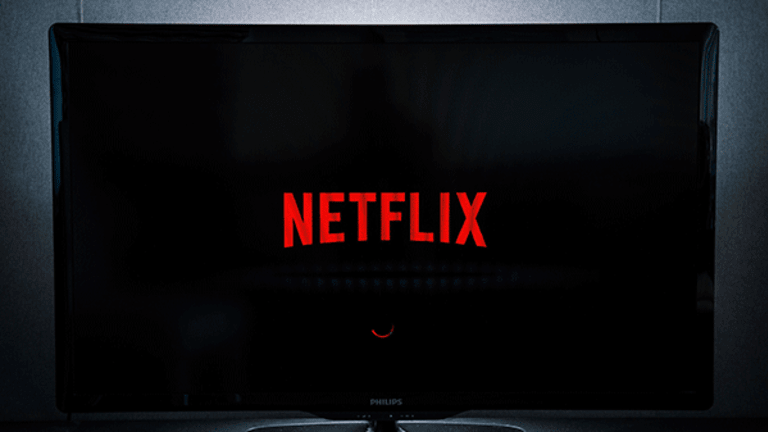 I Am Troubled by Netflix and Its Gigantic Cash Burn
Netflix is spending money on a lot of content that may or may not get watched and content that doesn't have a very long shelf life.
I am troubled by Netflix (NFLX) - Get Free Report . Yes, in the last six months, shares are up 60% and currently trade around $140. Last week Netflix blew away subscriber numbers and investors celebrated by driving the stock to a record high.
But I have been negative on Netflix for a while. I remain concerned by the company's gigantic cash burn. Netflix has to sell bonds almost non-stop to fund its operations. Netflix has about $1.7 billion in cash and will probably end 2017 with $2 billion free cash flow shortfall.
Last week the Internet media company fourth-quarter earnings of 15 cents per share, 2 cents better than the consensus estimate. Revenue rose 35.9% to $2.48 billion versus the $2.47 billion estimate. Management guided to first-quarter earnings of 37 cents versus the previous estimate of 17 cents.
Netflix added 7.05 million members, the biggest quarterly growth in the company's history -- 1.9 million domestic, 5.12 million international subscribers. Domestic average revenue per user (ARPU) was up 15% to $9.96. Internationally, ARPU jumped 15% to $8.42.
But then there's that cash burn. In the quarter, Netflix spent $639 million in free cash flow and indicated its cash burn rate would increase to $2 billion from $1.7 billion to fund more original programming. In October, the company raised $1 billion of senior notes with a 4.375% coupon. While the company didn't explicitly state it, it's clear Netflix will have to tap the junk bond market again to raise the necessary funding to pay for all of its spending.
Netflix is torching a ton of cash in its quest to be the king of streaming.
For 2016, Netflix generated $8.3 billion in global streaming revenue and finished the year with 93.8 million subs. In 2016 Netflix added 17.4 million and 19 million net subs in 2015 and 2016, respectively. The company has no planned price increase in 2017, so ARPU will begin to stagnate.
Netflix should be able to surpass the 100 million-subscriber mark something next quarter. However, investors have to ask themselves when will this company make real money.
Netflix bulls always compare the company to Amazon (AMZN) - Get Free Report . In my opinion, that's not a good comparison. Amazon uses its cash to fund the construction of distribution facilities that would be very difficult to replicate. They build gigantic server farms and those farms are doing double duty, serving up its e-commerce website and selling cloud services.
In addition, one-third of Amazon's revenue is from third-party sellers who pay a fee to pick, pack and ship products from Amazon's facilities. Netflix is spending money on a lot of content that may or may not get watched, and content that doesn't have a very long shelf life. 
Momentum investors are in the drivers seat and subscriber growth is the only thing that really matters right now. At the current quote, the stock remains vulnerable to a slowdown in subscriber growth, increased churn, additional competition or a change in the net neutrality rules.
This article is commentary by an independent contributor. At the time of publication, the author held no positions in the stocks mentioned.