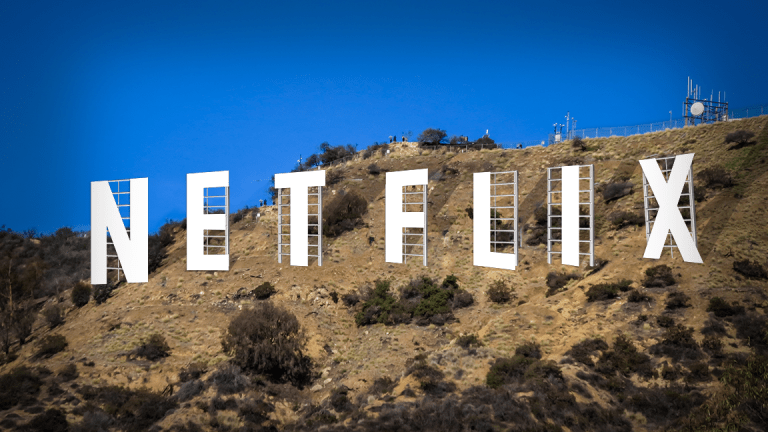 Netflix's Strong Results and Guidance Drive Home Its Big Advantages Over Rivals
Despite recent price hikes, the streaming giant expects to add over six million subscribers in Q4. It also set a more aggressive 2018 spending budget than anticipated.
When Netflix Inc.  (NFLX) - Get Netflix, Inc. (NFLX) Report unveiled U.S. and European price hikes for its HD and 4K streaming plans a couple weeks ago, many naturally speculated the streaming giant would place some of the additional funds within its burgeoning content budget.
The company didn't waste time confirming such predictions, using its Q3 shareholder letter to reveal it has accelerated its spending pace, and that it might continue to do so in 2018.
Along the way, Netflix also issued Q4 guidance that suggested it doesn't expect its latest round of price hikes to have the same kind of impact on its heady subscriber growth as the prior round did.
Netflix reported Q3 revenue of $2.99 billion (up 30% annually) and GAAP EPS of $0.29. Revenue slightly beat a $2.97 billion analyst consensus, while EPS, hurt by a $39 million post-tax loss related to currency rate adjustments on Netflix's euro-denominated debt, missed a $0.32 consensus.
More important -- given that subscriber figures have a bigger impact on how Netflix's shares act post-earnings -- the company reported it added 4.45 million international streaming subs and 850,000 U.S. subs in Q3, topping guidance of 3.65 million and 750,000. At quarter's end, Netflix's international streaming base stood at 56.5 million (52.7 million paid), and its U.S. streaming base at 52.8 million (51.4 million paid).
Shares rose 1.3% in after-hours trading to $205.30, and made new highs along the way. With the help of a string of well-received earnings reports, Netflix is now up 66% on the year. Those gains, of course, are keeping Netflix from surging post-earnings the way it did in July.
In seasonally strong Q4, Netflix forecasts it will add 1.25 million U.S. streaming subs and 5.05 million international subs.The international guidance is above an analyst consensus of 4.7 million, while the U.S. guidance is below a consensus of 1.6 million.
But it's worth remembering many analyst estimates hadn't been changed following Netflix's price hikes. And overall, the outlook contrasts sharply with what happened in Q2 2016, when the introduction of price hikes for customers who were previously "grandfathered" in at lower prices led subscriber adds to 1.7 million (just 160,000 in the U.S.) from a Q1 level of 6.7 million.
Meanwhile, the price hikes are a big reason why Netflix is guiding for Q4 revenue of $3.27 billion and EPS of $0.41, above a consensus of $3.16 billion and $0.34. As it is, Netflix's average selling price (ASP) rose 7.4% annually in constant currency in Q3; the price hikes should give ASPs a fresh lift in Q4.
That extra revenue will help Netflix pay for a 2018 content budget that, on a profit-and-loss basis, is now set at a range of $7 billion to $8 billion, soundly above 2017's $6 billion.
For comparison, content chief Ted Sarandos had merely said in August that 2018 spending would be around $7 billion. Netflix, however, insists that the timing of its price hikes bear no relationship with spending changes.
Of note: Netflix's cash outlays for content will be much higher than its P&L number. On the earnings call, CFO David Wells noted the ratio of cash outlays to the P&L figure has typically been in the range of 1.4 to 1.5, but is now rising to around 1.55 as Netflix directly owns and finances a larger portion of its original content. If next year's content budget wound up at $7.5 billion on a P&L basis, that ratio would imply $11.6 billion in cash outlays.
Such ambitious spending plans make it a given that Netflix will continue burning cash in the short-term. Free cash flow (FCF) was negative $465 million in Q3, and Netflix still expects full-year FCF to be in the range of negative $2 billion to negative $2.5 billion. With the company's net debt balance at a reasonable $3.2 billion at the end of Q3 and investors clearly trusting management to spend well, Netflix still has plenty of headroom to tap debt markets to pay for its original content fix.
As it is, Netflix's spending binge (pardon the pun) led its streaming content obligations to rise by $1.3 billion sequentially in Q3 to $17 billion, a larger jump than Q2's $400 million or Q1's $800 million. Eight original films debuted on Netflix in Q3, and the company is promising 80 will appear in 2018 -- this spans everything from big-budget films to indie productions with $1 million budgets. The Will Smith film Bright headlines a large Q4 slate of original content launches that also includes Seasons 2 of Stranger Things and The Crown.
Not surprisingly, management took some time to talk about how all this spending positions Netflix relative to Walt Disney Co.  (DIS) - Get Walt Disney Company Report and other media giants choosing to put more of their content on their own streaming services -- Disney's service is due in 2019 -- and often pulling it from Netflix along the way.
Sarandos tried to be diplomatic about Disney's plans -- "[W]hether or not one of our partners decide to produce for us or to compete with us, that's really a choice that they have to make based on their own business," he said. But he also pointed out that media giants will still often find it in their interests to license content to Netflix. Especially when it comes to TV shows.
As evidence, Sarandos observed the CW Network show Riverdale saw a 400% increase in its TV audience in season 2, and attributed this to the show's arrival on Netflix. He also noted AMC's The Walking Dead remains on Netflix even though Netflix's exclusivity deal for the show expired two years ago.
In the shareholder letter, Netflix pointed out it has multiyear deals in place that prevent any sudden reduction in content licensing, while also (not surprisingly) reiterating that its future "largely lies in exclusive original content."
CEO Reed Hastings observed that Netflix has seen tremendous international growth even though Disney's content is only available in the U.S., Canada, Australia and The Netherlands.
Netflix's shareholder letter and earnings call also contained a few other interesting tidbits. Specifically:
The company says it's "pleased with the early results" of bundling deals with the likes of T-Mobile US Inc. (TMUS) - Get T-Mobile US, Inc. Report  and French telco/pay-TV provider SFR, and says it wants to do more deals. Hastings, talking about mobile deals in particular, says it annoys him when Netflix's addressable market is defined as solely consisting of homes with broadband. Product chief Greg Peters claims Netflix's video codecs can now enable "an amazing quality video quality experience on mobile for anime titles at 150 kilobits per second."
In response to comments from UBS' Doug Mitchelson about how Amazon.com Inc.  (AMZN) - Get Amazon.com, Inc. Report might launch an ad-supported streaming service in the first half of 2018, Hastings reiterated Netflix has no plans to run ads against its content.
Regarding live sports -- Amazon is streaming 11 Thursday night NFL games this year -- Hastings didn't quite close the door on Netflix one day striking deals, but he reiterated it's not something the company is looking to do for now. "In the near term, we have so much going on in the global expansion of movies unscripted, series, documentaries. We're just running 100 miles an hour doing our thing around the world," he said.
One thing Hastings did effectively shut the door on: Making a bid for The Weinstein Co., which Netflix struck a streaming deal with in 2013 and was reported earlier in the day to be exploring a sale. Not long after Hastings called a bid "extremely unlikely," The New York Timesreported The Weinstein Co. had reached a deal to get a cash infusion from investment firm Colony Capital.
Overall, Netflix's Q3 report didn't contain a ton of shockers. But it did drive home that the pricing power that investors have assumed the company wields as they've bid its shares to $200 is quite real.
And that management is as unafraid as ever to pour every last cent of revenue -- and then some -- into growing Netflix's content and scale advantages over its many streaming rivals.
TheStreet's Eric Jhonsa previously covered Netflix's Q3 report and earnings call through a live blog.