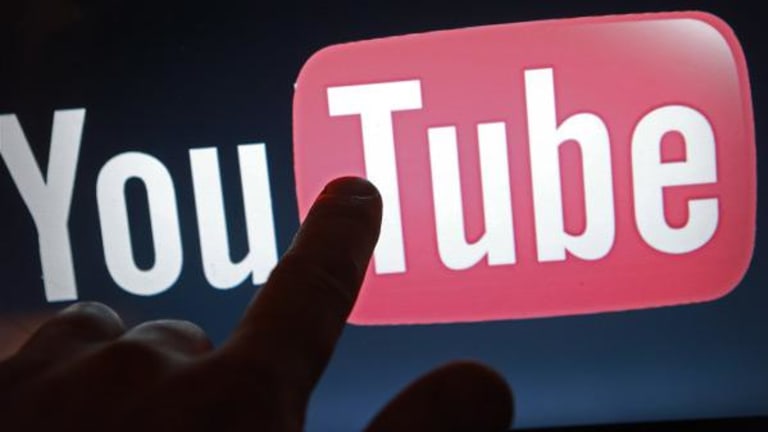 Over the last few years, we've seen Alphabet/Google (GOOGL) - Get Alphabet Inc. Class A Report , Facebook (FB) - Get Facebook, Inc. Class A Report and others put a lot of effort into creating text and photo-based ad formats optimized for smartphones. Recognizing that a 5-inch touchscreen device that's with a user at all times has different strengths and weaknesses as an advertising medium than desktops and notebooks, Google/Facebook launched things such as app install ads, search ads with expanded text, local business ads that are targeted based on a user's location and shopping ads featuring listings that a user can swipe through.
In recent months, Internet giants have begun realizing that video content (including ads) needs to be optimized for mobile viewing as well. In many cases, there could be a sizable payoff as mobile video traffic continues swelling.
On Wednesday, Netflix (NFLX) - Get Netflix, Inc. (NFLX) Report exec Neil Hunt said his company is thinking of providing mobile-specific cuts of its original movies and shows. According to The Verge, Netflix's goal would be to "create a version of [its] content with scenes or shots that are more easily visible or immersive on a mobile phone, since certain shots can be hard to see or can appear diminished on a relatively small phone screen."
Hunt suggested Netflix's expansion into dozens of international markets, including Asian markets where a majority of its viewing takes place on mobile devices, is influencing its thinking. Likewise, Netflix's launches within markets where high-speed mobile connections can be limited and/or expensive contributed to its recent decision to start making some content available for download/offline viewing on its iOS and Android apps.
Meanwhile, Google's YouTube, which is filled to the brim with mobile-friendly short-form videos, announced last month it's killing off its unskippable 30-second video ad format, which wasn't a good fit for the shorter attention spans many smartphone users have. Instead, YouTube will continue supporting shorter unskippable ads, including the 6-second Bumper ads (launched last spring) it has argued are ideal for improving an advertiser's mobile reach.
Jim Cramer and the AAP team hold positions in Alphabet, Facebook, Apple and Cisco for their Action Alerts PLUS Charitable Trust Portfolio. Want to be alerted before Cramer buys or sells GOOGL, FB, AAPL or CSCO? Learn more now.
The online video giant recently announced it now handles over a billion hours of video viewing per day, and has claimed since 2014 that it's getting over half of its video traffic from mobile devices (the percentage could be much higher now). YouTube and mobile search ad growth were the biggest reasons Google's paid ad impressions/clicks rose 36% annually last quarter, and 43% on Google properties.
In addition, on Thursday, Facebook launched an ad campaign, said to be the biggest business-focused ad effort in its history, to get marketers to up their mobile video ad spend and create smartphone-optimized clips. The effort covers not only video ads on Facebook's core app, but also ones on Instagram and the company's mobile ad network (the Audience Network).
COO Sheryl Sandberg has already been talking on recent earnings calls about Facebook's attempts to work with advertisers on creating mobile-friendly material. On the last call, she mentioned Hershey's created Facebook video ads meant to grab a user's attention in the first few seconds, and which feature captions for those viewing without sound.
About 84% of the $8.6 billion in ad revenue Facebook recorded in the fourth quarter came from mobile devices. Its ad campaign for marketers comes as the company rolls out "mid-roll" video ads that appear in the middle of a video, and reportedly solicits pitches for TV-like original shows containing episodes that last up to 30 minutes.
Apple (AAPL) - Get Apple Inc. (AAPL) Report is taking steps in a similar direction, prepping a pair of shows for Apple Music subscribers. With one of the shows (Carpool Karaoke) featuring celebrities and musicians singing along to songs, and the other (Planet of the Apps) featuring developers making 60-second app pitches, it looks as if Apple is trying to create shows whose episodes don't need to be watched in full by iPhone/iPad users to be enjoyed.
And Verizon (VZ) - Get Verizon Communications Inc. Report has been operating its ad-supported Go90 mobile video service for nearly 18 months now. Go90, available for free to Verizon Wireless subs, features live events, shows and short-form videos from both traditional and online-focused content providers. Judging by recent layoffs and various reports, the service hasn't lived up to Verizon's high hopes.
Though estimates vary, few argue the claim that mobile's share of total video viewing is growing rapidly. Last month, Cisco Systems estimated video accounted for 60% of mobile data traffic last year, and that the latter has grown 18-fold over the last 5 years. In November, the IAB estimated U.S. mobile video ad spend (much of it undoubtedly on YouTube) grew 178% annually in the first half of 2016 to $1.6 billion, leading it to account for over 40% of a $3.9 billion online video ad market.
The return of mobile unlimited data plans could provide a fresh boost to smartphone video viewing in the U.S. market, which still accounts for close to half of Google and Facebook's ad sales. Globally, improving 4G network coverage and the spread of carrier Wi-Fi networks that automatically connect nearby smartphone users will act as growth drivers.
Over the long run, the adoption of cheap, smartphone-paired. virtual reality headsets, such as Samsung and Facebook/Oculus' Gear VR and Google's Daydream View, could act as one more mobile video catalyst. But image quality and other aspects of the user experience still need to be improved.
Just as they've changed how hundreds of millions of consumers play games, shop, read news and communicate, smartphones are upending how consumers are entertained by videos. Some of the ripple effects are already easy to see, but others have only begun to be felt.