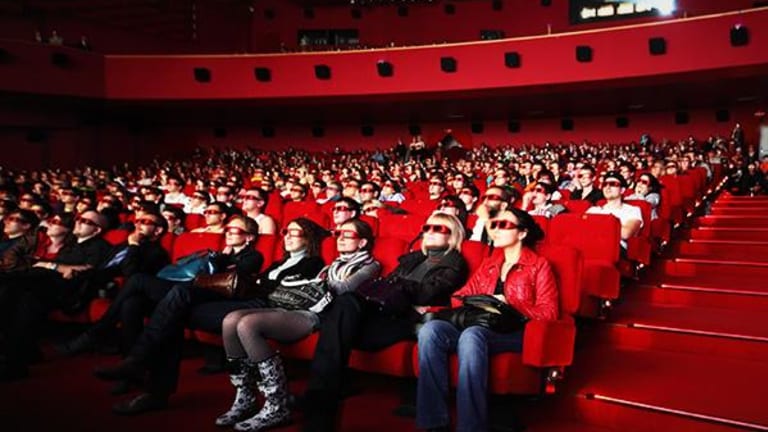 Netflix Co-Founder Lands Funding to Help Save the Movie Theatre Industry
Helios and Matheson Analytics announced it will purchase a 51% stake in the Netflix of movie theaters.
The guy who helped take Netflix Inc. (NFLX) - Get Netflix, Inc. (NFLX) Report off the ground could now have a helping hand in laying it to rest.
Information technology services company Helios and Matheson Analytics Inc. (HMNY) announced on Tuesday, Aug. 15, that it bought a majority stake in MoviePass, a subscription-based service for movie theaters led by former Netflix executive and co-founder Mitch Lowe.
Securities and Exchange filings show that Helios, subject to approval, will take a 51% stake in MoviePass for up to $27 million.
Together, the companies, both based in New York City, launched an official subscription service by MoviePass, under which, users can see up to one movie a day in any of the 3,700 participating theaters in the U.S. for a $9.95 monthly fee. Before teaming up with Helios, MoviePass' monthly fees ranged from $14 a month to $50, depending on the market.
"I joined MoviePass over a year ago now and my main focus has been on finding the right price point," Lowe said in an interview with TheStreet on Tuesday, explaining that $10 was the consensus cost that he found consumers are willing to pay per month for the service.
Lowe served as the vice president of business development and strategic alliances for Netflix, founded in 1997, from 1998 to 2003. He also held executive positions at RedBox Automated Retail LLC from 2005 to 2011, including as the chief operating officer for four years. He took over the CEO position at MoviePass in June 2016.
One of MoviePass' partners is the Goldman Sachs (GS) - Get Goldman Sachs Group, Inc. (GS) Report -owned Studio Movie Grill, which has dine-in, bar, grill and theater concepts in nine states including Texas, California and Georgia.
"This is about making going to the movie theater a seamless experience. Our long-term vision is to take all of the friction away," Theodore Farnsworth, Helios chairman and CEO, told TheStreet on Tuesday.
Long term, Lowe and Farnsworth, who only took the helm at Helios in January, said they are working on a function that will allow consumers to order food and drinks from the concession stand prior to setting foot in the theater, and have their purchases waiting for them at reserved seats when they arrive. Plus, they both agree that movie theaters should build on all-day experiences, by running episodes of popular television series, like Game of Thrones, before a film, perhaps.
How Netflix Losing Disney Movies Could Bring 'a World of Hurt' to Its Stock
The institution that is the American movie theater, which has been dying alongside shopping malls, has struggled to get consumers through its doors over the past decade, as patrons increasingly shift to watching movies on streaming services like Netflix.
Lowe said MoviePass can help attract a new consumer to movie theaters, as 70% to 75% of its users are millennials.
In comparing China and the U.S., the two largest box office markets in terms of revenue, PwC, in a recent Global Entertainment & Media Outlook, estimated that China would surpass the U.S. by a long shot by 2020. The research firm predicted U.S. revenue from the box office to increase by a scant 1.23% through 2020 while China's revenue will grow by 18.96%.
Shares of Helios rose 5.73% to $2.95 on Tuesday.
Read More of What's Trending on TheStreet:
Amazon's Instant Pickup Service Shows Clearly Who Jeff Bezos Is Targeting Next
Editors' pick: Originally published Aug. 16.