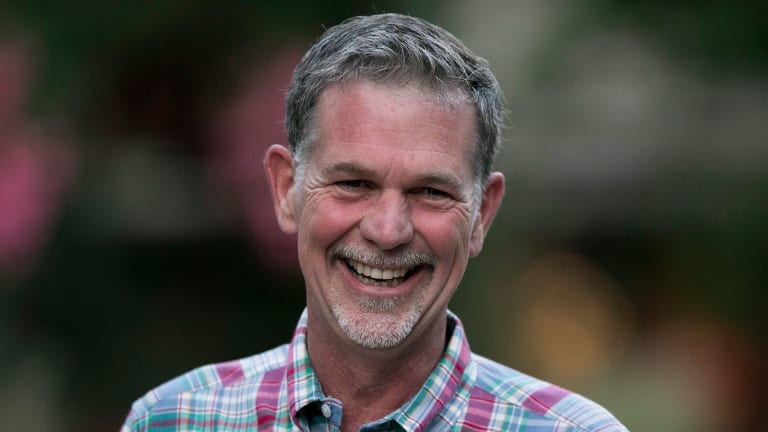 Netflix CEO Reed Hastings Has Investors Eating Out of the Palm of His Hand
Netflix CEO Reed Hastings continues to captivate the minds of many on Wall Street. Check out Tesla CEO Elon Musk's new compensation package.
Wow, tech earnings season could be huge.
Netflix -- What Else Can You Say? 
When a company starts its earnings release with the word "beautiful" as Netflix (NFLX) - Get Netflix, Inc. (NFLX) Report did, what else can you really say about the quarter? The company flat out nailed it and in the process captivated the minds of Wall Street enough to send the company's market cap soaring above $100 billion. As if Wall Street wasn't already crazy bullish on Netflix, the stock now climbs into bubble territory. Nevertheless, here is what stood out in the quarter and what is fueling the excitement: (1) acceleration in subscriber growth from the third quarter; (2) profits in international, long a soar point for Netflix; (3) big-time investment in content as Netflix tries to widen its lead over Amazon (AMZN) - Get Amazon.com, Inc. Report , Hulu, Action Alerts Plus holding Apple (AAPL) - Get Apple Inc. (AAPL) Report and soon, Disney (DIS) - Get Walt Disney Company Report , with its new streaming service (in the case of Netflix, excess spending is viewed favorably); and (4) no clear sign subscribers wouldn't pay even more to stay on the Netflix platform -- hello pricing power. I would add this memo to Netflix CEO Reed Hastings: These webcast conference calls conducted in what looks to be tiny cubicles should be overhauled for a more premium experience. It looks second rate and not interactive enough for a company that produces epic original content. Just keeping it real, bro. 
Tesla Drops This Ahead of Earnings
Tesla decides to reveal a new compensation plan for CEO Elon Musk ahead of what could be a weak fourth-quarter earnings report. Hmm. Not sure you want to buy up Tesla into that report. In short, Musk's new 10-year incentive plan is absurd for a number of reasons. Chiefly, in order for him to be fully vested, Tesla's market cap will have to grow more than $600 billion to $650 billion. Clearer short-term goals would be better for a company burning through cash and lacking an ability to deliver on Musk's goals. This is buffoonish target, plain and simple, given the competitive pick-up in the electric car market. Such a target assumes Tesla will pretty much be the only one making electric cars over the next 10 years with any form of success. What about Ford (F) - Get Ford Motor Company Report , General Motors (GM) - Get General Motors Company (GM) Report , Toyota (TM) - Get Toyota Motor Corp. Sponsored ADR Report , Mercedes and others? What happens if Tesla's market cap sinks $15 billion after a bad quarter,? Does Musk get discouraged and jump ship to Hyperloop production? One can appreciate Tesla's efforts here but there are questions with this structure. 
Receive the free daily "Morning Jolt" newsletter by heading here.
Exclusive on TheStreet
The waste business may not be sexy, but Action Alerts Plus holding Waste Management (WM) - Get Waste Management, Inc. Report has made it appear sexy for shareholders through the years. Waste Management shares have skyrocketed some 68% over the past two years, dusting the S&P 500's 50% gain. I talked exclusively with Waste Management CEO Jim Fish about the year ahead and longer-term outlook. This is one growth story that deserves your attention -- today.
What's Hot
Bitcoin and Death
In case you were wondering what to do with your bitcoin if you die, TheStreet's Scott Gamm has you covered in the above video. 
More from the Morning Jolt Archives:
More of What's Trending on TheStreet: