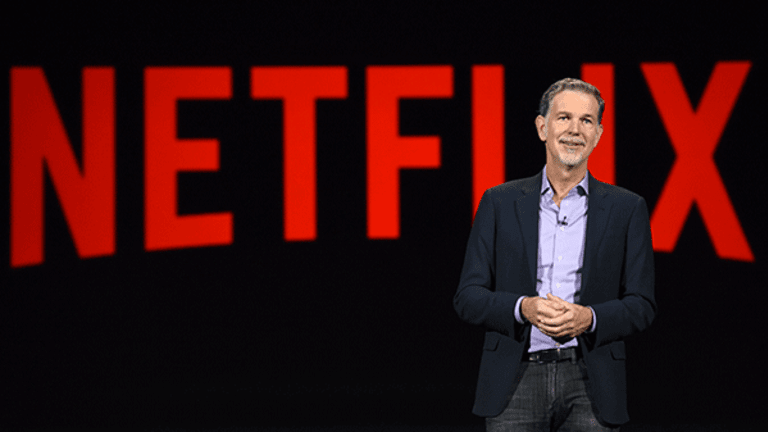 Netflix CEO Reed Hastings: We're Starbucks and Amazon Is Walmart
The two streaming giants are tackling original content in their own way, Hastings said at the Recode conference on Wednesday.
The two streaming giants are tackling original content in their own way, Hastings said at the Recode conference on Wednesday.
Netflix (NFLX) - Get Report CEO Reed Hastings opened his Recode conference talk on Wednesday by asking the crowd "How many of you have watched Netflix in the last seven days?" 
About half of the crowd raised their hands, a statistic that's surprisingly close to the almost 50% of the U.S. that has signed up for the monthly subscription to the streaming service, according to Hastings. However, less than half of the Recode crowd had seen an original Netflix movie in the past seven days. In order to get the other 50% of the U.S. to sign up for Netflix, the company has to keep churning out its original series and movies, Hastings claimed. "Mostly we need to do what we do now and do it better," he explained.
Jackdaw Research chief analyst Jan Dawson said that while Netflix can expand its range of content and add more original content, there will obviously always be a ceiling for the number of people that are willing to pay for a monthly subscription service. In addition, Netflix has to balance spending money to acquire content while also keeping costs down. 
Netflix first got into original content with "House of Cards" and other series because the company benefits from people choosing to binge watch a list of episodes more than it benefits from people viewing a singular movie one time, Hastings said. "Binge viewing is a very novel thing that we pioneered and there's no movie equivalent," he explained.  
Movies are still important for the service because customers can watch them at any time on Netflix's platform, rather than having to make a trip to the movie theater, he noted. The company is estimated to spend about $100 million per movie it makes and willingly admits that some of its movies haven't worked out as well as it hoped. For example, Crouching Tiger, Hidden Dragon: II didn't get as many views relative to what it cost to make the film, Hastings pointed out. "I think it's fair to say we've been amazingly successful on series and we're just getting started on movies," he said. 
Hastings said that he doesn't mind flops because it means the company is trying new things rather than conforming. "If anything what I push our content team on is you should have more things that don't work out," he said. "You've got to get more aggressive. The drive toward conformity as we grow as a company is very substantial."
Netflix has set itself apart by taking risks such as releasing all of the episodes in a series at one time to allow people to binge watch a show, noted Dawson. On the other hand, Amazon has gone the more traditional route of releasing series pilots to see how its audience reacts to them before ordering up a full season. "Hastings seems to want to experiment even more," Dawson noted. "And I think he probably needs to take some risks to continue building out the audience." 
The company's film business received particular attention this month at the Cannes Film Festival after certain French theater owners didn't want Netflix's two films, Okja and The Meyerowtiz Stories to be allowed in the festival since they were only distributed online, rather than in psychical theaters. Hastings took the controversy in stride, saying it only helped their business. "It's been fantastic for us," he said. "We get more awareness for two films." 
This fight might be a one-time thing for Cannes as Hastings said he believes movies will eventually be released simultaneously on Netflix and Amazon (AMZN) - Get Report , as well as in theaters for people who want a more social experience. "It's like going to a restaurant even though you can cook at home," he explained. The breakdown of the current system where theaters have exclusive rights to movies when they first open will inevitably break down because consumer choice is "a very powerful force," he said. 
Most of Netflix's growth is coming from international markets at this point, hence why the company is making locally produced shows for specific markets at this point, Hastings said. The company is trying to make it easier to then share those shows around the world.
The company has 100 million subscribers and is in basically every country outside of China, where it has opted to licensing its content to Baidu (BIDU) - Get Report , Tencent (TCEHY) and Alibaba (BABA) - Get Report as regulations have prevented it from entering the market alone. This came as a surprise as Netflix had previously seemed confident that it could break into China and succeed where other tech giants had failed. "We probably assessed it wrong," Hastings admitted. "We had our natural optimism that slowly got beaten down." 
One thing Netflix is fine to leave on the table is sports. That's because the company isn't trying to replace YouTube, owned by Alphabet's (GOOGL) - Get Report Google, or to be an Amazon that does everything, Hastings said. Netflix will never be as good as Amazon at meeting all of a consumer's needs so its strategy is to be more of an emotional connection brand. "Amazon is trying to be Walmart (WMT) - Get Report and we're trying to be Starbucks (SBUX) - Get Report , or super focused on one thing that people are very passionate about," he explained. 
While other companies like Google, Facebook (FB) - Get Report and Apple (AAPL) - Get Report are flirting with the idea of original content, none of them are making big bets on it like Amazon and Netflix. Hastings believes these companies are intimidated at the billions that Amazon is spending on its aggressive content strategy. "It's a scary prospect for most companies," he said. Netflix is expected to spend $6 billion on content in 2017, vs. the $4.5 billion Amazon is expected to spend on content this year. 
Dawson said he doesn't think other players are intimidated. Instead, they're starting off slowly just like Netflix did ten years ago. "Everyone starts with one to two shows and the first show is to figure out what makes sense for them," he explained. 
The good news is that the content market has room for everyone, according to Hastings. Each of the big and smaller players in the market are all going after a specific piece of the new streaming market and its far from being near saturation. The more companies that join in the game, the more talent gets hired. "In the next 20 years, it's all going to move to the Internet. It's all going to be on demand. And so you've got this massive ecosystem that's going to change and then everybody is trying to figure out 'okay, what piece of that ecosystem might I own' and are investing in different ways," Hastings explained. 
While there is definitely room for more than one player in the space, that doesn't mean there's room for everyone, according to Dawson. If cord cutting continues, people may be willing to subscribe to one to three services, but not all of them. "People don't have unlimited money," he cautioned. "There's gong to be competition for who gets that second and third slot." 
Apple, Facebook, Starbucks and Alphabetareholdings in Jim Cramer'sAction Alerts PLUS Charitable Trust Portfolio.Want to be alerted before Cramer buys or sells AAPL, FB, SBUX and GOOGL? Learn more now.
Editor's Pick: Originally published May 31.