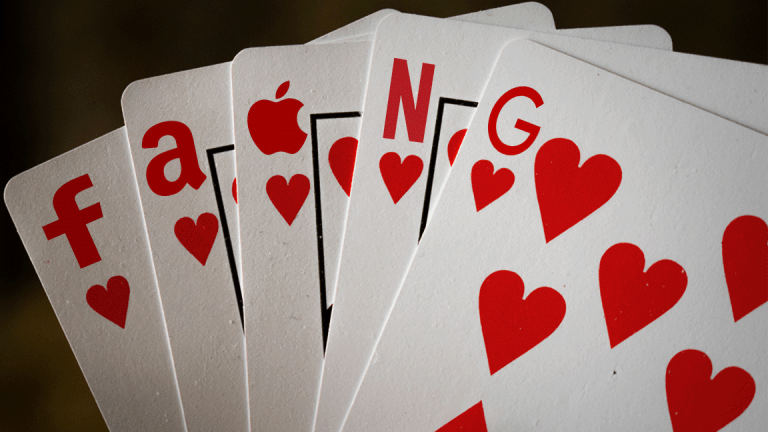 Jim Cramer's Take on Netflix Earnings (and the Other FAANG Stocks)
And why Amazon is his favorite of the bunch. Watch this exclusive video from Cramer's Actions Alerts PLUS club for investors.
And why Amazon is his favorite of the bunch. Watch this exclusive video from Cramer's Actions Alerts PLUS club for investors.
Jim Cramer isn't surprised that Netflix (NFLX) - Get Reporthit earnings estimates Thursday, as he assumed that the company wouldn't just announce a price hike and then miss the quarter.
"I mean, would all of these analysts really upgrade it and would [Netflix] tell you that they're going to raise price and then screw you on the quarter? I don't think so," Cramer said earlier Thursday in a live conference call with members of his Actions Alerts PLUS club for investors.
Cramer used the call partly to give his latest views on the so-called FAANG stocks -- Facebook (FB) - Get Report , Amazon (AMZN) - Get Report , Apple (AAPL) - Get Report , Netflix and Alphabet/Google (GOOG) - Get Report , (GOOGL) - Get Report -- all of which his charitable trust owns except for Netflix.
Here's his take on the four FAANGs that the trust currently holds:
Facebook
Cramer said his trust considered selling some Facebook shares on Thursday, but decided not to because "we think it's cheap, [and] we think that it's still getting a lot of business. But most important, we haven't had any headline risk, and this is a 'headline-risk' stock."
The expert explained that while Facebook has suffered from bad headlines in recent months over Russia's alleged use of the platform to influence the 2016 U.S. election, investors have "all gotten fatigued" about such stories.
"Would the stock be higher if they fired someone at the top? Yes. Did they take ownership of how bad they were? I don't think so," he said.
But Cramer said that while a major response to the scandal could boost the stock's price some $20 from its current roughly $148, "I don't think it's going to go back to $218."
Amazon
Cramer said that Amazon is his favorite FAANG - not surprising given that his charitable trust holds a large position in it.
The stockpicker said he endorses the company's current management, including CEO Jeff Bezos and Amazon Web Services' chief Andy Jassy.
"I like Andy Jassy, I like Jeff Bezos. And I still like Amazon," Cramer said.
Apple
Cramer said that AAPL is "cheap" here, but that he's not adding to his trust's position in the name because that would violate his "30-Day Rule" - "wait 30 days after earnings warnings before buying a stock."
Apple warned investors on Jan. 2 that its latest quarterly revenues will come in below expectations.
Alphabet/Google
The expert said that Alphabet, which has been mostly sliding over the past six months, needs to publicly make the case to investors for a rebound.
"I really think that they should come on TV [and] explain themselves: What are they really doing about trying to make [the stock] so it's a better bargain?" Cramer said. "Their lack of saying something has been what's kept the stock down."
Still, Cramer said his trust is sticking with GOOGL, as the stock "has got good growth, it's cheap and Ruth Porat -- who's the CFO -- will do the right thing."
Watch Jim's Full Call
Want to hear Jim's entire call with Action Alerts PLUS club members? Click here for details.
Employees of TheStreet are restricted from trading individual securities.