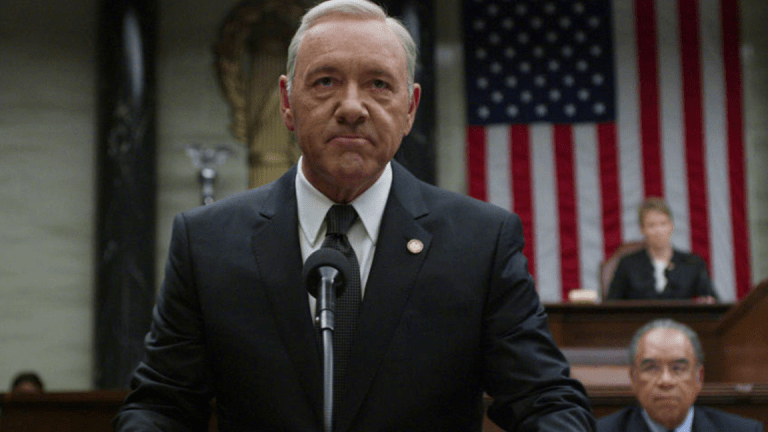 End of 'House of Cards' Won't Slow the Netflix Steamroller
'House of Cards' star Kevin Spacey said he couldn't recall an unwanted sexual advance alleged by actor Anthony Rapp.
"House of Cards" helped push Netflix Inc. (NFLX) - Get Report into the big time, but its apparent demise is unlikely to cripple its meteoric ascent. 
Nonetheless, the timing of reports that Netflix has decided to end the sensational hit series after its sixth season was a curious one given Buzzfeed's reporting over the weekend that the show's lead actor, Kevin Spacey, allegedly made an unwanted sexual advance toward actor Anthony Rapp three decades ago when he was 14 years old.
Netflix didn't immediately reply for a comment about the future of "House of Cards," though the streaming video operator did say it was "deeply troubled" by Rapp's allegations. The Buzzfeed story follows a string of allegations of sexual misconduct, some readily acknowledged, against Hollywood celebrities, Silicon Valley executives and mainstays of mainstream media.
Spacey, in a tweet on Twitter Inc. (TWTR) - Get Report , said he couldn't recall the 1986 incident, adding that his actions were likely the result of "inappropriate drunken behavior." Spacey did use the Buzzfeed story to publicly come out as gay. "But if I did behave then as he describes, I owe him the sincerest apology for what would have been deeply inappropriate drunken behavior," Spacey wrote.
"House of Cards," meanwhile, is in production on its sixth season, which is set to become available on Netflix around June.
For Netflix, "House of Cards" catapulted the network from an aggregator of other people's content into a creator of its own originals. From the series' debut on Feb. 1, 2013, until the present, Netflix's stock has surged an eye-popping 743%. All together, that's 65 episodes, charting the path of Congressman Frank Underwood and his wife played by Robin Wright as they use all manner of power to chart their way to the White House.
Netflix shares closed at $198.37 on Monday, Oct. 30, down less than 1% for the day.
Six months after the debut of "House of Cards," Netflix launched "Orange Is the New Black," further raising the network's status as a maker of high-quality television serials, the kind of fare usually only found at Time Warner Inc.'s (TWX) HBO. From there, Netflix moved on to "Narcos," "Unbreakable Kimmy Schmidt," "Master of None" and, most recently, "Stranger Things."
This year, Netflix is expected to have spend more than $6 billion on content -- about 25% of it on original programming. CEO Reed Hastings said earlier this month that the company plans to increase its budget for content to more than $8 billion in 2018, with the portion of originals nearing 50% by 2020.
Sure, Netflix has had its flops -- "Marco Polo," "Disjointed" and "Gypsy," to name a few. But Netflix's business model isn't tied strictly to viewership, though that is important. Rather, Netflix is aiming to produce enough well-received original content to convince its 109 million subscribers worldwide to retain the relatively inexpensive streaming service.
By the time that "House of Cards" concludes its final season, it's likely that Netflix will have new programming to attract and hold subscribers and that the lessons presumably learned by Spacey and others in entertainment, politics and business will have helped curbed unwanted behaviors far and wide.
More of What's Trending on TheStreet: