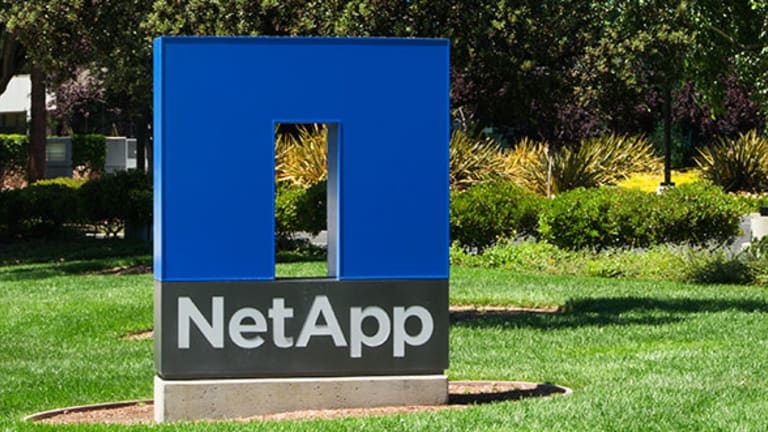 NetApp: Why I Remain on the Sidelines
Is there life left in shares of this storage maker?
Back in December I didn't think shares of NetApp (NTAP) - Get NetApp, Inc. (NTAP) Report could continue their sharp climb higher. But after the company beat Wall Street estimates this week, maybe there is more life in this storage maker.
In early December I was skeptical that NetApp could continue its run. After all, at that point, the stock was up 37% on declining revenue growth. In fact, 2013 was the last year the company actually grew revenue (by 2%). Revenue was down 9.4% in fiscal year 2016 (ended April) and it is expected to be down 1% in FY 2017. To find any top-line growth, you have to go out to next year.
Apparently investors are going out many years to find growth because in the last 12 months, the stock is up about 70%.
On Wednesday, NTAP reported third-quarter fiscal 2017 earnings of $0.82 per share, $0.08 better than the consensus estimate. Revenue rose 1.3% to $1.4 billion, in line with the previous analyst estimate.
The company is especially excited by its all-FLASH storage solutions. NetApp has shipped nearly 300 petabytes of FLASH storage and its all-FLASH storage array products are at an annualized run rate of almost $1.4 billion, up 160% year over year.
NetApp noted this is a faster adoption rate than the rest of the industry, which is believed to be growing 60% year over year. EMC remains the number one supplier of all FLASH storage.
In terms of revenue mix, "strategic" products are 65% of product revenue and grew 22% during the quarter, while 35% of product revenue is listed as "mature" products, which were down 18%.
During the quarter, NetApp repurchased $284 million of shares and paid $52 million in dividends, but free cash flow fell 39% to $190 million.
NetApp is in the midst of a product re-fresh and the stock has moved (admittedly without me), but I just can't get excited about network-attached storage, when cloud storage is aggressively taking market share.
If things are going so well, why did gross margins get decimated? Product gross margins narrowed 540 basis points during the quarter to 45.7%. The company had to offer sharp discounts to move its new products and had to hack away at expenses (R&D, marketing) to offset the gross margin decline.
Operating margin jumped 262 basis points to 20.2%, but I don't think that's sustainable. I don't know how a tech company in a competitive industry, such as storage, can chop 7% out of R&D and 9% out of sales and marketing and continue to be successful.
I know, the stock will probably continue higher, but I will continue to sit on the sidelines. I have no stored up excitement for NetApp.
This article is commentary by an independent contributor. At the time of publication, the author held no positions in the stocks mentioned.