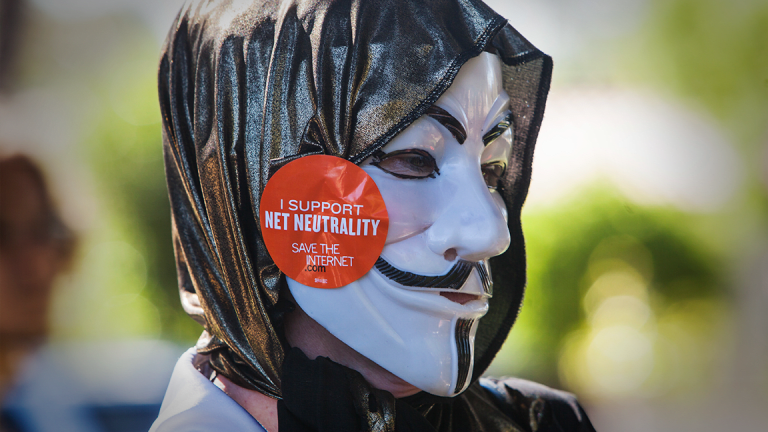 Net Neutrality Votes Will Cost Republicans in Mid-Term Elections, Democrats Vow
Millennials will make Republicans pay if they do away with net neutrality, Democrats say as they plan to scrap a recent FCC decision.
Senator Edward Markey (D-Mass.) said Tuesday that 40 Senators now support a resolution to scrap the Federal Communications Communications rules that would eliminate net neutrality protections.
Markey said his group has enough votes to force a Senate vote on the FCC rules, and said a similar effort will take place in the House of Representatives. While the resolution would clearly be a setback for FCC Chairman Ajit Pai, who led the charge against net neutrality and was appointed FCC chair by President Donald Trump, Democrats argued at a Tuesday press conference that the vote in the Senate will also have a resounding impact on the upcoming mid-term elections.
Senate Minority leader Charles Schumer (D-NY) said Republicans have angered an increasingly important constituency with their stance -- millennials. 
"The Republican Party and the Trump Administration are on the wrong side of the issues and the millennials in this country know it," Schumer said. "They are mobilizing." 
The FCC approved Chairman Ajit Pai's Restoring Internet Freedom regulations in December. The rules roll back Obama administration regulations that prohibit broadband providers from blocking or throttling traffic, or creating fast lanes that give priority to some traffic.
Pai claimed the Obama rules imposed decades-old utility regulations on today's companies and hampered investment in broadband networks. Large broadband providers such as Comcast (CMCSA) - Get Report and AT&T (T) - Get Report have said they do not intend to block or throttle traffic despite the easing of restrictions.
"Net neutrality will be a major issue in the 2018 campaigns and we are going to let everybody know where we stand and where they stand," Schumer said, suggesting that the votes that Congressmen cast will be fodder on the campaign trail.  
The net neutrality debate has spawned countless tweet storms, and HBO's John Oliver has whipped his viewership into a frenzy over the issue. Schumer observed Tuesday that millennials had a large impact on the recent New Jersey Governor's race, the Alabama Senate contest and the Virginia state legislature elections in which Republicans experienced setbacks.
Senator Brian Schatz (D-Hawaii) warned that Trump's FCC has "woken up a sleeping giant" with its net neutrality ruling.
"I've never seen an issue that fires up teenagers and college kids like this since the Iraq war," Schatz added. "This is being underestimated on the Hill."
Markey's Congressional Review Act resolution would essentially nullify the FCC action, if it receives a simple majority of votes in the House and the Senate. Before the resolution can be submitted, the FCC's net neutrality order must first appear in the Federal Register, which sources have estimated could happen in January or February.
Comcast is a holding in Jim Cramer's Action Alerts PLUS Charitable Trust Portfolio. Want to be alerted before Cramer buys or sells CMCSA? Learn more now.
Jim Cramer's Action Alerts Plus club for investors will hold its first monthly conference call of 2018 this Wednesday. Find out more. 
More of What's Trending on TheStreet: