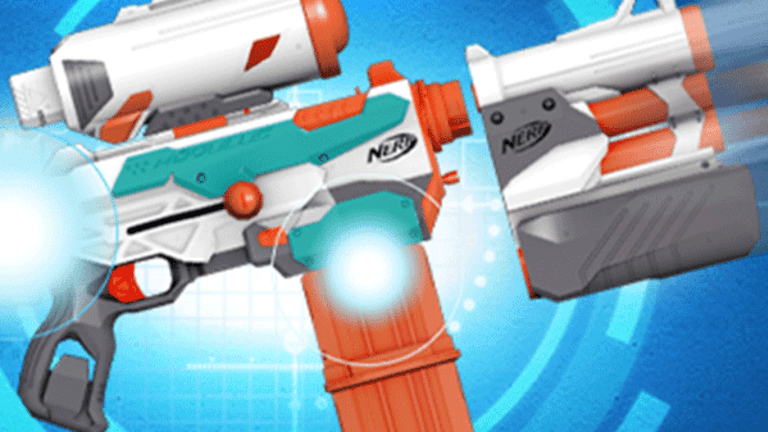 Nerf Guns and Troll Dolls Surge for Hasbro on 1990's Nostalgia
Hasbro (HAS) is seeing a sales boost from its revitalized 1990s toys and it all started in 2011 with the reboot of classic Nickelodeon shows.
Hasbro (HAS) - Get Free Report executives can thank a couple of interns atViacom's (VIAB) - Get Free ReportNickelodeon for the recent craze for 1990s-era toys, boosting sales of such favorites as Nerf toy guns and fluorescent, wild-haired Trolls dolls.
"The nostalgia factor is certainly something that has led to the revitalization of the '90s movement," said Samantha Lomow, senior VP of Hasbro brands. "There is a joy in rediscovering the brands and toys that longstanding fans may have grown up with and the excitement in sharing that love with a new generation."
In October, Hasbro reported that its 2016 third quarter revenue from its partner brands grew 19%, driven in part by Trolls dolls sales, which gained popularity ahead of the Nov. 4 release of DreamWorks Animation's (DWA) cartoon Trolls.
The revitalized '90s movement can be traced back to July 2011 when Nickelodeon launched The '90s Are All That, a late-night program block on TeenNick of 90s-era shows including Hey Arnold!, Rugrats, The Ren & Stimpy Show, Double Dare and Figure It Out.
The launch came after a group of millennials in Nickelodeon's intern program started a campaign targeted at the station called "Bring My '90s Nickelodeon Back," Nickelodeon chief marketing officer Pam Kaufman said.
"They said, why aren't you airing those old shows?" Kaufman said. "And we thought, why would we air that old stuff?"
Turns out the interns were onto something.
The first night Nickelodeon broadcast The '90s Are All That on TeenNick, the channel's ratings tripled and reached record late-night viewership levels. At 12:30 a.m. when the company aired Kenan & Kel, TeenNick rose to number three on cable network charts with an average of 597,000 people per night watching the show, a 199% increase for the time block prior to the '90s launch.
Since the ratings were so strong that summer of 2011, Nickelodeon launched a full-time program, The Splat, in 2015 which runs every day from 10 p.m. to 6 a.m. on TeenNick.
Kaufman said the '90s resurgence was driven by an "intern demand" and sustained by the "consumer demand."
The movement helped Nickelodeon launch various consumer brands under the '90s theme and the company plans to introduce various more beginning in the fall of 2017, Kaufman said.
In August, the company opened its "Remember When" exhibit at its Manhattan concept store, "STORY," to celebrate this year's 25th anniversary of the premier of Nickelodeon animation. The installation ran through Sept. 15 and sold items including the Bamford Watch Department Rolex with three different faces featuring Spongebob Squarepants, Double Dare and a multi-cartoon print.
The store also sold Keds sneakers inspired by Double Dare and "healthy" dog and cat treats inspired by the cartoon about the conjoined dog and cat: CatDog. The company also a sold a dog toy that looked like Rugrats' orange-haired character Chuckie Finster's glasses.
"It's really exciting to see the first generation of kids (Nickelodeon animation launched in 1991) who grew up on us become parents and want to share their childhood with their kids," Kaufman said.
The phenomenon of wanting to recreate your childhood is nothing new, said Marty Brochstein, senior VP of the International Licensing Industry Merchandisers Association (LIMA).
"I think this (movement) goes on continually," Brochstein said. "I remember when the Baby Boomers revived Care Bears."
Another example is actually Trolls. Although the dolls are associated most with the '90s, they were originally introduced in Denmark in the 1960s but gained popularity in the U.S. in the 1990s.
Shares of Hasbro fell 93 cents, or about 1 percent, to $79.94 in Monday trading on the Nasdaq stock exchange.