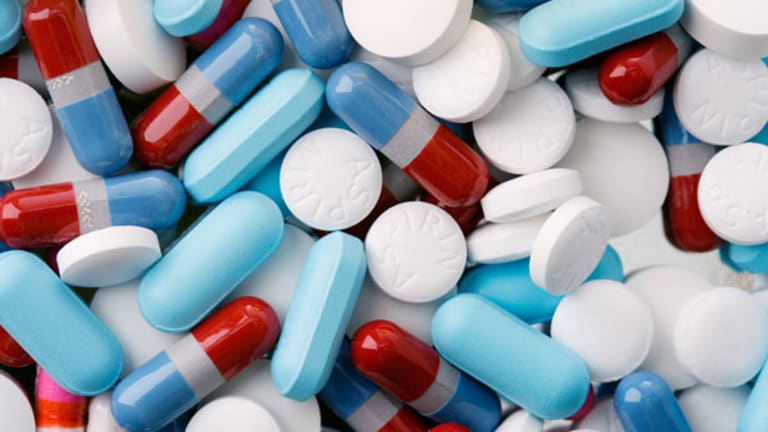 Nektar Therapeutics Is a Short
Investor Martin Shkreli believes Nektar's constipation drug is a bust and the stock is a good short.
Investor Martin Shkreli believes Nektar's constipation drug is a bust and the stock is a good short.
NEW YORK (
) -- My goal in this article is to persuade you to short
Nektar Therapeutics
(NKTR) - Get Report
. I'm short the stock and expect my bet will pay off with an excellent return. Nektar is a $1 billion specialty pharmaceutical company whose main asset is NKTR-118, an experimental drug being developed for opioid-induced constipation (OIC.) I believe NKTR-118 has a marginal risk/benefit profile and addresses a small commercial market. I'm shorting Nektar because the stock is worth $3 per share in my model versus its current value of $8.26.
Nektar licensed NKTR-118 commercial rights to
AstraZeneca
(AZN) - Get Report
, for which Nektar was paid $125 million in 2009. Nektar will also receive a "significant double-digit" royalty on NKTR-118 sales, if the drug is approved, according to the company. My guess is that this royalty starts at 15% and moves to 20% as sales grow.
Let's calculate a value for NKTR-118. Peak sales of $300 million in 2019 renders the royalty worth $274 million at a 10% discount rate. Likewise, peak sales of $600 million makes the royalty worth $474 million; peak sales of $1 billion equals $845 million in net present value. The key question: What is the upper bound and lower bound of future NKTR-118 revenue?
Nektar-118 will not sell well
Zelnorm, the best-selling constipation drug of all-time, generated revenue of $561 million in 2006. Zelnorm was still growing quite rapidly when it was removed from the market for safety reasons. It probably would have peaked out at $800 million in sales, but no one knows for sure. Zelnorm was approved in irritable bowel syndrome (IBS), a very different and much larger commercial market than opioid-induced constipation (OIC). Nevertheless, Nektar bulls like to claim NKTR-118 will meet or beat Zelnorm in sales, which is hard to believe because the mechanism of action of Zelnorm and NKTR-118 are completely different. Nektar doesn't even seem to have plans to study NKTR-118 in IBS, so Zelnorm isn't a valid comparison.
Let's try predicting NKTR-118 sales by looking at drugs currently approved for OIC. Entereg generated $31 million in trailing 12-month sales before being acquired by
Cubist Pharmaceuticals
(CBST)
. Relistor, marketed by
Salix Pharmaceuticals
(SLXP)
and
Progenics
(PGNX) - Get Report
, had sales of $42 million in the past 12 months. Granted, both drugs have limitations and issues that have probably hurt sales, but Salix and Progenics are developing an oral Relistor that will be filed for regulatory approval shortly. Nektar and AstraZeneca won't report results from phase III studies of NKTR-118 until later this year.
If we assume there are six million people in the U.S. using opioids to treat chronic pain, and we further assume 20% of them have constipation so bad that they'll need an additional prescription instead of taking an over-the-counter laxative or other anti-constipation product, that means 1.2 million people might be potential users of NKTR-118.
OIC patients are notoriously non-compliant, leaving prescriptions unfilled or untaken. Let's assume these patients only take six months of drug, or seven million prescriptions, per year. Furthermore, I'll be generous and give NKTR-118 half this market. At $200 a prescription, NKTR-118 is a $700 million product, at best. My gut tells me the drug won't generate a fraction of that revenue.
Phase III trials for NKTR-118 are at high risk of failure
All of my analysis so far has assumed that NKTR-118 will meet its primary endpoint in the two, ongoing Phase III trials. In fact, success in these studies is far from certain. I believe there's a very high chance one of the two NKTR-118 trials fails, or at a minimum, "positive" results are not clinically meaningful. A setback like this would effectively terminate the NKTR-118 development program.
The NKTR-118 phase III trials carry a high failure risk because we know from phase II trials that the treatment effect of OIC drugs declines over time while placebo response improves over time. This narrowing of clinical benefit, measured by the number of "spontaneous bowel movements" over time, was evident in studies conducted by
Theravance
( YHRX) with its experimental OIC drug TD-1211.
Alkermes'
(ALKS) - Get Report
ALKS 37 worked just fine when patients were treated for 1-2 weeks, but the treatment effect disappeared over longer periods of time, forcing Alkermes to abandon the OIC drug's development.
My real concern is that Nektar and AstraZeneca have not planned for the diminishing effect of NKTR118 (and an improved placebo response) over the course of the 12-week phase III studies. It's hard to design phase III studies when you haven't done proper phase II work. Nektar and AstraZeneca have already made changes to the phase III studies mid-stream, which tells me neither company has a real handle on how patients will perform or how the prospective statistical plan will hold up. Therefore, I won't be surprised to see one or both of these NKTR-118 phase III studies fail.
NKTR-118 is an OIC drug with subpar characteristics being evaluated in uncertain clinical trials and with iffy commercial prospects. I can't see how this asset is worth a lot more than $100 million, if that. This leaves a whole lot of market cap for Nektar and its shareholders to justify.
The Rest of Nektar
Nektar's current net cash is $262 million and the company has been burning about $75 million per year. If you include the interest payments Nektar must make on its senior secured debt, another $75 million of future interest payments must be removed from calculation, leaving $187 million net cash. I value Nektar's cash at $100 million, roughly including one year of burn and waste that is endemic to the company as well as subtracting future guaranteed interest payments.
Nektar receives a royalty on Omontys, the new anemia medicine from
Takeda
and
Affymax
(AFFY)
which must take market share from entrenched competitors. If Omontys can generate $200 million in sales, the royalty to Nektar is worth $50 million. However, Omontys was only just launched and seems to be on a $30 million run rate.
NKTR-061 is an inhaled antibiotic in development by
Bayer
. The market for inhaled antibiotics is tiny and I suspect the difficulties already seen with this program will result in its termination. I put in a generous placeholder valuation of $25 million.
NKTR-102 is a controversial cancer drug that has seen better days. Once the star in Nektar's portfolio, expectations on Wall Street have dropped for this product. NKTR-102 is a long-acting version of irinotecan, a cheap generic chemotherapy in a phase III trial for breast cancer.
I have zero expectation that NKTR-102 is any better than irinotecan. Nektar appears to agree with me because the phase III study compares NKTR-102 to physician's choice. Even if this study works, who cares? Perhaps NKTR-102 is worth $50 million (I wouldn't pay that) but someone might.
Nektar is spending some money designing new opioids. As a short seller, I love it when companies waste their funds on meaningless programs. New opioids are not needed. Period. The end. The world is replete with painkillers and new ones are not selling well.
Let's tally up Nektar's value. I give the company $1 per share in cash, $1 per share for NKTR-118 and $1 per share for everything else. That makes Nektar a $3 stock that trades today for $8.26.
With NKTR-118 news coming soon, I expect a failure to take the stock directly to $2-3 per share. Successful NKTR-118 clinical trial results will still cause the stock to fall more gradually over once investors realize that the drug has minimal commercial potential.
Shkreli is short Nektar shares.
Follow Martin Shkreli on
.
Martin Shkreli is the managing member of MSMB Capital, a New York-based hedge-fund and private-equity firm focused on health care. He is also president and founder of Retrophin, a biotechnology company that develops treatments for rare and severe diseases. Shkreli has spent his career in the hedge-fund industry, previously in roles with Intrepid Capital Management and Cramer Berkowitz & Co. Shkreli lives in New York City and received a BBA in finance from Baruch College.