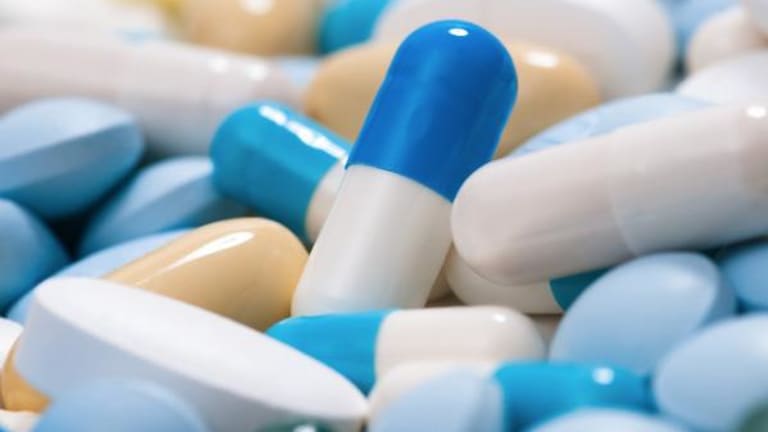 Nektar Addiction-Resistant Opioid Reduces Chronic Pain in Late-Stage Study
Nektar plans to out-license the experimental opioid NKTR-181 to a partner for continued development.
Nektar plans to out-license the experimental opioid NKTR-181 to a partner for continued development.
Nektar Therapeutics (NKTR) - Get Report is reporting results Monday from the first late-stage clinical trial showing its experimental, addiction-resistant opioid NKTR-181 reduces pain significantly more than a placebo in patients with chronic back problems.
The positive outcome of the phase III "SUMMIT-07" study comes as somewhat of a surprise because NKTR-181 failed to beat placebo in a previous, randomized phase II pain study.
Nektar won't spend any more money on NKTR-181 but the successful phase III study should bolster the company's previously announced plan to outlicense the painkiller to a partner for continued development. A deal, if completed, would create nice financial windfall for the company.
Nektar shares rose 13% to $17.50 in Monday pre-market trading. The stock closed Friday at $15.50.
To tackle the current opioid addiction crisis, most abuse-deterrent opioids rely on alterations to the formulation of the pill or tablet without making any changes to the opioid molecule itself. But this strategy often mis-fires. Abuse-resistant formulations can be compromised or bypassed through tampering, allowing the unmodified opioid to enter the brain quickly, resulting in a euphoric high.
NKTR-181 takes a different approach by making a unique change to the actual opioid molecule. This alteration creates an opioid that has low permeability across the blood-brain barrier. By design, NKTR-181 enters the brain slowly, resulting in less euphoria and not enough of a high to make the drug desirable for abuse.
A previously reported abuse liability study of NKTR-181 conducted with opioid addicts found the Nektar product to be significantly less "likable" than standard oxycontin.
The challenge for Nektar was to demonstrate that a slower and less addictive opioid could still provide meaningful pain relief for patients suffering from chronic pain.
Nektar's SUMMIT-07 study compared twice-daily dosing of NKTR-181 to a placebo in more than 600 patients with moderate to severe, chronic lower back pain. The patients enrolled in the study were all new to opioid therapy.
In the first part of the study, all the patients were treated openly with titrated doses of NKTR-181 until their pain was adequately controlled, measured by a subjective pain reduction scale. During this period in which the patients knew they were being treated with the Nektar drug, the average pain score of the patients dropped by 65%.
Next, patients were randomized in a blinded fashion to either continue receiving NKTR-181 or be switched to a placebo. This treatment period lasted for 12 weeks, after which pain scores for both groups were compared.
At the end of the blinded treatment period, the average pain score for the patients treated with NKTR-181 worsened by a little less than 1 point. The average pain score for the placebo patient worsened by almost 1.5 points. The difference in pain scores between NKTR-181 and placebo was statistically significant, meeting the primary endpoint of the phase III study.
Seventy-one percent of NKTR-181 patients experienced pain reduction of greater than 30% compared to 57% of placebo patients. Also, more than half of the NKTR-181 patients reported better quality of life at the end of the study compared to about a third of the placebo patients. The difference on both these secondary endpoints was statistically significant, Nektar said.
Constipation was reported by 36% of patients during the titration period of the study. The constipation rate dropped to 9% in the treatment period, although that was assisted by the use of Movantik, the recently approved drug to ease opioid-induced constipation, Nektar said.
Evidence that slower entry into the brain does help the tolerability of NKTR-181 showed up in a statistically significant improvement in sleep quality over placebo. There were also no statistical differences in daytime sleepiness on NKTR-181 versus placebo.
Nektar Chief Scientific Officer Stephen Doberstein says NKTR-181's ability to reduce pain with fewer side effects and little risk of addiction could fundamentally change the way opioids are used to manage chronic pain. 
"This could be a kind of entry opioid for chronic pain patients for whom NSAIDS are not working," said Doberstein, in an interview Sunday night. "Patients could take this product without worrying about becoming addicted. They don't have to worry about their kids stealing NKTR-181 out of their medicine cabinets."
But while NKTR-181 met primary and secondary endpoints of the study with statistical significance, there are still outstanding questions about the drug's overall risk-benefit profile against standard opioids in real world settings, says David Juurlink, an expert on opioids and drug safety at the University of Toronto.
"These findings are interesting but they're also no home run," said Juurlink, not involved in the Nektar study. "I'd be very interested to see how NKTR-181 compares in a more generalizable setting versus something other than a placebo. That should help clarify whether the compound is more of a meaningful advance or just another gimmick like tamper-resistant opioids."
Adam Feuerstein writes regularly for TheStreet. In keeping with company editorial policy, he doesn't own or short individual stocks, although he owns stock in TheStreet. He also doesn't invest in hedge funds or other private investment partnerships. Feuerstein appreciates your feedback; click here to send him an email.