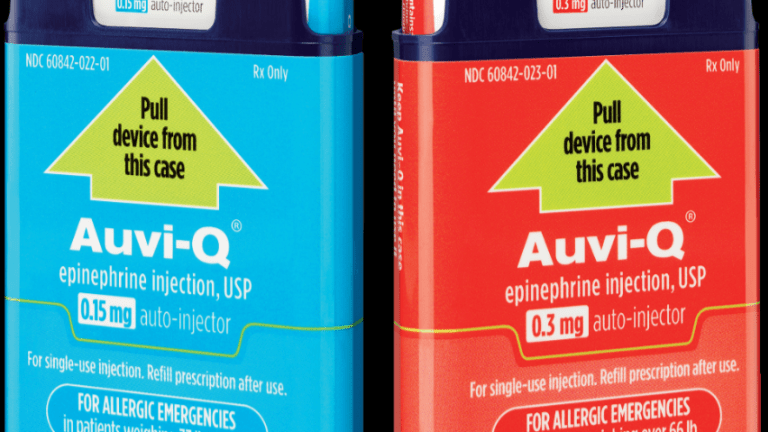 Express Scripts, Cigna Opt Out of Paying for EpiPen Competitor Auvi-Q
It's unclear how much of the hefty $4,500 price pharmacy benefit managers or insurers will agree to pay to keep Auvi-Q free for most patients.
Kaleo Pharma's Auvi-Q, a competitor to Mylan's (MYL) - Get Viatris, Inc. ReportEpiPen, will be back on the market in February, the company announced Thursday, but not without a high price tag for insurers and pharmacy benefit managers. 
Kaleo's low out-of-pocket price tag on Auvi-Q depends on a complex price structure that forces insurers and pharmacy benefit managers to bear most of the product's costs. While Auvi-Q, an auto-injector used to treat anaphylaxis and severe allergic reactions, will be free for patients with household income of less than $100,000 yearly, a package of two auto-injectors will cost $4,500 for insurance companies and PBMs. For uninsured patients who make over $100,000 yearly, the cost of the auto-injector two pack will be $360. 
This is almost nine times more than what Mylan says is its price for insurance companies and pharmacy benefit managers, or $274 apiece. Mylan says it is insurance companies and PBMS that boost the price of an EpiPen two-pack to between $600 and $700. Approximately 80% of patients who use EpiPen get the drug for free, said spokeswoman Nina Devlin via email. 
This, of course, then raises the question of which insurers or PBMs will actually agree to Kaleo's pricing structure, given that many are already frustrated with Mylan's pricing plan?
Kaleo representatives rebuffed several attempts by reporters to find out which if any companies agreed to the scheme.
"As mentioned during last week's phone briefing, we have and will continue to engage with all stakeholders, including PBMs, payers, physicians, patients, wholesalers and pharmacies to help ensure that patients have options when it comes to epinephrine auto-injectors, including access to AUVI-Q," said Mark Herzog, vice president of corporate communications at Kaleo in a statement. "As a private company, we do not share the details of our conversations with these stakeholders."
"If I were Kaleo, I wouldn't bring this exorbitant price that's ten [sic] times what EpiPen is unless I knew someone was going to participate with this scheme," said Michael Rea, founder of Rx Savings Solutions, by phone. "They've got somebody who agreed to this. One of the big three [pharmacy benefit managers] has to be in on this."
According to Ellen Drazen, spokeswoman for Express Scripts (ESRX) , the pharmacy benefit manager has not involved itself in any partnership with Kaleo. 
"Regarding Auvi-Q, we believe this is another egregious pricing scheme that will attempt to gouge payers and damage our healthcare system," Drazen said via email. 
Additionally, though UnitedHealth Group (UNH) - Get UnitedHealth Group Incorporated Report did not respond to immediate request for comment, a source said that Optum, the healthcare company's PBM, would not pay for Auvi-Q. CVS Caremark (CVS) - Get CVS Health Corporation Report , the other major pharmacy benefit manager, could not be reached for immediate comment. 
CVS previously announced that it would offer Impax's (IPXL)  auto-injector, a generic version of its brand-name product, Adrenaclick, at all locations for $109, which is cheaper than the prices patients see at the pharmacy on EpiPen. Although these products were previously on the market, they were not as widely used as the EpiPen because of a slow manufacturing process and limited brand recognition, which inhibited doctors from writing prescriptions for it.  
Meanwhile, Cigna (CI) - Get Cigna Corporation Report was the only major health insurer that could be reached for comment on its involvement in the pricing scheme. 
"In this instance, the price for Auvi-Q far exceeds that of epinephrine alternatives with the same expected medical results," said Karen Eldred, spokeswoman for Cigna. "Therefore, we have no plans to add Auvi-Q to our covered drug lists."
Cigna will cover the generic version of Adrenaclick, as well as the generic version of Mylan's EpiPen, which was introduced in December for $300 for a two-pack, not including a $25 coupon. 
A spokesperson for Humana (HUM) - Get Humana Inc. Report said via email that the company is "not supportive" of Kaleo's pricing strategy and has not engaged with the company about keeping prices of Auvi-Q low. 
Aetna (AET)   and Anthem (ANTM) - Get Anthem, Inc. Report could not be reached for immediate comment on whether they would cover Auvi-Q. 
Kaleo, which is based in Richmond, Va., announced back in October that it would bring Auvi-Q back to market in the first half of 2017. Auvi-Q was previously an option for those with life-threatening allergic reactions, but was pulled in late 2015 due to problems with the injection mechanism. At the time, Sanofi (SNY) - Get Sanofi Report was marketing the drug. In February 2016, Kaleo regained the rights to Auvi-Q.