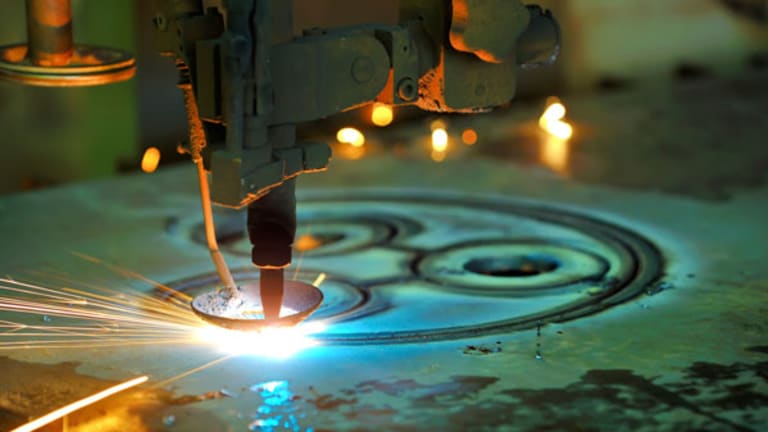 NCR CEO Bill Nuti: Q&A
NCR CEO Bill Nuti talks to <I>TheStreet</I> about the company's plans for expansion and hiring.
NEW YORK (
) --
NCR
(NCR) - Get NCR Corporation Report
was founded in 1884 as a mechanical cash register company, but these days it's more known for its presence in banks.
Nineteen of the top 20 banks use already NCR for their ATM machines, and the company is now looking to emerging markets for its ATM growth.
NCR also sees a future in kiosks as a way of tapping into the corporate demand for self-service. Airlines, for instance, have embraced check-in kiosks with five of the top six airlines using NCR for this service.
NCR CEO Bill Nuti: Growth in Self-Service
In addition, following
Coinstar's
(CSR)
success with Red Box, NCR branched out in another direction, teaming up with
Blockbuster
(BLOKA.PK)
to provide DVD rental kiosks.
Standard & Poor's, which has a sell rating on the stock, is concerned about the valuation of the shares (up 26% so far in 2010) and worried about consistent margin performance.
"We think start-up costs for the video rental kiosk line will pressure margins near term, but begin to fade by late 2010," S&P said in a note to clients. NCR is also pushing out kiosks in various sectors like travel with its NCR Hotel Solution and health care with the NCR Medikiosk.
TheStreet
recently spoke to NCR CEO Bill Nuti about the company's growth prospects.
TheStreet: You're known for ATM machines. Financial services, though, have been slowing - definitely not a growth area. So how has your company been reacting to that?
Nuti:
At the end of the day we're focused on global representation of our product line. The emerging markets are doing quite well. China, India, Brazil, Russia are all growing in the double digits for us and will continue for many years.
Because the density of ATM's in terms of per person population-wise is very different there. They're emerging markets, unlike the U.S. and Western Europe that candidly are markets that are more mature for us. We think our growth outside the U.S. will more than far outweigh the opportunities of what we see is more of a slowing growth market inside the more mature spaces.
Alright, so what's the status on say, India?
Nuti:
India's doing well. India's a great market, as is China. Brazil is a fantastic opportunity as is Russia. India, per se is a market that's think about 200-300 ATM's per million people in terms of density compared to the U.S. - 1,400 or so ATM's per million people. So as you can see, as the middle class grows, as cash is more widely used as a tender mechanism their density will grow but they're gonna far outweigh the growth of the mature markets.
You mentioned other areas that your company is growing. Let's go into that. Kiosks now, right?
Nuti:
In terms of how also do we grow? We take the self-service business system that has been so successful for us in financial and retail. We move into travel. We move into health care. We move into entertainment. When you talk about kiosks, you're really talking about entertainment for us.
We're now about 7,000 kiosks installed in the U.S, close to 10,000 at the end of the year. It's a terrific business. It has a tremendous growth trajectory and the adjacencies for us moving into other channels of distribution, open up a tremendous total available market to the company that we didn't have just a year ago. So, a terrific opportunity for NCR in the future.
I saw that you're doing these Blockbuster express machines, kind of going up against the Red Box, but it seems that in the future people are going to be downloading movies more rather than the dvd's, so how do you deal with that?
Nuti:
Well, physical dvd distribution will be here for a very long time. It's about an $8 billion a year market today, In terms of sell through and rental. We're a small player today even as that market declines and we grow our share of that space our revenues will grow disproportionately.
Now, definitely we need to come up with a strategy to move more into online digital distribution. We're already moving down that path. In fact if you go to the airport today, in a number of cities in the U.S. you'll find our digital distribution download kiosks at the airport where you can plug in an SD
Secure Diigital microcard, a thumb drive, your phone, your PC and download a movie to enjoy on your flight and you're going to see us move from portable media download, like that, right into internet based download in the future. Potentially with partnerships or on our own.
So you are doing all these different things, vertically which one is growing the fastest and what are you putting the most money behind?
Nuti:
Entertainment's growing the fastest. We're putting a good amount of our capital behind entertainment, but travel's equally growing very quickly for us now. If you go to the airport in the U.S., 8 out of 10 times when you check in using a kiosk, you're using NCR technology. Not a lot of people know that, but you are.
So we're omnipresent as a company in terms of self service. If you go check out at a
Lowe's
(LOWE)
or a
Home Depot
(HD) - Get Home Depot, Inc. Report
or a
Wal-Mart
(WMT) - Get Walmart Inc. Report
, you're likely to use our point-of-sale or self-checkout machines. So the company is very well-positioned in the self-service marketplace, which is growing. Entertainment, while growing the fastest, is also the smallest. Travel and health care are right behind it.
It sounds like you've moved beyond the register, right?
Nuti:
Indeed we have. We are no longer just a cash register company
What is the thing that you're most excited about in the future for the company?
Nuti:
Entertainment. I think we're most excited about entertainment because of the upside potential of entertainment in terms of revenue and margins for the company. We'll be EBITDA positive in Q4, neutral to positive. Next year we'll be EBITDA positive and that business has a great trajectory in 2012 and beyond.
How are you on hiring?
Nuti:
Ok. So far we're bringing on new sales people. We're bringing on new people in the field to service our equipment. We're maintaining a bit of a tighter hold in terms of general and administrative head count. But over the last 2 years, we're only down about 500 head count. And we're down in labor costs. Now we're beginning to hire a bit more in the areas of growth.
You're very exposed to the consumer. Do you feel that we're coming out of this recession slowly or do you feel that we still have a long way to go?
Nuti:
We have a long way to go. I think it's a slow recovery -- bumpy along the way. I don't necessarily think we're looking at a double dip recession although I give it 25% odds. We as a company are prepared for that as we were during the downturn of 2009, however, if I had to call it today I think it's a very slow, somewhat volatile recovery over the course of the next 18-24 months
It sounds like you're looking more towards the end of 2011?
Nuti:
Indeed. Until things start to more steadily turn and even then I think we're really looking at more of a slow, steady recovery. I think all of thinking we're going to return back to the days of 2006-2008 in terms of growth is a misnomer.
The new normal?
Nuti:
if you want to call it that, yeah.
Edited for length and clarity.
--
Written by Debra Borchardt in New York.
>To contact the writer of this article, click here:
Debra Borchardt
.
>To follow the writer on Twitter, go to
http://twitter.com/wallandbroad
.
>To submit a news tip, send an email to:
.
Disclosure: TheStreet's editorial policy prohibits staff editors, reporters and analysts from holding positions in any individual stocks.