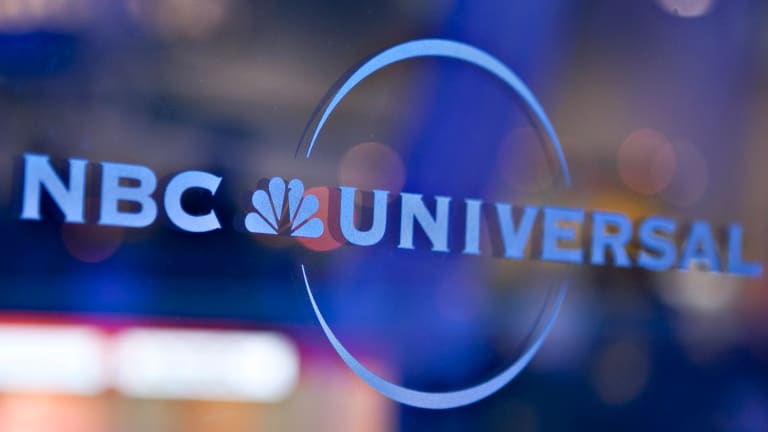 NBCUniversal Looks Muscular for Comcast
The division is primed to perform very well into the foreseeable future.
This fall, NBC will premiere the new show "Powerless." It's a workplace comedy about people without superpowers, set in the DC Universe. Essentially, the show will be like "The Office," if part of the watercooler conversation was the latest battle between Batman and Superman.
Although the show will not actually feature any mainstream superheroes, it's in a good position to be a ratings hit for NBCUniversal when it premieres in a couple of months. The show premiered its pilot at Comic-Con last week and received a positive reception from fans. The consensus was that while the show might not have heroes in spandex, it plays just as entertainingly as a superhero film.
The show will continue NBCUniversal's trend of excelling without the aid of Hollywood's favorite genre staple. Universal Pictures had a record-breaking 2015, posting the largest worldwide take for a studio in a single year in history. And it managed to do that without having a single superhero movie on its film slate.
However, that doesn't mean that Comcast (CMCSA) - Get Report , which owns NBCUniversal, has posted super-sized earnings every quarter. On Wednesday morning, Comcast reported that earnings per share were down a penny and that revenue from the film unit tumbled a tumultuous 40.4% year-over-year. However, that comparison was always going to be a tough one; Universal had a knockout second quarter last year, with record-breaking performances from "Furious 7" and "Jurassic World." Most of Universal's movies from April to June were modest performers at best.
However, Universal Pictures is already looking at a stronger Q3. "The Secret Life of Pets" has far exceeded analyst expectations, with a worldwide gross that is projected to surpass $800 million. And this weekend, Universal will release "Jason Bourne," which is projected to do big numbers at the box office. The company will round out the quarter with "Bridget Jones' Baby," which will not be a big hit domestically but should do very well overseas.
And in the long-term, Universal has a loaded film slate that's brimming with proven franchises. The studio has another "Fast and Furious" movie coming out in Q2 2017 and will hope to match the $1.5 billion worldwide gross of "Furious 7." The studio also acquired the "Kung Fu Panda," "Madagascar" and "Shrek" franchises when it bought Dreamworks, which have together grossed over $7.5 billion worldwide. Universal is reportedly already in the process of bringing Shrek back to theaters, and it also has both the "Despicable Me" and "Secret Life of Pets" franchises to keep its coffers filled. To top it all off, the studio will release a "Jurassic World" sequel in 2018, which should easily be another $1 billion+ grosser.
NBCUniversal's other divisions are in very good shape as well. The company should see strong broadcast revenue from Olympics coverage over the next few weeks, and revenue from theme parks should continue to grow as a new Orlando theme park is added next year. The addition of a "Secret Life of Pets" ride should no doubt help as well.
Overall, revenue from NBCUniversal should keep Comcast investors very happy in the long-term. The recent news that division CEO Steve Burke is staying on through 2020 should make sure the company stays the course. As long as it does so, shares should continue to soar, even without the help of a hero.