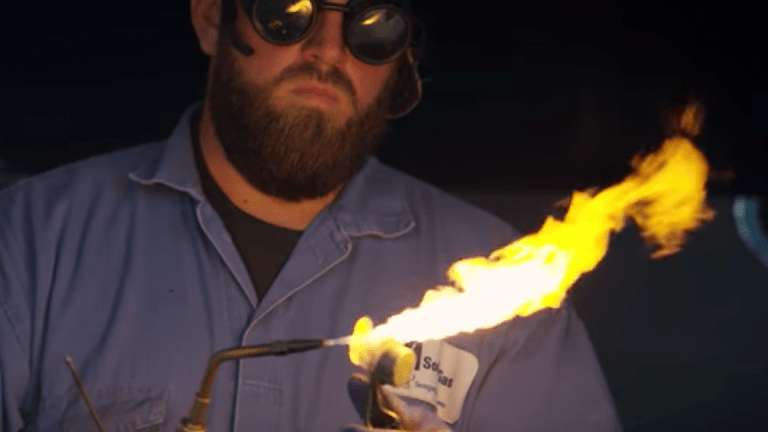 3 Natural Gas Stocks That Could Catch Fire From Trump's NATO War
Trump has a clear agenda to prevent Germany from building up its second Nord Stream 2 gas pipeline. Here's why that matters.
Trump has opened up some top oil trades to exploit.
President Trump's standoff against NATO's cost burden this week, particularly towards Germany, signaled the markets of his stance against Russia by emphasizing Europe's dependency on Russian's natural gas. Germany has a strong dependence on Russian gas, preventing Europe from having a consensus position against Russia's prior invasion of Crimea and the intervention of the European Union to support Ukraine.
Trump has a clear agenda to prevent Germany from building up its second Nord Stream 2 gas pipeline. To be sure, his aim is to stop purchases of Russian gas as a whole. Today, about a third of the world's gas comes from Russia, with Germany, France, Czech Republic and Italy the biggest buyers.
The only alternative to Russian gas that Europe has is imported liquefied natural gas (LNG) from the U.S., Asia and the Middle East.
Here are several top natural gas trades off the renewed tensions in the oil patch. 
Golar LNG 
Golar LNG (GLNG) - Get Golar LNG Limited Report is the natural gas-focused transportation company that's best positioned to benefit from a potential increase in European LNG demand. In addition, Golar has relationships across multiple projects around the globe that give them enough off-take capability to enter into long-term contracts.
Sempra Energy 
Sempra Energy (SRE) - Get Sempra Energy Report is one of the best positioned U.S.-based companies to import LNG into Europe given their recent long-term deal with Poland. The deal came after Sempra signed a 20-year off-take agreement with the Polish Oil & Gas Company (PGNiG) to sell two million tons per annum (mmtpa) from Sempra's Port Arthur terminal. Sempra's Port Arthur liquefaction project is one of three major LNG export projects Sempra Energy is developing in North America to meet the demand of global markets, including Poland.
Meanwhile, last year Sempra LNG & Midstream's division also signed a Memorandum of Understanding (MOU) with Korea Gas Corporation (KOGAS). It allowed for a framework for cooperation among parties, which included equity ownership and engineering and construction work in the Port Arthur LNG liquefaction facility, as well as an off-take of LNG.
Cheniere Energy
Cheniere Energy (LNG) - Get Cheniere Energy, Inc. Report is Sempra's closest competitor in the European LNG export market. The company has already inked transactions with France (ENGIE, EDF and Total Gas, Portugal (EDP), Spain (Endesa, Ibedrola, NG Fenosa) and the United Kingdom (Centrica and Meridian LNG Holdings).
We have a bullish view towards natural gas and think that Gola LNG, Sempra, and Cheniere Energy are the best positioned players from an uptick in European demand should the U.S. apply more stringent policies toward's Europe.
By: Eliecer Palacios
Eliecer Palacios is the Managing Partner of PetroRock Energy LLC, an oil & gas dedicated investment advisory firm focused on private debt and equity financings to companies in the sector. Eliecer has served as a non-executive Director on the Board of EnerGulf Resources Inc, a publicly-traded West Africa-focused exploration & production company. Eliecer has advised public and private companies and institutional investors on acquisitions and divestitures of oil and gas assets, international subsidiaries as well as venture and growth capital.
Eliecer Palacios has no positions in any of the stocks mentioned. 
Check more analysis on the oil sector from TheStreet's Real Money publication.