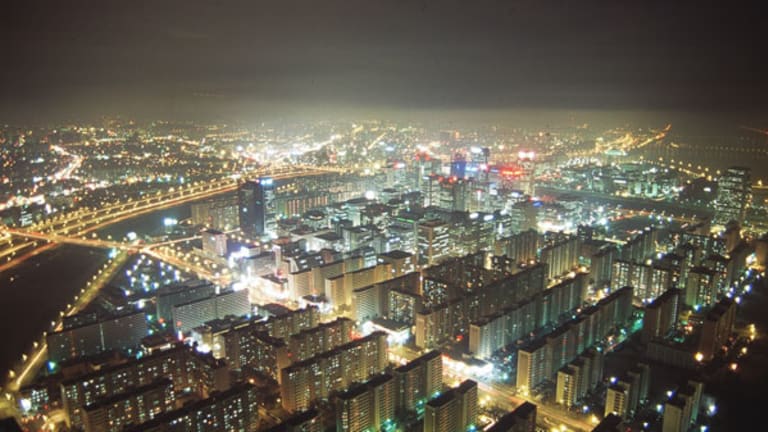 Publish date:
Natural Gas Settles Up on Lower Stockpiles
The natural gas January delivery contract manages to close nearly 6% higher even as currencies pressure commodity prices.
The natural gas January delivery contract manages to close nearly 6% higher even as currencies pressure commodity prices.
NEW YORK (
) -- Natural gas futures settled more than 5% higher Thursday, propelled by a government report showing a larger-than-expected inventory drawdown last week.
Stockpiles dropped by 207 billion cubic feet for the week ended Dec. 11, bringing total storage down to 3.57 trillion cubic feet, according to a report from the government's Energy Information Administration. Analysts surveyed by Platts had expected a smaller withdrawal of 176 billion cubic feet to 180 billion cubic feet, though recent colder weather likely played a role in the sharper demand.
But the data continue to reveal that stockpiles remain high, with levels 12% higher than a year ago and 13.8% higher than the five-year average.
Still, futures hit a new 11-month high just after the report, and the natural gas January delivery contract on the Nymex hit a session high of $5.91 per million British thermal units,
echoing a familiar move from a similarly surprising drawdown last week. The January contract added 31 cents, or 5.6%, to settle at $5.46 per million BTUs on the same day that a higher dollar pressured commodity prices.
The
U.S. Natural Gas Fund
(UNG) - Get Report
also soared today and closed ahead by 40 cents, or 4%, at $10.46.
With equities struggling today, natural gas-related stocks were broadly lower, and the NYSE Arca Natural Gas Index finished lower by 0.6%. Shares of
Chesapeake Energy
(CHK) - Get Report
and
Devon Energy
(DVN) - Get Report
gained 0.41% and 1.2% each, though
Anadarko Petroleum
(APC) - Get Report
closed Thursday's session down by $1.12, or 1.8%, at $61.84.
XTO Energy
(XTO)
shares shed 30 cents, or 0.6%, to $46.70 after reports swirled that
Exxon Mobil
(XOM) - Get Report
could abandon its $41 billion deal to buy the nat gas player if U.S. legislators approve anti-fracking legislation. Detractors of the controversial drilling technique used by XTO and others contend that "fracking" -- the process of fracturing rock formations using water, sand and chemicals to extract gas -- causes pollution.
Crude oil futures pulled back from a Wednesday rally, pressured by a strengthening dollar as the greenback hit a three-month high against the euro. Light, sweet crude for January delivery traded as low as $71.21 a barrel during a session that also saw the contract trading above $73 a barrel before settling largely unchanged at $72.65.
Traders were weighing a higher dollar against a separate release from the EIA on Wednesday showing that
crude and distillate inventories declined more than expected, sending futures $1.97 higher to settle at $72.66 a barrel Wednesday.
"The highlight of the data was indeed the middle of the barrel, which having been incredibly morbid throughout the entire cycle, has finally shown some signs of inspiration," said Barclays Capital analyst Amrita Sen. "The large divergence between gasoline and distillate demand conditions, which have remained a key theme so far, is showing the first signs of turning around."
An improving demand picture, however, wasn't enough to offset dollar pressures. The January gasoline contract slid 2 cents, or 1.2% to settle at $1.85 a gallon, while the January heating oil contract finished slightly off, down by 0.4%. at $1.96 a gallon.
The
U.S. Oil Fund
(USO) - Get Report
ETF fell 1%, closing at $36.36. Oil sector shares were down by 1.6%, according to the NYSE Arca Oil Index, while
Chevron
(CVX) - Get Report
declined by 1.4%; Exxon Mobil lost 21 cents, or 0.3%, to close at $68.22.
--Written by Sung Moss and Melinda Peer in New York
.