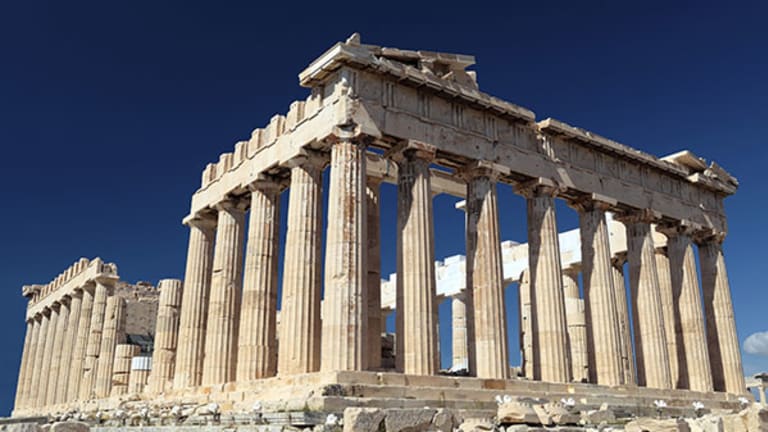 NATO Defense Chiefs Meet; Film Festival Begins in NYC: 10 Things Happening Next Week
An IPO for credit-reporting company TransUnion and an appearance by former president Bill Clinton in London are also on tap
NEW YORK (TheStreet) -- As its negotiations with the EU drag on, Greece actually gets compliments for its spending from another organization, and Bill Clinton appears alongside royalty at a conference in London.
Here's a rundown of the top events you'll want to know about for the next week:
1. -- Greece and its debt problems will be the subject of yet another meeting of EU leaders in Brussels on Monday, June 21. The meeting will come eight days before Greece must repay €1.6 billion to the International Monetary Fund. On Thursday, talks between Greece and its creditors in Luxembourg collapsed, leaving the continent to sit and wait until Monday's emergency meeting.
2. -- The Bryant Park Summer Film Festival kicks off its 23rd year in the midtown Manhattan (N.Y.C.) park at W. 42nd Street and 6th Avenue with a showing of Ghostbusters on Monday, June 21. The screenings, which are slated to run through August 24, feature other classic titles from the last century, including Marathon Man and Footloose. The lawn opens at 5 p.m. ET with that day's showing to begin at sunset. 
3. -- The U.S. Department of Transportation will hold a hearing on airline reservation change fees on Tuesday, June 23, at 9 a.m. ET. The meeting, conducted by members of the DOT's consumer protection wing, comes after months of growing consumer unrest on the issue. Online petitions asking the government to look into what airlines charge to change a reservation have garnered signatures from frustrated travelers since the major U.S. airlines started raising their fees. In 2013, for example, American, United and Delta all increased their change fees from $150 to $200 within weeks of each other.
4. -- Durable goodsorders for May come out on Tuesday, June 23. Used to measure demand for goods manufactured in the U.S., the indicator has seen mixed results so far this year, rising by 4% overall in March only to fall by 0.5% in April. Year-over-year, April's numbers were up 0.7%, according to the U.S. Census Bureau.
5. -- Defense ministers of NATO countries will meet in Brussels for two days starting on Wednesday, June 24. Ahead of the meeting of the 28-member bloc, governments are expecting a report outlining whether countries spend at least 2% of their GDP on defense, a requirement of being in the organization. Just four members -- the U.S., the U.K., Estonia and Greece -- are believed to spend at least that much.

6. -- The U.S. Bureau of Economic Analysis will release the most recent estimates for gross domestic product and corporate profits for the first quarter of 2015 on Wednesday, June 24 at 8:30 a.m. ET. In May, the Bureau lowered its initial estimate for GDP, indicating it fell by 0.7% instead of gaining 0.2% for the quarter, as its earlier estimate had suggested. Corporate profits fell in theplast two quarters, including by an estimated 8.7% in the first three months of 2015, according to the Bureau's May numbers. 
7. -- The Morningstar Investment Conference gets under way in Chicago on Wednesday, June 24, and lasts until Friday, June 26. Among the speakers are David Kelly, the chief global strategist for J.P. Morgan Funds.
8. -- Credit reporting company TransUnion (ticker-to-be TRU) hopes to sell just under 34 million shares at $21 to $23 each in an IPO on Thursday, June 25. The company originally filed to make the offering in 2011, but was acquired shortly afterward by private equity firm Advent International and Goldman Sachs Capital Partners. With a value of nearly $781.5 million, TransUnion's IPO is poised to be one of the largest such offerings on Wall Street in 2015.
9. -- Former President Bill Clinton, the U.K.'s Prince Charles and Bank of England Governor Mark Carney are among the speakers at the Conference on Inclusive Capitalism in London on Friday, June 26. Organized by broadband mogul Lynn Forester de Rothschild, the conference focuses on inequalities in the global economic system, according to the event's Facebook page. Last year's event, which brought together financial gurus who collectively control a third of all liquid assets, faced criticism over the views expressed by a think tank that helped to organize it. 
10. -- The Museum of Modern Art kicks off Warm Up, its outdoor summer concert series, at 3 p.m. on Saturday, June 27. The series will feature six hours of performance each Saturday until September 5 at MoMA's PS1, the museum's contemporary art-focused arm located in Brooklyn's Long Island City. The emphasis is on small-time experimental performers from different genres, and the first event will feature musicians from Mexico City to Berlin. Tickets are $20 on the day of the event or $18 if purchased before then.