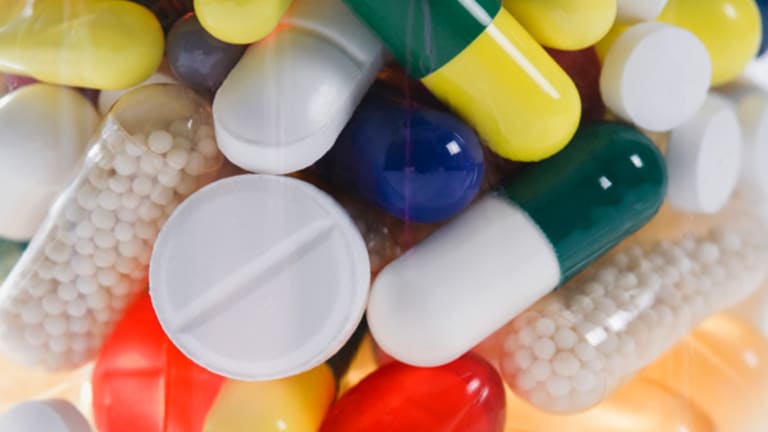 Nate Sadeghi's 2012 Biotech Stock Report Card
TheStreet columnist takes a look back at his best and worst biotech stock calls in 2012.
NEW YORK (
) -- My colleague Adam Feuerstein deserves kudos for his ability to deliver both high quality and an astonishing quantity of biotech stock picks. Although I'm not as prolific, I have written 40 columns for
TheStreet
this year, including 12 clear-cut "buy" or "sell" recommendations and a handful of "stay on the sidelines" calls that urged shareholders to sell existing positions.
Let's take a look at how my ideas have fared.
The Longs: B+
I've done pretty well on the long side this year, with my reluctant acknowledgement of the bull case for
Peregrine Pharmaceuticals
(PPHM)
as the only major blemish. My
concluded: "I'm very skeptical of the results." After talking to several bulls at a conference the next week, I foolishly ignored my initial instincts and wrote, in a
: "I'm still a bit hesitant, but risk-tolerant investors might reasonably consider modest long exposure." Dumb move.
A few weeks later,
Peregrine turned out to be a disaster
of the highest order when management revealed "major discrepancies" in the company's Phase II trial for bavituximab in non-small cell lung cancer (NSCLC). Even though I never expressed conviction, I should have known better than to offer even tepid support.
The rest of the longs look pretty good.
Onyx Pharmaceuticals
(ONXX)
has been a success (+104% since my
), even though the stock has struggled a bit over the past month. Kyprolis -- the brand name for Onyx' carfilzomib, which received FDA approval in mid-July for the treatment of late-stage multiple myeloma -- has easily exceeded Wall Street's expectations so far. I expect Kyprolis sales will continue to grow rapidly, despite the recent positive data from
Celgene's
(CELG) - Get Celgene Corporation Report
pomalidomide in a similar treatment setting. Although pomalidomide will likely receive FDA approval by mid-February 2013, the multiple myeloma market doesn't strike me as "winner take all" dynamic and Onyx still feels like a good stock to own. Nonetheless, investors should watch closely for shifts in physician enthusiasm about Kyprolis at the annual American Society of Hematology (ASH) meeting next month.
Sarepta Therapeutics
(SRPT) - Get Sarepta Therapeutics, Inc. Report
has been a huge victory. My
, written in mid-August, highlighted some red flags to keep an eye on, but recommended buying the stock. Even though shares have declined from the post-phase II data peak in early October, my Sarepta recommendation still produced a +189% return in three months. Not bad.
I'm convinced eteplirsen works and will be approved for the treatment of Duchenne muscular dystrophy (DMD; a progressive disease that leaves patients wheelchair bound by their teens and dead shortly thereafter). I'm less sure about the timing. Management will have an "end-of-Phase II" meeting with the FDA within the next few months, and mega-bulls expect the company to file for and receive accelerated approval shortly thereafter, based on the existing data. I think that's possible -- there will be enormous pressure to approve the drug from patient advocacy groups -- but it's far from a sure thing. Either way, Sarepta's market capitalization remains a modest $747 million and the company has global rights to a drug that could easily be a commercial blockbuster and a platform that could yield additional drug candidates at reduced risk. There's still plenty of upside.
Competitor
GlaxoSmithKline
(GSK) - Get GlaxoSmithKline plc Sponsored ADR Report
and
Prosensa's
drisapersen -- also an "exon skipping" drug, like eteplirsen -- seems to work as well, and there's plenty of room for both drugs in this market. I'm staying with my long recommendation, and will take a very close look at Prosensa's initial public offering if the company chooses to pursue that path.
I've had other modest successes on the long side. Although I still feel hesitant about the long-term commercial opportunity in hepatitis C, I
Gilead Sciences
(GILD) - Get Gilead Sciences, Inc. (GILD) Report
in late July. The stock has risen 37% since that column. Unfortunately, I got a little too cute with my trading and advised waiting for a pullback below $50 per share. Gilead's shares came close but never quite passed that threshold, so I should really only get half credit. Lesson: if you want to own a stock over at least the medium term -- for me, that means six to nine months -- buy a bit right away if the price seems reasonable and worry about building a larger position on pullbacks or weakness over time.
Gilead feels pricey here, for good reason, but the stock probably continues to work into year-end. Even so, investors should consider taking partial profits. Expectations for sofosbuvir (formerly GS-7977) in Hep C are sky-high and Street analyst estimates already reflect a continued successful launch of Stribild in HIV. I worry about whether the stock can continue it's astonishing run through 2013 without another major upside surprise.
Although I correctly predicted
Celgene's
(CELG) - Get Celgene Corporation Report
Abraxane would work in pancreatic cancer
, shares remain basically flat, pending announcement of the detailed phase III data at the American Society of Clinical Oncology's (ASCO) Gastrointestinal Cancers Symposium in early 2013. That presentation, which I expect to be positive, should stoke investor excitement. If it doesn't, investors should move on, as it likely indicates that shares are due for an extended pause. (Celgene has had a lot of positive news in recent months.)
Likewise,
Merck
(MRK) - Get Merck & Co., Inc. (MRK) Report
remains unmoved since my
, although the company's nearly 4% dividend boosts performance a bit. I would still be an owner of both Celgene and Merck. Lastly, it's too early to evaluate
my late October recommendation
that investors consider a smaller-sized position in
Achillion Pharmaceuticals
(ACHN) - Get Achillion Pharmaceuticals, Inc. Report
.
The Shorts: B/B+
It's very hard to generate alpha -- market-adjusted performance -- on the short side in a year with a stiff beta tailwind. Even though the major healthcare indices are up substantially -- +15%, +42%, and +33% year-to-date for the S&P500 Health, AMEX Biotech, and NASDAQ Biotech Indices, respectively -- my short recommendations did reasonably well. My major mistakes were
Amylin Pharmaceuticals
(-81%) and
Seattle Genetics
(SGEN) - Get Seagen, Inc. (SGEN) Report
(-41%), although I was right on the fundamentals for both. Since I discussed
, let's focus instead on Amylin.
I was surprised by
Bristol-Myers Squibb
(BMY) - Get Bristol-Myers Squibb Company Report
and
AstraZeneca's
(AZN) - Get Astrazeneca PLC Sponsored ADR Report
(SYMBOL)
mid-year, $7.0 billion acquisition of Amylin (this figure includes repayment of $1.7 billion in debt). Given Bydureon's commercial struggles, I
didn't really consider it a particularly attractive asset
. Admittedly,
I hadn't considered a three-party transaction
, which makes the economics somewhat more palatable. It will be interesting to see how Bydureon sales fare under new ownership. I'm still skeptical that the drug, which has been a disappointment thus far, will ever reach Wall Street expectations. Nonetheless, I was clearly wrong on the stock. My bad.
On a happier note, in late February I correctly
of
Elan's
(ELN)
Phase III trial of the anti-amyloid antibody bapineuzumab in Alzheimer's disease (+16%). I'm still dumbfounded that anyone thinks
Eli Lilly's
(LLY) - Get Eli Lilly and Company (LLY) Report
obviously failed Phase III trial of solanezumab, a similar anti-amyloid antibody for Alzheimer's disease, might be approvable. It should be clear to all but the most die-hard bulls that the amyloid hypothesis has fatal or, at the very least, near-fatal flaws. Our efforts at effectively treating Alzheimer's disease need a complete overhaul, and the FDA should reject solanezumab if Lilly decides to file for approval.
United Therapeutics
(UTHR) - Get United Therapeutics Corporation Report
plunged 18% after the FDA issued a Complete Response Letter
for oral treprostinil, a re-formulation of the company's pulmonary arterial hypertension (PAH) drug Remodulin. The FDA's rejection, which surprised many investors and most likely dooms what had been United Therapeutics' key R&D asset, hinged on the drug's extremely modest clinical benefit.
Surprisingly, United Therapeutics shares have rebounded substantially in the weeks following the FDA news. I still see a rocky road ahead. Remodulin and an inhaled formulation of treprostinil called Tyvaso will go generic within the next few years; these two drugs comprise 85% of the company's sales. Given the impending approval of new branded and generic competitors in PAH, as well as the shift in physician practice towards oral combination therapy, United Therapeutics seems very poorly positioned. If shares rebound much more, it's probably worth revisiting as a long-term short.
Threshold Pharmaceuticals
(THLD)
provided a solid return (+47%), although
-- "I don't have a strong view...but I lean negative" -- should have been stronger. Now that Celgene's Abraxane has produced positive pivotal data in pancreatic cancer while Threshold has yet to initiate a Phase III trial, it's hard to see how the company gets back on track.
I'm very proud of my work
with
Bristol-Myers Squibb's
(BMY) - Get Bristol-Myers Squibb Company Report
BMS-094, a nucleoside polymerase inhibitor, or "nuc," for the treatment of Hep C. Bristol-Myers' $2.5 billion acquisition of
Inhibitex
(from where BMS-094 originated) proved a complete zero in less than seven months. I'm not sure if that's a mergers-and-acquisition disaster record, but it's probably close. Nonetheless, the stock has hardly budged. Astonishing.
After looking in detail at the chemical structure of
Idenix Pharmaceuticals'
(IDIX)
"nuc" inhibitor IDX-184 in the wake of the Bristol-Myers disaster, I
to "reduce or eliminate long exposure to Idenix until the drug's safety has been more completely established." A few weeks later, the FDA issued a "clinical hold" for IDX-184 and a chemically related development compound. Shares have plunged 41% since my warning. Bullet dodged.
Clovis Oncology
(CLVS) - Get Clovis Oncology, Inc. Report
is another example of how staying on the sidelines can sometimes be the safest move. Although I couldn't muster sufficient conviction to recommend the stock as a short, I warned that
CO-101, the company's lead drug candidate, faced significant clinical risk
. The company recently announced that LEAP, the Phase III trial of CO-101 in pancreatic cancer, failed completely. Shares have dropped 51% since my late February column.
Lastly, we come to ever-popular
Arena Pharmaceuticals
(ARNA) - Get Arena Pharmaceuticals, Inc. Report
and
Vivus
(VVUS) - Get VIVUS, Inc. Report
, the ever-trusty sidekick and competitor. Many of Arena's rabid investors -- the Areniacs -- seem to thrive on a fact-free diet that guarantees a steady supply of tasty taunts and bullish morsels. Let's set the record straight.
I initially expressed skepticism on Twitter about the approval prospects for Arena's Belviq, but openly changed my opinion after reading the FDA's briefing documents on May 8th. My
first written words about Arena
longer than 140 characters correctly projected that Vivus' Qsymia would reach the market first and emphasized my concerns about the drug's long-term commercial prospects. I still have those concerns, and despite the recent rebound, Arena is still down 6% from my initial short recommendation. Given the currently available information, you couldn't drag me away from this short with a pack of Clydesdale horses.
Arena shares have a long way to fall
.
There's also a popular Internet rumor that I support Vivus, which is untrue. In late May, noting that no obesity drug has ever reached $1 billion in sales, I
: "Arena and Vivus might re-write that statistic, but I doubt it will be easy. I think the easy money has been made and investors should look elsewhere." More recently,
I explicitly suggested that investors short Vivus
: "Although the stock has declined meaningfully as investors have lowered expectations for Qsymia, Vivus is still probably a decent short at current prices" Shares are down more than 20% since that advice.
One final note. No one seemed to care -- it was one of my least read articles -- but I was happy that I nailed the
Supreme Court decision to uphold the Affordable Care Act (ACA)
, often derisively referred to as Obamacare. Although my view didn't lead to any major stock recommendations, upholding the law was the right decision for our country and for our sector. With Obama winning easy re-election to a second term, hopefully we can all get back to picking the winners and losers in this most exciting of sectors.
Overall, I would give myself a B+ this year. I think that's fair. I've had some major wins and a few slip-ups, with the former far outweighing the latter but the mistakes weighing more heavily on my mind. (Humans are notoriously loss averse.) Feel free to provide feedback on how I've done in the comments below. I'm always looking to improve.
Sadeghi has no positions in the stocks mentioned in this column.
Nathan Sadeghi-Nejad has 15 years experience as a professional health-care investor, most recently as a sector head for Highside Capital. He has worked on the sell side (with independent research boutiques Sturza's Medical Research and Avalon Research) and the buyside (at Kilkenny Capital prior to Highside). Sadeghi-Nejad is a graduate of Columbia University and lives in New York. You can follow him on Twitter @natesadeghi.