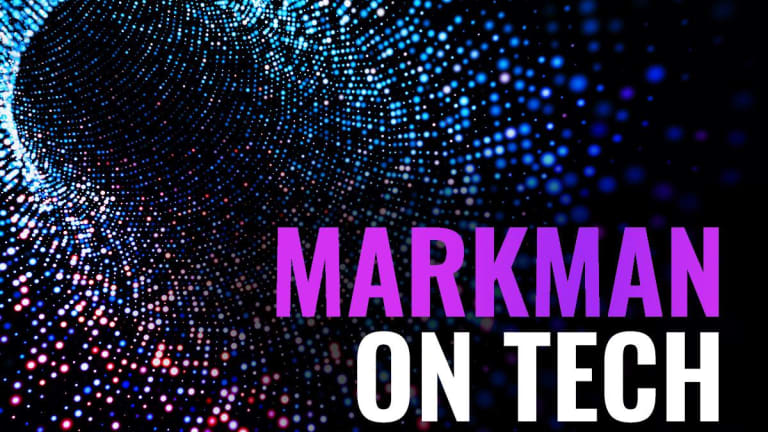 Nasdaq Will Benefit From New Way of Measuring the U.S. Economy
While GDP measures the value of goods and services bought and sold, many of the products central to modern life are not bought and sold at all.
What if everything economists think they know about economic growth is wrong?
The problem may be the data, according to a CNBCreport on Friday. Federal Reserve Chairman Jerome Powell raised the possibility that economists may be dramatically understating the value of the free internet.
It would be a game changer for stock market valuations.
Professional money managers make stock investments based on what they think they know about the economy. Their optimism swells when the data is strong. Confidence matters. Valuations expand and indexes rise.
Since 1934, American economists have been tracking growth using Gross Domestic Product. GDP measures the value of all goods and services bought and sold.
However, GDP growth has been lackluster since the mid 2000s. Even when consumers were upbeat, growth rarely cracked above 3%. For economists, the paradox has been hard to explain.
Federal Reserve chairpersons, from Bernanke to Powell, have targeted inflation as though it's some sort of silver bullet. Their goal has been to have just enough GDP expansion so that there is moderate, manageable inflation.
Now Powell is beginning to openly question the data. While GDP measures the value of goods and services bought and sold, many of the products central to modern life are not bought and sold at all. They are free turn by turn navigation from Google Maps, or almost every song ever recorded, just a swipe away on YouTube.
It may seem trite, but in the past, their analog predecessors were measured in GDP. People used to buy physical road maps and books to plan trips. Listening to music involved the purchase of records and a decent stereo for playback.
In a speech Chairman Powell gave last week, CNBC noted that he asked about the economic value of never needing to ask for directions. He also referenced a study by Erik Byrnjolfsson, an MIT economist and one of the leading academic voices on the intersection of technology and the economy.
Byrnjolfsson conducted a huge survey to determine what monetary value users placed on the most popular internet services. Facebook (FB) - Get Free Report users, for example, wanted $48 per month to give up the social media platform. Alphabet (GOOGL) - Get Free Report services YouTube and Google Search were even more dear, commanding, respectively, $1,173 and a whopping $17,530 annually. Keep in mind, these are platforms that have hundreds of millions of users inside the United States.
Powell is not the first economist to cite Byrnjolfsson and wax philosophically about the true value of digital freebies.
Stanley Druckenmiller is one of the most successful money managers during the last 40 years. He told an audience at the Economic Club of New York in June that 300 billion pictures were taken globally in 2010. That number rose to 2.5 trillion photographs in 2018. Given digital platforms, the marginal cost of these photos is nothing.
The pictures offer better quality than snaps taken on the best camera a decade ago. No film was purchased. The pictures will probably never get developed or printed on paper. They won't be stored in a photo album bought at Walmart. They live on the smartphone in your pocket. They're valuable but none of is being reflected in GDP.
Druckenmiller makes a cogent argument that digital photos actually subtract from current GDP metrics because turning snapshots into physical pictures used to create a measurable good.
The chairman of the Federal Reserve appears to be coming around to the same point of view. Focusing on the data missed by GDP is a big deal because it means the central bank can worry less about inflation.
A Fed less concerned with inflation means more dovish policies, creating greater clarity for business leaders. In the longer run, this should lead to better economic growth, renewed confidence among professional money managers and higher valuations.
Nasdaq Inc. undefined is the holding company for the Nasdaq stock exchange, a global electronic marketplace for buying and selling securities. The platform is transparent, efficient and infinitely scalable. It's also the logical beneficiary of more confidence among active investors.
Nasdaq gets a fee for every transaction, and its trading business is already booming.
Part of this is organic. The robust nature of its infrastructure has made the Nasdaq a haven for high frequency trading. This algorithmic, automated trading approach is characterized by fast-paced, rapid turnover rates, often in the range of milliseconds.
And during the past week, Fidelity Investments, Charles Schwab (SCHW) - Get Free Report , TD Ameritrade (AMTD) - Get Free Report , E*Trade and Interactive Brokers (IBKR) - Get Free Report have all announced commission-free trading to individual investors.
That business, combined with its information services and securities listing division, accounted for $4.4 billion in sales during 2018, an 11.3% increase year over year.
Even better times lie ahead. The Federal Reserve is laying the groundwork for new metrics to value stocks. Nasdaq is in the right place at the right time.
Save 57% during our Halloween Sale. Don't let this market haunt you and join Jim Cramer's Investment Club, Action Alerts PLUS. Click here to sign up!
Alphabet and Facebook are holdings in Jim Cramer'sAction Alerts PLUS Charitable Trust Portfolio. Want to be alerted before Cramer buys or sells these stocks? Learn more now.
To learn more about Jon Markman's recommendations at the crossroads of culture and technology, check out his daily investment newsletter Strategic Advantage. To learn about Markman's practical research in the short-term timing of market indexes and commodities, check out his daily newsletter Invariant Futures
Jon Markman is editor of the independent investment newsletter The Daily Advantage.