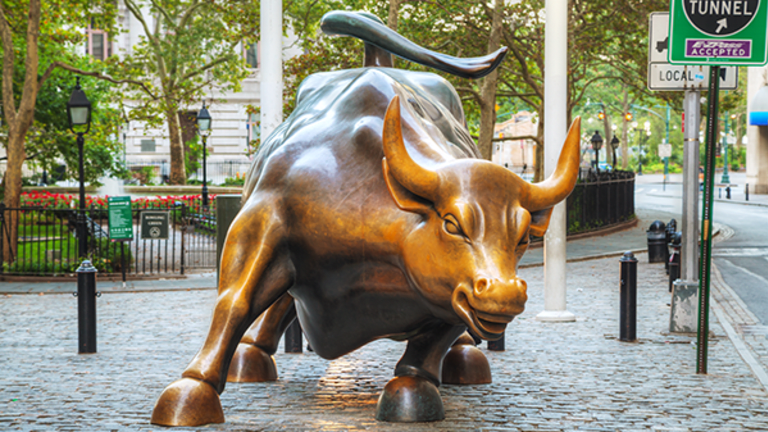 Nasdaq Outperforms in the U.S., the Nifty 50 Leads Overseas
The bulls controlled the week, but Transports and small caps in the U.S. and the Shanghai Composite and German DAX overseas show negative divergences.
The technicals for the five major U.S. equity averages are diverging with new highs for the S&P 500undefined and Nasdaq Compositeundefined . Overseas, the Nifty 50 set a new all-time intraday high on Friday.
If the Dow Jones Industrial Average undefined maintains this week's gains it will have a positive weekly chart targeting a new high of 21,279 by the end of May. The S&P 500 set a new all-time intraday high of 2,418.71 on Thursday, targeting 2,492.4 by the end of June.
Dow Transports and Russell 2000 lag their all-time intraday highs. Transports is 4.9% below its March 1 high of 9,639.33. The Russell 2000 is 3% below its April 26 high of 1,425.70.
The Nasdaq Composite set its all-time intraday high of 6,217.34 on Thursday, and is approaching my annual and semiannual risky levels of 6,253 and 6,387, respectively.
Overseas, the Nikkei 225 set its 2017 high of 19,998.49 on May 16, and last week was a "key reversal." The Shanghai Composite remains below its 200-day simple moving average of 3,141.86 and above its 200-week simple moving average of 2,896.86 with a negative weekly chart.
The Nifty 50 set an all-time intraday high of 9,604.90 today, above my semiannual pivot of 9,431.44 with my annual risky level of 10,545.21.
The German DAX has a positive but overbought weekly chart and set its all-time intraday high of 12,841.66 on May 16. The DAX ended last week with a "key reversal." The high was a test of my semiannual and annual risky levels of 12,716.54 and 12,844.29, respectively.
This article is commentary by an independent contributor. At the time of publication, the author held no positions in the stocks mentioned.