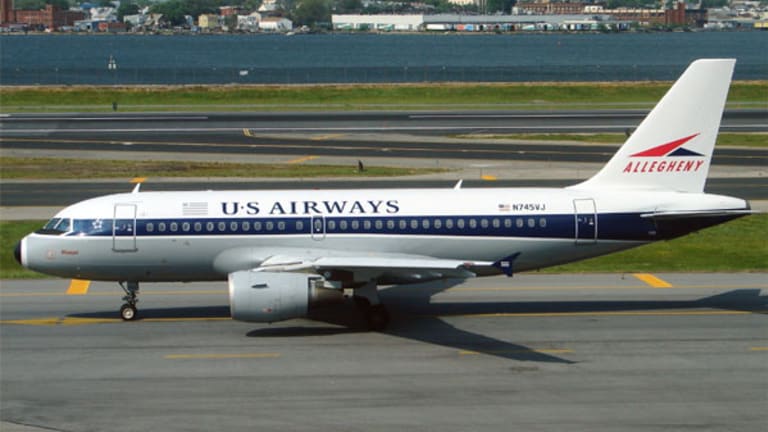 Nasdaq Lands New American Airlines as AMR and LCC Fly Away
Shares in the new American Airlines will trade under the symbol AAL.
Shares in the new American Airlines will trade under the symbol AAL.
CHARLOTTE, N.C. (TheStreet) -- Goodbye to AMR, once the symbol of the world's greatest airline; goodbye to LCC, a short-lived seeming misnomer for a legacy airline, and goodbye to the New York Stock Exchange.
The new American said Friday it has applied to be listed on the Nasdaq as "AAL," for American Airlines. The carrier was created by the soon-to-be completed merger of American( AAMRQ) -- known by the corporate name and NYSE ticker "AMR" until it sought bankruptcy protection -- with US Airways (LCC) , which is traded on the NYSE as LCC.
Maybe this is just about how what goes around, comes around. US Airways predecessor Allegheny was listed as AL on the NYSE when it went public in 1978. So 35 years later, AL adds an A at the front of its symbol.
In 1979, Allegheny became USAir and the symbol was changed to U. In 2003, US Airways emerged from its first bankruptcy as UAIR, traded on the Nasdaq.
US Airways emerged in 2005 from its second bankruptcy as LCC, traded on the NYSE. The letters stood for low-cost carrier. US Airways was in fact a legacy carrier, as distinguished from what the industry refers to as a low-cost carrier, but it is certainly true that its costs were a lot lower after two bankruptcies.
On Friday, Tom Horton, American chairman and CEO, made the case for leaving the NYSE in a prepared statement, saying "Nasdaq offers a most advanced trading platform driven by innovation and efficiency -- qualities that complement the new American."
As expected, common shares of the two carriers "will be cancelled and shareholders will receive equity interests in American Airlines Group Inc. per the terms of the merger agreement and plan of reorganization," the airlines said.
The airlines expect to complete the merger in December; they await approval by the U.S. Bankruptcy Court, which retains jurisdiction over American's operations.
-- Written by Ted Reed in Charlotte, N.C.
>To contact the writer of this article, click here: Ted Reed