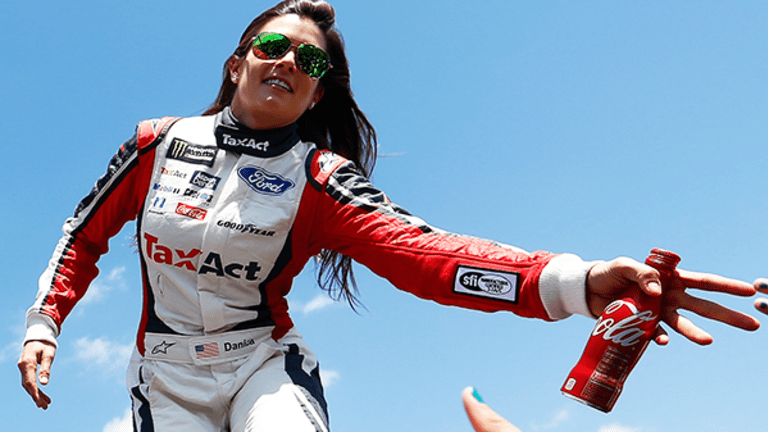 Danica Patrick said recently, "I'm just not a car person."
Wha-a-a-t (!?). Well, hang on...
"I'm not into buying rare cars, fixing up a car, talking about cars," added Patrick, even though she's one of the best-known and highest-paid drivers on the Nascar circuit, at an event sponsored by Excedrin (made by GlaxoSmithKline (GSK) - Get GlaxoSmithKline plc Sponsored ADR Report ) on Wednesday, Sept. 6, to raise awareness of migraine sufferers, particularity in the workplace. Two years ago, Patrick had her first migraine post-race and has since sought treatment.
And don't ever talk to Patrick about a Hemi. A Hemi, a true gear head's dream, is a legendary engine with hemispherical custom chambers built by Chrysler, starting in the 1950s. 
"If someone says, 'I got a V-8 Hemi,' whatever. I don't know what the heck to say." 
"A lot of guys get along with their crews because they're gear heads. I'm not. In this capacity, I am a girl, I am a little bit different. Even though I'm not into cars, it doesn't mean that I'm not well-equipped to drive a car, do that job and the things I enjoy and love about the job."
Okay, Patrick must own garages full of cars, right? 
"I own only one car, a Lamborghini sitting in storage that I bought a long time ago. I drive a Ford (F) - Get Ford Motor Company Report Expedition, but I don't even own my Expedition. Ford [a sponsor] does."
What's her ideal everyday car?
"I like a car that looks nice, has decent launch speed off of a red light, is comfortable and has creature comforts."
Hmmm, "decent launch speed off a red light." Now that's a scary thought coming from a speed demon.
And then there's her place in Nascar. Even though Patrick is the sole female driver on the circuit, she doesn't dwell on it.
"If you feel like you're different, you are different. One of the things I was taught from a very young age is that I'm not. I was never led to baseline off of girls in racing or what other girls had accomplished. It was only about always who was the quickest, and being that person, that driver, continuing to excel to my furthest capacity."
So where does Patrick stand on pay equity? She's fine with it, thank you very much.
"I get paid better than most men in my field. I'm not, maybe, the most pc (politically correct) about this topic, but you have to be competing in something or doing something that has a demand. I get that it's the same job, but what drives the salary and that is the demand or the interest. So if somebody is doing the same job in the workplace and there's nothing outside of it other than pure performance, it should be equal, I get that.
"But let's say it's a sport that's on TV that gets millions and millions of viewers vs. another sport that's on TV that doesn't, the money is coming from TV. It's coming from sponsorship. It's coming from those things and it's not there, so it's not fair to compare the two. There are all kinds of different ways to look at it, but, for me, it's about being unique and different and having a consumable product."
Driving for Nascar, which lasts from Thanksgiving through Valentine's Day (38 out of 48 weekends), isn't Patrick's only business venture.
In January, she'll release a second book, Pretty Intense, which addresses mental and physical health, replete with 50 recipes that she wrote and photographed, and a 12-week workout program.
She also owns an athleisure clothing line called Warrior by Danica Patrick, that's sold on HSN and a winery called Somnium in Napa Valley, selling its first products this year—a Cabernet Savignon for $185 a bottle, according to the website.
What makes a sound business venture?
"You get that gut feeling or that signal, that it's a new age or a movement or a necessity that isn't already filled. You are filling in the void somewhere, the white space, where there might not be something, when it seems unique and rare."
And her end game? This also may surprise you.
"I cook every day. And I love it. I would love to have a cooking show."
And the name of that show? Just a guess. Danica Amps Up the Kitchen!
Watch our full interview with Danica Patrick:
Don't miss these top stories on TheStreet: