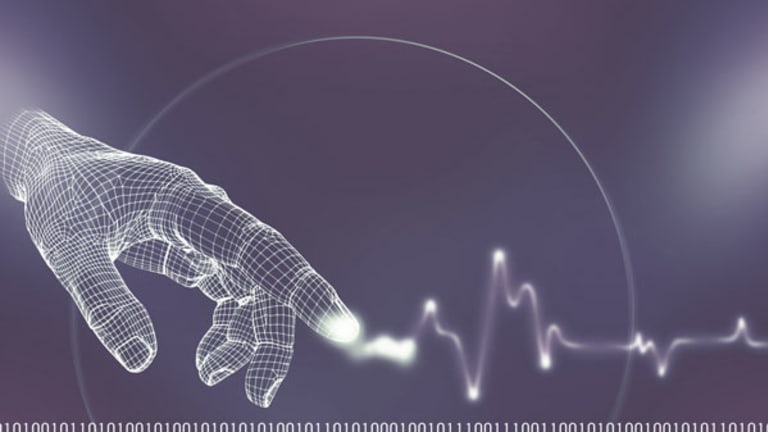 Nanosphere: A Low-Risk, High-Growth Diagnostic Stock
A hospital-based sepsis test is the launching pad for Nanosphere.
NEW YORK (
) -- Many biotech investors believe mistakenly that the only way to make money is to invest in high risk-high reward stocks. Unfortunately, the biotech landscape is littered with failed clinical studies, management promises never kept, and of course, investor hopes destroyed.
Instead, I like to look for companies where the risk is lower. That might mean sacrificing some upside but, overall, the chances for investing successfully are higher.
Here's an example: I purchased
Nanosphere
(NSPH)
after
a key FDA approval removed risk from the story. Even after the positive news, most of the potential reward in the stock remains, as long as Nanosphere can execute and convert the FDA approval into meaningful revenue.
Nanosphere is developing and marketing the Verigene System, a molecular diagnostic testing platform designed to detect nucleic acids and proteins simply and quickly. By enabling the early and accurate detection of infectious and life-threatening diseases, Verigene helps doctors and hospitals improve patient care and lower costs.
The company went public almost five years ago and has already achieved FDA approval of several diagnostic tests, including flu and a test to determine patients' suitability for the anti-clotting drug Warfarin. None of these tests were unique enough to generate significant revenue.
Nanosphere's outlook improved in June after FDA cleared a new Verigene-based test to detect gram-positive bacteria -- a blood-based infection responsible for life-threatening sepsis.
Sepsis is the leading cause of deaths in hospitals and every hour that a patient remains undiagnosed increases the chance of mortality. Bloodstream infections cost hospitals more than $15 billion per year and can cost more than $20,000 per patient to treat. Currently, diagnosing sepsis requires a blood culture that can take 48 hours to turn around and report results.
Nanosphere's gram-positive bacteria test can confirm a diagnosis of sepsis in just two and half hours. The Verigene System costs $25,000 and individual tests are priced around $50, so the value to hospitals seems obvious.
Since receiving approval for the gram-positive test, Nanosphere says interest from hospitals in the Verigene System has been through the roof. We can't quantify demand until we get through the summer and into the fourth quarter because of the lag between approval, installation of the platform at hospitals and revenue generated from the new test. By all indications, however, interest from hospitals is very high.
Nanosphere reminds me of
Cepheid
(CPHD)
, which is now a $2.6 billion market cap-company. Cepheid leveraged approval of a single MRSA infection test in 2007 to gain entry into hospitals and sell their entire array of diagnostic tests.
I expect Nanosphere to follow the same path -- capitalize on the approval of the gram-positive test to grow sales of a larger menu of tests, several of which should be approved over the next 12-18 months. A test for the detection of C. difficile bacteria, a leading cause of serious diarrhea and a big problem for hospitals, should be approved fairly soon. So should a test to determine patients' suitability for use of the anti-clotting drug Plavix.
Behind those tests are two huge possible approvals, each of which can be almost as big a commercial opportunity as the gram-positive infection test.
Nanosphere is developing an enteric pathogens test that rapidly detects all stomach and intestinal bacteria. This would be a first-in-class test and is something hospitals clearly want.
The company is also working on a rapid troponin detection diagnostic. Troponin is the protein that regulates muscle contraction and is used by doctors and hospitals to determine if a patient has suffered a heart attack. Current heart attack tests require hospitals to draw blood and test for biomarkers or send out the blood for lab tests. Nanosphere is hopeful that its troponin test will be more accurate than biomarkers and quicker than sending out blood for lab testing.
I bought Nanosphere soon after the approval of the gram-positive test was announced on June 27. Even with the subsequent run-up in the stock price, Nanosphere's market cap is still well under $200 million. I believe the stock has a lot more upside, and again, I use Cepheid and its $2.4 billion market cap as a comp.
For Nanosphere to reach a Cepheid-esque valuation, the company has to execute the gram-positive test launch successfully and then leverage it with more test approvals and launches. I'm fairly confident the company can accomplish these goals.
Nanosphere is presenting at the UBS Global Life Sciences Conference on Weds. Sept. 19.
Rosenblum is long Nanosphere shares.
Subscribe to Dan Rosenblum's SharkBiotech.com newsletter.
Follow Dan Rosenblum on
.
Dan Rosenblum has been a full-time stock trader since 1999 after leaving a job at a publicly held medical-device company. Rosenblum joined
that year and has been the online trading community's resident biotech expert ever since. Rosenblum writes the
newsletter, which has outperformed the S&P 500 and the Nasdaq Biotechnology Index every year since its inception in 2006. Rosenblum lives with his wife and kids in Rockland County, New York.