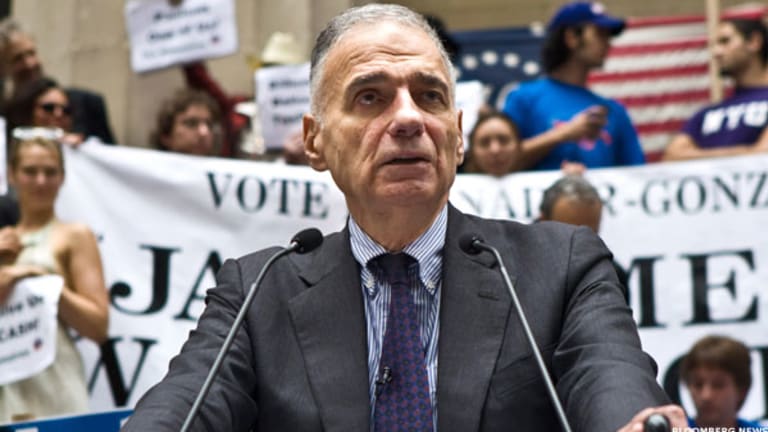 Nader Wants Fannie-Freddie Hearing on Shareholder Rights
The political activist and GSE shareholder says he has been encouraged by Fairholme and Ackman.
NEW YORK (TheStreet) -- Consumer advocate Ralph Nader continued his advocacy for Fannie Mae (FNMA) and Freddie Mac (FMCC) shareholders, including himself, on Friday, calling for a Congressional hearing to discuss what he argues is government abuse of shareholder rights following the decision to put the government sponsored entities (GSEs) into conservatorship in 2008.
Despite numerous Congressional hearings over what to do with Fannie and Freddie, which are 79.9% owned by the government, Nader says the rights of the remaining shareholders are never mentioned at all. By contrast, he points out shareholders of Citigroup (C) - Get Citigroup Inc. Report and AIG (AIG) - Get American International Group, Inc. Report were allowed to participate in the recovery of those companies after the Treasury sold its stake back to the public markets.
"Hearing after hearing, there's no mention of the owners, as if they committed some sort of crime," the 79 year-old Nader said during a conference call with the media, investors and other interested listeners on Friday.
Nader made a point I have heard from other shareholders, such as Michael Kao of Akanthos Capital, which is that the Treasury deliberately acquired just under 80% of the shares of Fannie and Freddie so it wouldn't have to take them on the government's balance sheet, increasing the national debt in the midst of a crisis. He also objects to the delisting of Fannie and Freddie from the New York Stock Exchange in June 2010.
Nader has been advocating for GSE shareholders since at least January 2011, when he published an editorial in The Wall Street Journal, making many of the same points he made on Friday. In fact, both the 2011 editorial and the press release announcing Friday's call had virtually the exactly same headlines: "The great Fannie and Freddie Ripoff" and "The Great Fannie Mae and Freddie Mac Ripoff."
Nader cited recent advocacy by investors such as Fairholme Capital and hedge fund manager Bill Ackman as reasons he thinks the likelihood of shareholders receiving a hearing is increasing.
While Fairholme proposed to acquire the GSEs from the government (a proposal that was rejected by the White House) and change their names so public officials could claim they had gotten rid of Fannie and Freddie, Nader believes the government should acquire the GSEs outright, but forbid them from lobbying.
Nader says he had advocated publicly for shareholders in the past -- including in instances where he was not a shareholder himself. Examples he cited included General Motors (GM) - Get General Motors Company (GM) Report and Exxon Mobil (XOM) - Get Exxon Mobil Corporation Report. He said he may engage in other types of shareholder activism early next year.
-- Written by Dan Freed in New York. 
Disclosure: TheStreet's editorial policy prohibits staff editors, reporters and analysts from holding positions in any individual stocks.