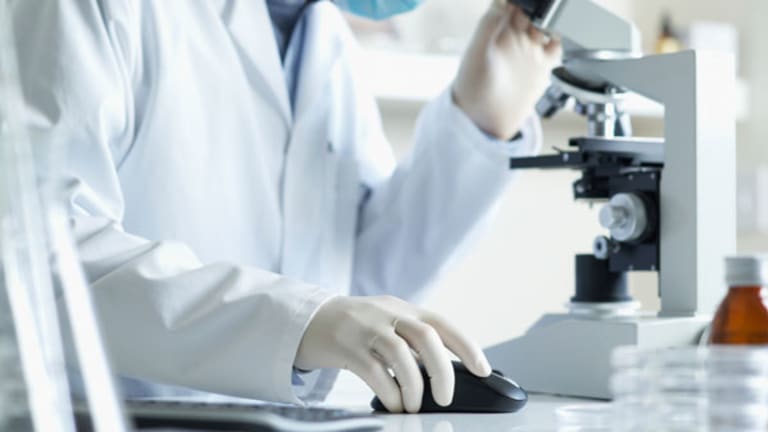 Myriad Genetics Doesn't Make the Grade
Its chances to deliver Alzheimer's drug success look slim.
Myriad Genetics
(MYGN) - Get Myriad Genetics, Inc. Report
is one of several companies trying to hit the Alzheimer's disease jackpot by developing a drug that blocks the formation of toxic beta-amyloid protein deposits in the brain.
At the risk of sounding too much like a nattering nabob of negativism, I believe the odds for success here are low. (I know, first I take a
bearish stance on
Neurochem
(NRMX)
and its Alzheimer's drug, and now I do the same with Myriad.)
What's my beef with experimental Alzheimer's drugs? There's no beef, I promise -- I simply believe these first two Alzheimer's drugs with disease-modifying potential are lacking.
Flurizan is Myriad's beta-amyloid-lowering drug now being evaluated in two phase III trials. On Tuesday, Myriad announced that it was punting on a planned 12-month interim analysis this fall of the first of these studies. Instead, the company will let the trial run through to completion in the first half of 2008.
So, with data from the Flurizan study not coming until next year, isn't it a bit early to worry about this as a stock-moving event? Agreed, but at the same time, I view the canceled interim analysis as a crack in Myriad's confidence in its Alzheimer's drug candidate.
Myriad's stock has been on a tear because the company's base genetics-testing business is profitable and growing. But my general feeling is that Myriad's valuation is overinflated because of Flurizan.
As a stand-alone business, genetic testing (or diagnostics) tends to have lower profit margins than selling drugs. So, subtract Flurizan from Myriad's plate and the company wouldn't (shouldn't) deserve the premium multiple it gets today.
Myriad shares closed Wednesday up 3.5% to $37.11.
All right, let's focus on Flurizan. Like with my analysis on Neurochem, my skepticism is grounded in poor phase II data, which suggests the phase III trials are high-risk.
Last July, Myriad announced results of a 24-month, follow-up analysis of its phase II study that found patients with mild Alzheimer's disease receiving high-dose Flurizan (800 milligrams dosed twice a day) "demonstrated a substantial benefit over other dose groups in the study and that this benefit continued to increase over 24 months, for each of the evaluated areas of cognition, memory loss, global function and activities of daily living."
These data were presented at the 10th International Conference on Alzheimer's Disease and Related Disorders, in Madrid, Spain, by Dr. Gordon Wilcock of the University of Oxford. Wilcock was the lead investigator for the phase II trial.
Here's one of the primary slides from Dr. Wilcock's presentation:

Note that patients in both Flurizan dose groups, as well as the placebo patients, all seem to do equally well for the first nine months of the study. (The error bars for each three-month time point either overlap or almost touch each other, suggesting that the point differences shown on the graph are a bit suspect.)
From months 9 to 12, however, the 800-mg dose group and placebo patients decline dramatically. The steep slope declines of the graphs represent a loss of cognition, as measured by a mean change in the ADAS-cog test.
The primary endpoint of the phase II study was measured at 12 months, and it's at this point that the study failed to show a statistically significant difference between Flurizan and placebo using ADAS-cog and other tests.
But Myriad wants you to forget about the results at 12 months and instead focus on what happens to patients who continue taking Flurizan through 24 months. Here, in this voluntary continuation of the phase II study, Myriad claims that the cognitive ability of high-dose Flurizan patients stabilizes -- and even improves at some time points -- from 12 to 24 months, as illustrated by the flattening of the slope of the curve.
What might explain this dramatic improvement?
Myriad says, simply, that the drug takes longer than 12 months to show full effects. The longer a patient takes Flurizan, the greater the benefit.
But I have an alternative -- and more skeptical -- explanation: Notice that the size of the high-dose Flurizan patient group decreased by 52% from 48 patients at the start of the study to 23 patients after 12 months -- when the dramatic improvements began to be recorded. (Look at the yellow "N's" on the chart.)
This is a classic example of selection bias, where patients who are doing better remain in the study and artificially skew longer-term results. Patients doing badly at 12 months dropped out and ceased being tracked.
When Myriad announced the initial results from the Flurizan phase II study in May 2005, it also announced an amendment to the ongoing phase III studies to extend the study period to 18 months from 12 months, claiming the longer time period boosted chances for the study's success. (Yes, Myriad actually started its phase III studies before having data from the phase II study, yet another red flag ...)
As I mentioned above, the Flurizan phase II study failed at 12 months to meet its primary endpoint, which was to show a statistically significant treatment effect between Flurizan 800 mg taken twice a day compared with placebo on three different measures of Alzheimer's disease severity. (Those tests were the Alzheimer's Disease Cooperative Study -- Activities of Daily Living inventory (ADCS-ADL), Clinical Dementia Rating -- Sum of Boxes (CDR-sb), and the Alzheimer's Disease Assessment Scale -- Cognitive function subscale (ADAS-cog).)
Myriad describes Flurizan as a Selective Amyloid Beta-42 Lowering Agent. As a reminder, the "beta-amyloid" theory of Alzheimer's believes damaging beta-amyloid plaques form when certain enzymes cut amyloid precursor protein (APP) into fragments. Instead of being cleared from the body, some of these fragments clump together into plaques, which damage nerve cells in the brain.
Flurizan is supposed to work by attaching itself to gamma secretase, one of the enzymes responsible for cutting up APP. Once attached, Flurizan forces gamma secretase to modulate its behavior, cutting APP into smaller -- and less sticky -- fragments that can't form into brain-damaging plaques.
Researchers I've consulted say that Myriad's approach to lowering beta-amyloid plaques -- in this case, by working upstream where enzymes cut APP into the sticky fragments -- is feasible.
But the hurdles inherent in this approach are high. It's difficult to get enough drug into the brain to have a therapeutic effect on gamma secretase (as opposed to just getting sufficient drug levels in plasma).
Myriad has presented retrospective analyses from the phase II study showing patients that were able to achieve higher blood levels of Flurizan performed better. But the problem is that it's difficult -- maybe impossible -- to know in advance which patients will be able to achieve those higher concentrations of Flurizan in their system.
The U.S.-based phase III trial of Flurizan has enrolled 1,600 patients with mild Alzheimer's (randomized to drug or placebo) and uses the same clinical endpoints from the phase II study. These clinical measures, however, will be assessed after 18 months of treatment.
Expect to see that data in the first half of 2008. We'll wait a while for the final data to determine the ultimate outcome, but I'm skeptical that Flurizan will be able to achieve a statistically significant benefit for patients of Alzheimer's.
Adam Feuerstein writes regularly for RealMoney.com. In keeping with TSC's editorial policy, he doesn't own or short individual stocks, although he owns stock in TheStreet.com. He also doesn't invest in hedge funds or other private investment partnerships. Feuerstein appreciates your feedback;
to send him an email.