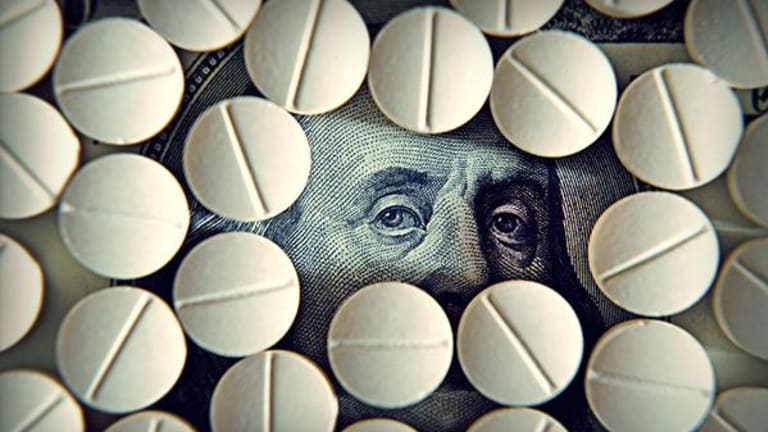 Publish date:
MyoKardia Shares Almost Double on Latest Clinical Data for Heart Disease Treatment
Plans for a stock offering follow the boost in share price.
Plans for a stock offering follow the boost in share price.
Shares of MyoKardia Inc. (MYOK) - Get MyoKardia, Inc. Report were up 83.4%, or $14.30, to $31.45 Monday, Aug. 7 after the South San Francisco biotech announced positive topline data from the first patient cohort of its current Phase 2 study of a key heart disease treatment.
MyoKardia is developing the drug, mavacamten, for use in symptomatic, obstructive hypertrophic cardiomyopathy patients as part of the Phase 2 trial. The company's treatments are for inherited cardiovascular diseases like hypertrophic cardiomyopathy using a "precision medicine" approach. 
Late Monday, MyoKardia announced plans to offer 3.5 million shares of its common stock as well as granting the underwriters a 30-day option to purchase an additional 525,000 shares at the public offering price, less the underwriting discount.
If the offering is priced at Monday's closing price the gross proceeds from the offering would be roughly $127 million. J.P. Morgan Securities LLC and Cowen and Company LLC are acting as joint book-running managers for the proposed offering. BMO Capital Markets is also acting as a bookrunner.
MyoKardia anticipates using the net proceeds from the offering, together with its existing cash and cash equivalents, to fund research and development activities for its development programs, including, but not limited to, its ongoing and planned clinical trials for mavacamten
Based on Monday's results MyoKardia plans to hold discussions over the next few months with the Food and Drug Administration to help plan its next study, named Explorer-HCM, which it expects to begin by the end of 2017.
"We are very encouraged by the observed physiological effects of mavacamten in this study," said Stephen Heitner, M.D., director of the HCM Clinic at Oregon Health and Science University's Knight Cardiovascular Institute, and the lead investigator in the study, dubbed PIONEER-HCM. "These results continue to build the body of evidence linking the mechanistic hypothesis of mavacamten to potential clinical  benefit in symptomatic, obstructive HCM patients."
Mylan Is at Risk From These Insurmountable Sector Headwinds
The first patient cohort of Pioneer-HCM was small--11 patients enrolled and 10 completed the study. A statistically significant improvement was observed in blood flow and aerobic capacity.
Mavacamten also was generally well-tolerated, with one patient with a history of paroxysmal atrial fibrillation experiencing a serious adverse event. In order to participate in the study, this patient had discontinued background beta blocker and disopyramide therapy, both of which are indicated for the management of atrial fibrillation. During the study, the patient experienced a recurrent episode of atrial fibrillation and was cardioverted. The patient had another episode of atrial fibrillation and was hospitalized and successfully treated with anti-arrhythmic therapy. The patient elected to stop study drug at week 4. All other adverse events were mild to moderate.
The company expects to enroll between 200 and 250 patients in Explorer-HCM and initiate the study before the end of this year.
"We are delighted by the positive data released today from Pioneer-HCM," said Marc Semigran, M.D., chief medical officer of MyoKardia. "We believe these results further demonstrate the potential of mavacamten in oHCM and we intend to move decisively and with urgency to develop this potential therapy for patients. We look forward to discussing with FDA the potential for Explorer-HCM to serve as a pivotal study."
The company expects to release topline data from this second patient cohort in the first quarter of 2018.
Heitner will present results from the first cohort at the Heart Failure Society of America's 21st Annual Scientific Meeting on Monday, September 18, 2017 in the "Big Trials of the Last Year" session.
More of What's Trending on TheStreet: