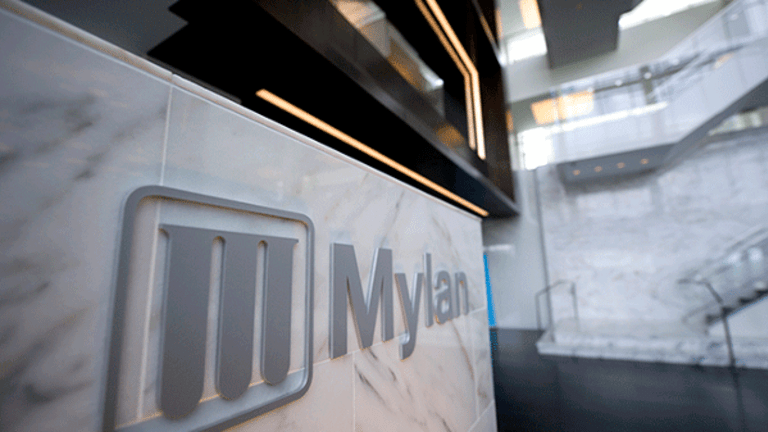 Mylan Stock Soars Over 10% on EpiPen Medicaid Settlement
Investors bid up Mylan on its $465 million settlement with the Department of Justice, though doubts linger about the auto injectors' future.
Investors bid up Mylan (MYL) - Get Viatris, Inc. Report after the company settled up with the federal government Friday over the classification of its EpiPen auto injectors in the Medicaid Drug Rebate Program.
The pharmaceutical company's stock jumped 12% in trading before market's open Monday, hitting $35.94 per share. Following the market's open, the stock soared another 10%, reaching $39.49 per share.
The market reaction came on the heels of an announcement from Mylan Friday after the close that the company will pay $465 million to the U.S. Department of Justice and other government agencies to settle charges that it misclassified the Epipens, which is used to treat life-threatening allergic reactions, for purposes of Medicaid reimbursement. By classifying the EpiPens as a generic product, the company could pay lower rebates to patients. Yet the company's priced the product as if it were a brand name, "innovator" drug. Federal regulators claimed the company cost taxpayers $163 million from 2011 to 2015 as a result.
The settlement, Mylan officials noted, does not acknowledge any wrongdoing. 
Mylan is still under investigation by the Minnesota Attorney General's office, as well as the New York Attorney General. Neither provided an update Friday. But some analysts say the federal settlement will go far to ease the regulatory pressure on the company. 
"EpiPen can now fade off into sunset, removing a headache major for management," analyst Jason Gerberry of Leerink Partners wrote in a note. "We believe the settlement likely gets the U.S. government 'out of Mylan's hair.'"
Gerberry estimated that this settlement was worth between 60 cents and 65 cents per share net to tax.
EpiPen has been at the center of the public's focus on steeply rising drug prices, with patients seeing two-packs reach $600 earlier this year. The company raised prices of EpiPen 25% each year, as compared to the drug industry's average of 10%.
Since the high prices of EpiPens came to light, Mylan has taken action to reduce costs by offering a $300 coupon for the drug and expanding its patient assistance program.
This agreement is yet another step in the company's attempt to fix its tarnished image. EpiPen was incorrectly classified as a non-innovator multiple source drug since before Mylan bought the drug in 2007. This likely allowed Mylan to pay a 13% rebate, when it should have paid either 23.1% of the average manufacturer price or that price minus the lowest available to a wholesaler, whichever was greater.
"The agreement is in addition to the significant steps Mylan has taken in relation to EpiPen autoinjector over the past several weeks, including the unprecedented, pending launch of a generic version of EpiPen autoinjector and expansion of our patient access programs for this product," Mylan CEO Heather Bresch said in a statement.
Analysts are seeing this quick action as a net positive to EpiPen's stock.
"We view the settlement as a positive and give management kudos for the fast action," Ronny Gal of Bernstein wrote in a note.
Gal, though had some lingering questions about how Medicaid will price EpiPens going forward.
"It is clear Epipen will be treated as branded product going forward, but we do not know the Medicaid price for the brand—is it current price or price from 1997? Without this it is hard to calculate the Medicaid price/rebate, which is about 33% of Epipen," Gal wrote in a note.
Analyst Randall Stanicky of RBC Capital Markets wrote in a note that while Mylan's stock is soaring now, it likely will go down in the coming weeks.
"Street numbers are too high and need to come down but that is generally expected based on our buy side discussions over the prior couple of weeks and the formal guidance cut will likely trigger some downward revision," Stanicky wrote in a note.
In its release on the settlement, Mylan also set a date that it will report third quarter earnings—Nov. 9—and announced that full year earnings per share estimates are between $4.70 - $4.90 per share. This is compared to the company's previous estimate of $4.85 - $5.15 per share.
The company also reiterated its $6 earnings per share target for 2018.
Mylan, which has a market cap of $21.11 billion, declined further comment.