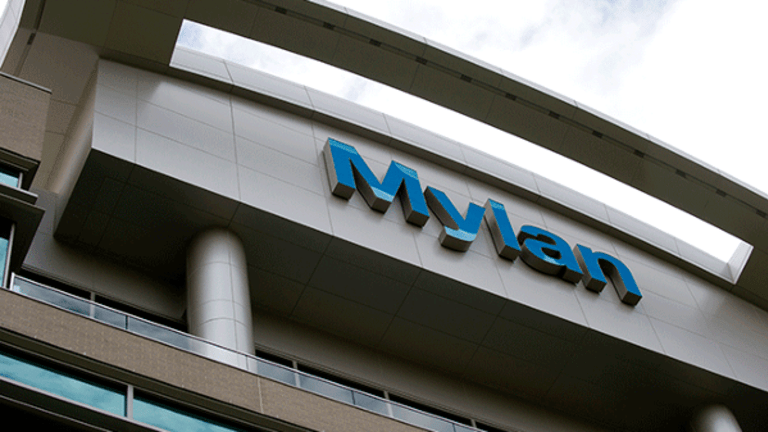 Mylan Shares Up on Generic EpiPen Launch
The company saw shares lift 1.5% early Friday, but doubts about its prospects remain.
After its share price took a beating for months, is Mylan (MYL) - Get Report finally on the path to quelling concerns over its high drug pricing?
Or is its latest news -- that it will offer a generic version of EpiPen, the device used to treat anaphylaxis, or severe allergic reactions, for no more than $300 -- just more posturing?
The Pittsburgh-based pharmaceutical company will offer generic epinephrine for less than 50% of the list price, which according to GoodRx, was between $600 and $700 per two pack. The company's generic is now available for $300 per two-pack.
"Unfortunately, families will continue to face sticker shock for medications and may be forced to make difficult choices until the pharmaceutical pricing system is reformed to address the increasing shift of costs directly to consumers," Mylan CEO Heather Bresch said in a statement.
Mylan has been blaming the high drug costs patients are seeing on other parts of the healthcare system, like insurers and pharmacy benefit managers, which negotiate drug prices with pharmaceutical companies on behalf of clients.
"Pharmaceutical pricing is too far removed from the patient at the pharmacy counter and not designed for today's increasingly consumerized healthcare system," Bresch added.
Mylan saw shares bounce 1.5% ahead of market open Friday, hitting $38.33 apiece. Mylan has seen its share price fall 28% this year.
The company became a target for public outrage over high drug pricing earlier this year, when news broke that the EpiPen's pricing increased 25% year-over-year since Mylan acquired it in 2007. The drug industry average is a 10% increase in prices.
Since these problems came to a head over the summer, Mylan has offered coupons and programs for low-income patients that reduce the device's price for the most vulnerable customers. The coupons that are available to all patients reduce the branded EpiPen's price to about $300 apiece.
Mylan is offering a $25-off coupon available online for the generic Mylan introduced Friday which puts the true cost of the device without insurance at $275. The discount, then, makes the generic device only slightly cheaper than the brand-name product, although under insurance plans, that discount could grow larger.
As Mylan was taking heat for its drug pricing, the company was hit with the additional bad news when it was disclosed Epipen had been misclassified by the Center for Medicare and Medicaid Services for years, allowing Mylan to collect more money for its device.
And things have yet to cool down for Mylan, which along with companies like Teva Pharmaceuticals (TEVA) - Get Report and Mayne Pharma (MAYNF) is the target of a lawsuit brought by 20 states, announced Dec. 15. The suit charges the companies with drug price collusion, though Mylan's EpiPen is not one of the drugs targeted.
According to Guggenheim Securities analyst Louise Chen, Mylan has yet to give guidance for 2017, as it had plans to announce both the generic EpiPen and patient assistance programs. However, the company reiterated its $6 adjusted EPS target for 2018.
"We think the street is skeptical that Mylan can hit its targets here," Chen wrote in a note. "More details around the company's assumptions for its 2017 and 2018 EPS forecasts could increase the street's confidence in Mylan's estimates."
Mylan declined further comment on EpiPen. The company has a market cap of $20.21 billion.