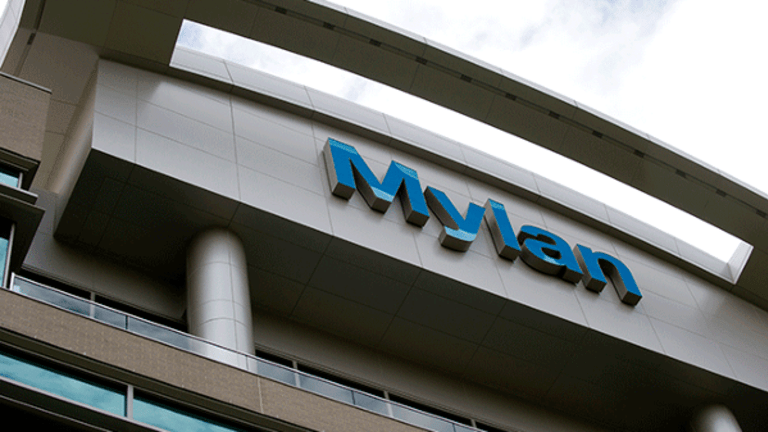 Mylan Shares Unchanged as Kaleo Releases EpiPen Competitor
The Auvi-Q was released Feb. 14, but it's unclear whether patients will break up with their current option, EpiPen, for something new.
Mylan (MYL) - Get Mylan N.V. (MYL) Report shares were steady Tuesday midday, even as privately held rival Kaleo Pharma, launched its EpiPen competitor, Auvi-Q. 
Mylan, the Pittsburgh-based pharmaceutical company, was trading at $39.98 per share Tuesday, up 0.5% from market's open. The company previously declined to comment on the Auvi-Q, but from the looks of it, investors have already priced competition from the device into Mylan's stock.
Kaleo announced earlier this year that Auvi-Q, an auto-injector used to treat anaphylaxis and severe food allergies, would hit the market on Valentine's Day. The device is smaller than an EpiPen and offers voice instructions while in use in a manner similar to how a defibrillator operates. 
Along with it, the pharmaceutical company announced a dubious pricing scheme, in which patients who are insured, or who make under $100,000 per year, would be eligible for a free two-pack. For uninsured patients who make over $100,000 yearly, the cost of the auto-injector two pack will be $360. 
But to keep the price tag customers see at $0, or somewhere close, Kaleo had to engage with pharmacy benefit managers and insurers to pay a hefty $4,500 price for a two-pack. 
This is almost nine times more than what Mylan says is its price for insurance companies and pharmacy benefit managers, or $274 apiece. Mylan says it is insurance companies and PBMS that boost the price of an EpiPen two-pack to between $600 and $700. 
Many pharmacy benefit managers, including Express Scripts (ESRX) , Unitedhealth Group (UNH) - Get UnitedHealth Group Incorporated Report and Cigna (CI) - Get Cigna Corporation Reportwill not cover the medical device. Neither will privately held Prime Therapeutics. Prime is the latest to announce that it will not pay for Kaleo. 
"Consumers and payers are simply being taken advantage of when products are 100% to 1500% more expensive than comparable products," said Alec Mahmood, chief financial officer at Prime in a statement. "PBMs and payers are not the reason prices are soaring, but they are a critical counterweight to this egregious behavior." 
So how are the prices going to be kept low? It's unclear, for now, and Kaleo has yet to provide clarity. 
TheStreet has reached out several times for more information from the company, but has yet to receive any response. As Kaleo is private, little more information can be expected to be obtained. 
So how should Mylan investors respond? Likely wait it out. When Auvi-Q previously hit the market, it only snagged a 10% share from EpiPen (and this was when it was owned by Sanofi (SNY) - Get Sanofi Sponsored ADR Report ).