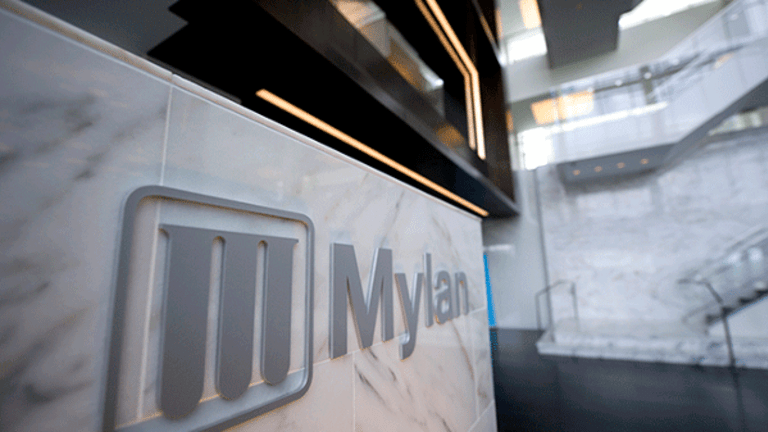 Mylan Is Done Leaning on EpiPen Sales and That Could be a Big Problem
The pharmaceutical company announced that it will increase its patient assistance program in hopes of quelling a growing backlash over its drug pricing.
After being charged by politicians and the public of unreasonable price increases for EpiPen, Mylan (MYL) - Get Viatris, Inc. Report is making moves to lower the price patients pay for the life-saving drug, which if substantive could negatively impact its earnings.
The pharmaceutical company announced Thursday morning that it is taking steps to reduce the cost of EpiPen, an epinephrine autoinjector used to treat anaphylaxis, or severe allergies. Mylan will now cover up to $300 in out of pocket costs through its discount card, which previously covered up to $100.
Additionally, Mylan is doubling eligibility for its patient assistance program to include patients with incomes as large as four times what the federal government defines as the poverty line. A family of four making $97,200 yearly would pay nothing out of pocket for an EpiPen.
"It's big enough to impact earnings," analyst Ronny Gal of Bernstein said in an interview. He added that he's still running the numbers on how large of an impact the program will have.
Patients were reporting paying up to $600 in out of pocket costs for the medication, which is sold in packs of two. While Mylan has been increasing prices of the drug about 25% year over year, compared with  the drug industry average of 10%, patients are feeling the squeeze now more than ever thanks to changes ushered in by the Affordable Care Act. The ACA has increased the availability of insurance plans with high deductibles, which in turn increases the cost of drugs for consumers.
Democratic Presidential hopeful Hillary Clinton, as well as several senators from both sides of the aisle, spoke out against the price increases and demanded an explanation from Mylan earlier this week.
"They had to respond," Gal said. "I think it would have been very bad not to respond. The question is whether this was the right response."
While the payment assistance programs Mylan announced Aug. 25 will likely help families facing higher costs for the drug and dampen the political fallout for the company, it could hurt Mylan's financial performance, as the company evidently relies heavily on the drug for revenue.
The company does not break out sales for EpiPen. But on Aug. 9, Mylan reported net sales for the second quarter of 2016 from its specialty division, which includes EpiPen, of $402.5 million, a 33% increase from the second quarter of 2015. Mylan attributed much of this increase to higher volumes of EpiPen sales.
The company increased prices for the drug 15% in the fourth quarter of 2015, and had done the same during the second quarter of 2016, according to Gal.
Analyst Louise Chen of Guggenheim Securities wrote in an early August note that the increase in EpiPen's prices has been able to effectively mask what's going on in Mylan's generics business, which hasn't reported stellar performance recently.
TheStreet has been following Mylan's EpiPen pricing woes since Aug. 10, when it reported that the company's time relying on the drug for earnings was rapidly approaching an end.
"It would be nice if Mylan could show outperformance in the generics sector as well," Chen said in an Aug. 9 interview with TheStreet. "There's still a risk that EpiPen could go generic."
Despite these concerns, Mylan's share price rose 3.5% Thursday morning, reaching $44.67 in pre-market trading. The company's shares fell 5.4% Wednesday, to $43.15 per share. Mylan's shares have fallen approximately 40% since hitting a record high in April of last year.
Gal said he has a buy rating on the stock right now.
"I think it's more compelling at this price right now," Gal said, noting that the entire value of EpiPen came out of the price when Mylan's shares fell this week. "A lot of guys came in and shorted this. It's time for them to get out."
Mylan isn't the only pharmaceutical company boosting drug prices rapidly, analysts note, but they are one of the few to feel heat over the practice.
Humira, a rheumatoid arthritis biologic that is sold by AbbVie Inc. (ABBV) is another example of what critics say is price gouging throughout the drug industry. Prices were increased 20% this year, but since a much smaller group of people use the drug, the outcry was much smaller.
Mylan also is one of the few manufacturers of an epinephrine auto injector, and thanks to marketing efforts, the drug has become ubiquitous in schools in the U.S.
While there are alternatives to the drug, Amedra's Adrenaclick and epinephrine syringes, to name a few, Mylan has dominated the market since it acquired EpiPen in 2007. Teva Pharmaceuticals (TEVA) - Get Teva Pharmaceutical Industries Limited American Depositary Shares Report and Adamis Pharmaceutals (ADMP) - Get Adamis Pharmaceuticals Corporation Report are both awaiting approval for generic versions of EpiPen, and could enter the market as soon as 2017. 
Still, patients are skeptical that these alternatives will be viable. Sanofi (SFY) - Get SoFi Select 500 ETF Report manufactured a slimmer, more sleek alternative to EpiPen called Auvi-Q that took approximately 15% of the market share. However, late in 2015, the company announced a recall of the drug because it deployed too much epinephrine.  
As for Mylan, Gal contends the company is not likely to resume its price increases on EpiPens.
"They got burned once," he said. "They won't try that again."