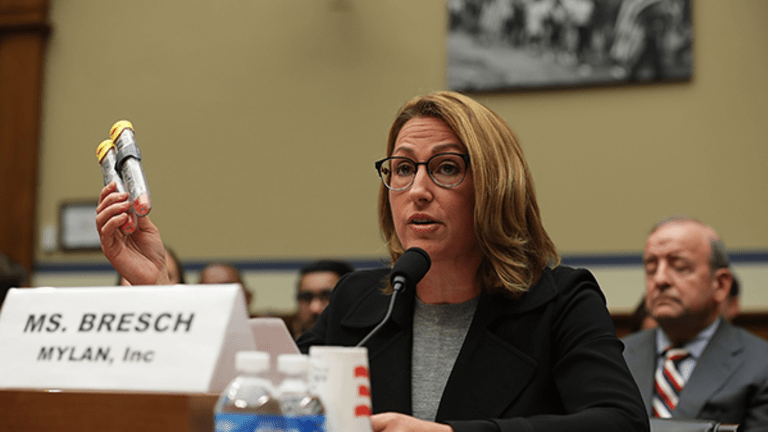 Mylan Reports Worse-Than-Expected Earnings Thanks to EpiPen
The pharmaceutical company reported earnings per share of $1.38, missing estimates by 7 cents per share.
After months of problems thanks to its high pricing of EpiPen, Mylan (MYL) - Get Viatris, Inc. Report reported worse-than-expected third quarter earnings after market's close Wednesday.
The pharmaceutical company reported earnings per share of $1.38, as compared to consensus estimates of $1.45 per share. Pittsburgh-based Mylan reported revenues of $3.06 billion for the quarter, as compared to. $3.12 billion estimated revenues.
The company attributed many of its problems to a rapidly changing health care system.
"The health care system is experiencing rapid and extraordinary changes," Mylan CEO Heather Bresch said during Wednesday's earnings call. "We've been living this reality first-hand with EpiPen."
She added that she wished the company had anticipated the huge EpiPen price increases, but that Mylan is working to remedy the issue.
Mylan's shares remained stable as the company conducted its earnings call, hovering around $38.96 per share after market's close. Mylan's shares were up 5% during the regular session Wednesday on news that Donald Trump was elected president and that Republicans will control the House of Representatives and the Senate.
Much of the company's losses were attributed to its struggles with EpiPen, an autoinjector used to treat severe allergies and anaphylaxis. Patients were seeing pricetags as high as $600 per two pack, and Mylan had boosted the prices by 25% each year. The drug industry norm is 10% year over year.
"While EpiPen auto-injector scripts grew quarter-over-quarter, volumes were down due to the lack of wholesaler purchases in the quarter in anticipation of our upcoming generic launch," according to Mylan's 8-K.
The company also saw a 4% decrease in sales for its specialty division in the third quarter. EpiPen is a part of that division.
Mylan has since lowered prices and started offering coupons and assistance programs to patients.
Company officials said earnings took a hit because of a $485 million settlement with the Department of Justice over a misclassification of EpiPen that allowed Mylan to avoid paying high fees for its Medicare and Medicaid offerings.
Officials noted that it is still working to settle this issue with the Department of Justice during its Wednesday call.
During its Wednesday call, Mylan also confirmed that its generic version of EpiPen will be available during the first half of December. Officials also noted that the company is working on a version of the drug that has a longer shelf life. EpiPens today expire after one year on the shelf.
Mylan officials highlighted a push toward integrating its $9.9 billion acquisition of Meda AB which closed on Aug. 5 and other small companies, which were previously announced, for the fourth quarter.
As a part of this integration, the company noted that it plans to do some smaller bolt-on acquisitions in the coming months.
Mylan has a market cap of $20.82 billion.