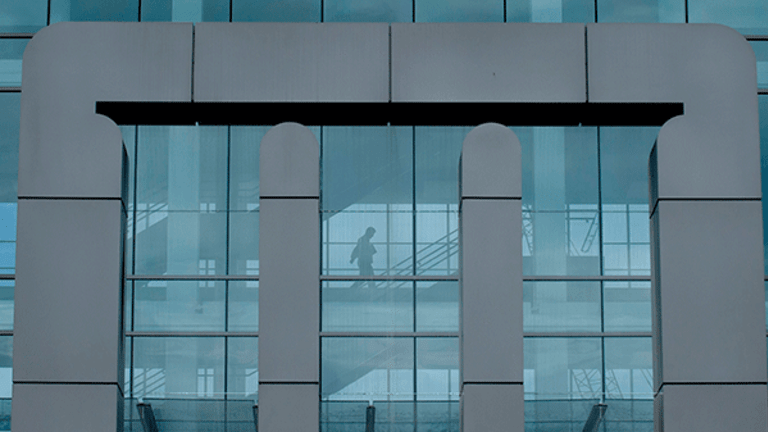 Mylan Hires Former SEC Commissioner for Chief Legal Officer Position
The company could be gearing up for multiple challenges on the D.C. front, analysts say.
Mylan's (MYL) hire of former Securities and Exchange Commissioner Daniel Gallagher as its new chief legal officer may signal that the company is buckling down for fights over its corporate governance woes.
Mylan announced March 28 that Gallagher will be joining the company as its chief legal officer on April 17. Mylan did not previously have someone in this role.
From analyst Ronny Gal's perspective, the decision to hire a former federal government employee makes sense. "I think Mylan is expecting multiple challenges on the D.C. front, so a D.C. guy makes sense," Gal of Bernstein said by email Tuesday. "It also signals possibility for further generic industry consolidation."
Mylan faced scrutiny from the federal government thanks to rapid price hikes of its main device, an autoinjector called EpiPen, used to treat severe allergic reactions and anaphylaxis. The company, since 2007 when it acquired the drug, had raised prices 25% year-over-year, as compared to the drug industry standard.
Beyond that, EpiPen was misclassified as a generic by the Center for Medicare and Medicaid since 1997, which allowed the company to avoid paying some government rebates.
Most recently, the Journal of the American Medical Association published a research letter Monday that showed the payout from Mylan will likely be much larger than the proposed $465 million settlement agreed upon in November.
The study explains that the original settlement only accounted for Mylan's two EpiPen formulations over four years, rather than its formulation since 2007, when Mylan acquired the device.
Gallagher, a Republican, previously served as SEC Commissioner under the Obama administration from 2011 until he resigned in 2015. While commissioner, he worked on various corporate governance issues on a federal level and was a frequent critic of activist investors, who he said said exacerbated traditional investors' push for short-term earnings performance at the expense of longer term strength.
Mylan has governance issues of its own that Gallagher's experience might help address.
"In addition to his keen legal intellect and outstanding reputation, Dan's extensive experience in regulatory matters, financial markets, and corporate legal affairs and governance will add significant value to our senior leadership team and add further depth to Mylan's already strong legal organization," Mylan CEO Heather Bresch said in a statement.
Gallagher previously worked for the legal firm now known as WilmerHale, and returned to the firm after he resigned from the SEC. While there, he worked on broker-dealer regulatory issues and represented clients in SEC and SRO enforcement proceedings
As for Gallagher's view of the company? "Mylan has enjoyed remarkable growth during a very short period and has become a global powerhouse in the generic and specialty pharmaceutical industry," Gallagher said in a statement.
Mylan, which has a market cap of $22.46 billion, was trading at $41.72 per share Tuesday. Its shares barely moved on the new CLO announcement.
The company did not return requests for comment.