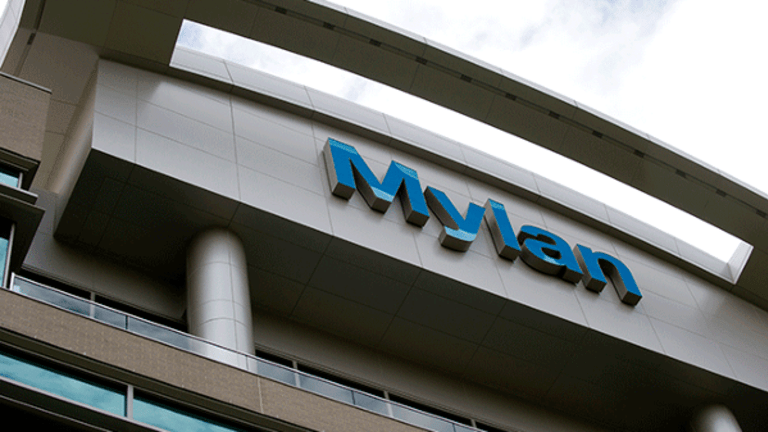 Mylan Falls on FDA Warning on Quality Control
The EpiPen-maker has received a letter from the FDA about its manufacturing facility in Nashik, India.
When it rains on Mylan NV ( (MYL) ), it really seems to pour. In the latest in a seemingly never-ending trail of woes for the pharmaceutical maker, the Food and Drug Administration has issued a letter to company over failures in its quality control systems at its manufacturing facility based in Nashik, India.
Mylan shares were falling Tuesday morning on the news, losing 2% of their value by midday. Shares were hovering around $38.46 apiece.
"Your quality system does not adequately ensure the accuracy and integrity of data to support the safety, effectiveness, and quality of the drugs you manufacture," the FDA wrote in a letter it posted online Tuesday. The letter was sent to Mylan on April 3.
According to the letter, Mylan's quality control units at that facility failed to address errors generated by its computerized systems. The FDA noted that Mylan attributed these problems to power outages and problems with its ethernet cable, but since these issues were occurring at a high frequency, the agency deemed it appropriate to flag the problem.
"We are working closely with FDA to respond to and address the issues raised in the letter as comprehensively and expeditiously as possible," a Mylan spokesperson wrote via email. "Mylan has always had a deep and unwavering commitment to quality everywhere we operate."
The site continues to operate without interruptions, which means Mylan's pharmaceutical supply will not be interrupted as a result. The site is one of Mylan's 50 manufacturing sites worldwide.
According to analyst Umer Raffat of Evercore ISI, investors were likely overreactin. In an email with TheStreet, he said the news was "not a biggie."
He added that the Nashik facility manufactures antiretroviral drugs, or those used to treat HIV/AIDS.
However, it does come only a week after Mylan broke the troubling news that it would have to recall several lots of its flagship product EpiPen after two autoinjectors failed to work.
It's important to note, though, that these autoinjectors, used as a lifesaving treatment for severe allergies and anaphylaxis, are manufactured by Pfizer ( (PFE) ).
Still, Mylan's been under the microscope for more than six months, and news that one of its manufacturing facilities raised concerns at the FDA likely didn't do the company any favors.
Mylan became a target for critics of drug industry pricing in August 2016 after it came to light that EpiPens cost patients up to $600 per two pack each year.
Mylan had been steadily raising the price of the autoinjector by 25% yearly since it acquired EpiPens in 2007. The drug industry standard is a 10% year-over-year increase.
Then came news that EpiPens were misclassified as a generic for the Center for Medicare and Medicaid, which allowed Mylan to skip out on certain payments. Mylan and the CMS agreed to a settlement of $465 million in November.
Mylan has since addressed this problem by offering coupons and discount programs for patients. It has also heavily decreased its reliance on EpiPen as a revenue generator in response to investor concerns.