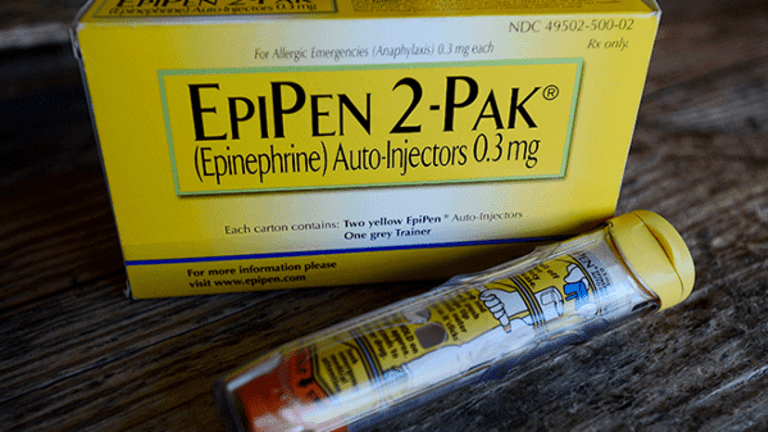 Mylan Faces Its Latest Challenge in EpiPen Alternative
Privately held Kaleo will re-release its EpiPen alternative early next year.
The past few months have not been kind to drugmaker Mylan (MYL) - Get Viatris, Inc. Report . The company has found itself at the heart of a prescription-pricing scandal that has dragged its stock down from near the $50-per-share mark in August to recent levels around $38.
On Wednesday, shares of the controversial pharmaceutical company fell slightly on news that another company would face increased competition. It looks like Mylan's bad fortunes aren't going to reverse anytime soon. Investors should stay clear. 
Mylan's most famous and popular product is the EpiPen, a personal medical device that delivers a lifesaving dose of epinephrine to patients suffering from acute asthma attacks and anaphylactic shock.
And the Mylan marketing machine -- which allegedly included the CEO's mother, who served as head of the National Association of State Boards of Education -- saw to it that EpiPens became necessities in schools and mothers' pocketbooks.
Nine years ago, a package of two EpiPens cost only about $94, according to this Associated Press report. But the price of a two-pack has skyrocketed to about $600. Industry experts have said that it costs only about $30 to manufacture one EpiPen, according to Money.
A bipartisan congressional investigation earlier this year led to widespread public indignation against Mylan. The company received a $465 million fine. And investors were clearly displeased, sending the stock sharply lower.
Now privately held rival Kaleo has announced that it is re-releasing its own version of the EpiPen.
Dubbed the Auvi-Q, this epinephrine device was debuted in 2013 and licensed to Big Pharma company Sanofi. But within two years it was withdrawn from the market when devices were reported to not deliver the proper dose of epinephrine.
In February, Kaleo took back the rights to the product and began retooling it with the hopes of returning it to the market. The timing was immaculate. The revamped Auvi-Q is slated to launch in early 2017.
Meanwhile, Mylan has promised coupons for cheaper EpiPens, as well as a generic version scheduled for commercial release by year's end. 
Mylan and other drugmakers may face increased scrutiny if Democrats win the White House and Senate. Democratic presidential nominee Hillary Clinton has called for Mylan and other drugmakers, such as Valeant Pharmaceuticals to rethink their pricing strategies. 
If you're looking for a less-risky pharmaceutical play, consider a diversified company such as Johnson & Johnson. Along with drug therapies, this classic company produces favorite and uncontroversial personal care products such as Band-Aids and No More Tears baby shampoo.
---
A blistering financial storm is about to hit our shores. When it hits, weak companies and their investors will be washed away. You need to put yourself on solid ground. And that doesn't just mean changing your investment allocations or loading up on cash. I'll show you how to protect yourself and prosper when you click here.
This article is commentary by an independent contributor. At the time of publication, the author held no positions in the stocks mentioned.