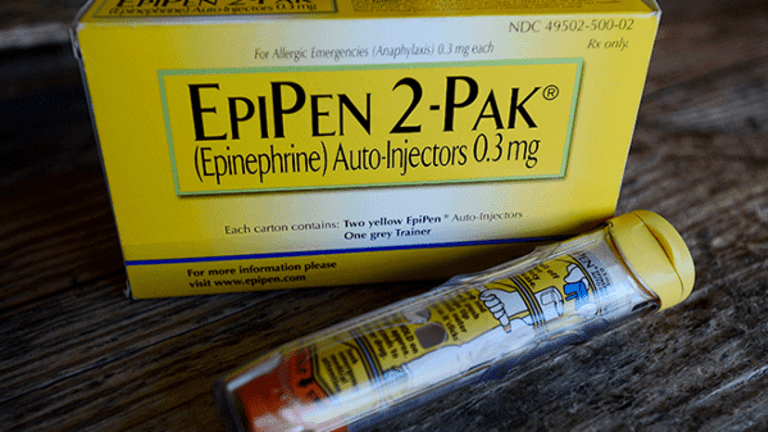 Mylan Expands EpiPen Recall
The company fell nearly 2% after announcing the news this weekend.
Mylan (MYL) - Get Free Report shares were declining as markets opened Monday thanks to a recall of its flagship product, EpiPen, which was announced over the weekend.
Mylan shares were down 0.3% after market's open Monday after falling nearly 2% in after hours trading over the weekend.
This announcement followed news of a recall of EpiPens abroad that came late last month. About 81,000 EpiPens were impacted in that first recall. They included those sold in Australia, New Zealand, Europe and Japan, a Mylan spokesperson wrote via email. The spokesperson added that the EpiPens were manufactured by a Pfizer PFE subsidiary, Meridian Medical Technologies.
Now, that number is expected to swell in the U.S. and Canada, but just how many will be recalled is unclear.
As of writing, thirteen lots of EpiPens, distributed between Dec. 17, 2015 and July 1, 2016 and manufactured by a Pfizer PFE subsidiary, Meridian Medical technologies, have been recalled in the U.S. and Canada.
According to a statement from the Food and Drug Administration, the EpiPens "may contain a defective part that may result in the devices' failure to activate."
Mylan officials wrote in a statement that the number of EpiPens that would actually fail to deploy in an emergency is small. Two devices were reported to have failed to activate, which is what lead to the recall in the first place.
Mylan will replace these EpiPens at no cost to patients.
According to SEC filings, Mylan officials anticipate that its EpiPen business will account for approximately 6% of sales in the U.S. and abroad in 2017. The company previously relied much more heavily on the autoinjector, but has since worked to diversify as a result of public pressure over its pricing practices.
Mylan has struggled for months with its EpiPen autoinjector, which is used to treat severe allergies and anaphylaxis. The Pittsburgh company acquired EpiPen back in 2007, and had been increasing its price approximately 25% each year, as compared to the 10% drug industry standard.
Patients finally began to notice last summer, citing prices as high as $600 per two pack. EpiPens must be replaced each year, which means the out of pocket costs for some were huge.
Soon after, Mylan became a public scapegoat for the drug industry's pricing practices. It's problems, though, didn't stop there.
It came to light about a month later that EpiPens were misclassified as a generic for the Center for Medicare and Medicaid, which allowed Mylan to skip out on certain payments. Mylan and the CMS agreed to a settlement of $465 million in November.
However, the Journal of the American Medical Association published a research letter last week showing that the payout will likely be much larger than expected. The study explains that the original settlement only accounted for Mylan's two EpiPen formulations over four years, rather than its formulation since 2007, when Mylan acquired the device.
"It provided some granularity on how patient out of pocket moved, which was largely in line with expectation," Bernstein analyst Ronny Gal wrote via email. "It did note Mylan provided little in way of patient assistance to defray the cost."
And last week the company's generic Advair, which is quite material to the company's stock, Gal noted, was rejected by the FDA. At a minimum, analysts said Advair won't help Mylan anytime soon.