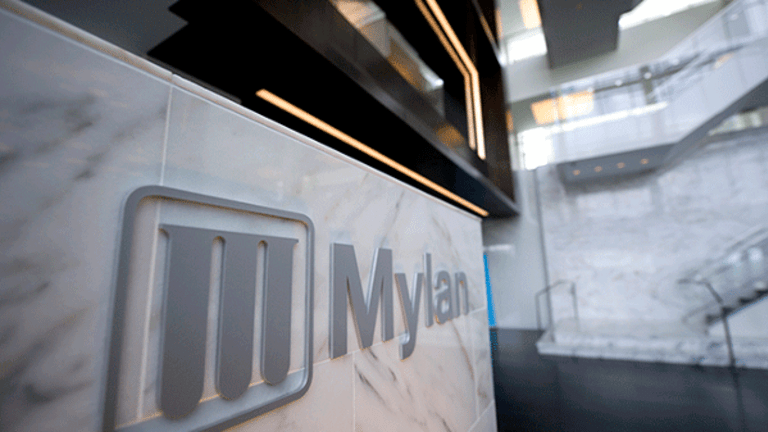 Mylan Crushed by Trump, Cigna and CVS -- All In Two Days
The drug maker's shares have fallen 6.2% since Wednesday's market open.
Mylan's (MYL) - Get Mylan N.V. (MYL) Report share prices have been crushed since Wednesday, falling 6.2% since market's open Wednesday, closing at $36.77 on Thursday afternoon. 
So why have shares fallen so far? A few factors, actually, including president-elect Donald Trump's comments on the drug industry and moves by others in the healthcare industry to punish the company for its high drug prices. Meanwhile, national health insurer Cigna (CI) - Get Cigna Corporation Report dropped the company's branded EpiPen (not generic) from its coverage while CVS Caremark (CVS) - Get CVS Health Corporation Report  said it would offer an EpiPen competitor at a reduced price.
The company's shares began to fall midday Wednesday when CEO Heather Bresch spoke at the J.P. Morgan Healthcare Conference. While Bresch was speaking, Trump was speaking at his first press conference in months at the Trump Tower. 
While Bresch on Wednesday told attendees of the J.P. Morgan Healthcare Conference that healthcare's pricing model and the interaction between the entire supply chain needs to be revisited, Trump was discussing frustration with the healthcare industry's high drug prices.
Bresch asserted that the lines between pharma, biotech and generic makers have blurred.
"As I reflect on 2016, I guess I would start by saying the EpiPen started an important discussion and dialogue," Bresch said at San Francisco's Westin St. Francis Hotel. "If I look at five entities that go across the healthcare supply chain, all the discussion has just been around one of those five - the drug manufacturers."
Bresch described the launch of its generic EpiPen at half-price, which occurred in December, as an "unprecedented" and "responsible" move.
Meanwhile, Trump said the drug industry is "getting away with murder" and "pharma has a lot of lobbies." He also implied that more drug regulation will be coming down the pike for companies like Mylan. The Nasdaq biotech index fell 3.5% on his comments. 
More bad news came for Mylan after market's close Wednesday. 
Cigna will no longer cover Mylan's EpiPen and EpiPen Jr. autoinjectors, instead encouraging patients to use either Impax's (IPXL) generic device for treatment of severe allergic reactions, or, according to Mylan's spokeswoman Julie Knell, the company's authorized generic for the drug.
The move was effective as of Jan. 7, when Cigna released a list of changes to coverage for 2017. In it, Cigna officials wrote that EpiPen is no longer covered, and that the plan "requires approval from Cigna for these medications to be covered."
"The generic version, available now in pharmacies, has the same drug formulation and device functionality as the branded medication, but at a substantial cost savings," Cigna spokeswoman Karen Eldridge said in a statement.
And on Thursday, CVS announced it will now offer Impax's generic epinephrine auto injector at all pharmacy locations at a reduced cost, in hopes of addressing rising drug prices. 
CVS will offer Impax's generic autoinjector for $109 per two-pack for patients who pay in cash. According to GoodRx, the device typically costs around $200 in cash, although for insured patients, Impax offers a $0 copay coupon online. The Hayward, Calif.-based drug company acquired the rights to a generic version of Adrenaclick, an epinephrine autoinjector used to treat anaphylaxis and severe allergies, in 2015.
This is compared to Mylan's EpiPen, which according to GoodRx can cost up to $700 in cash per twin pack. After deductibles went up earlier in 2016, patients began having to pay the full price tag for the drug. 
Mylan has been the drug industry scapegoat in recent months thanks to the fact that it raised prices of its EpiPen 25% yearly since 2007. The drug industry standard is 10%. 
Since then, the company has developed a generic version of EpiPen, which it offers at $300 in cash. It also offers a $25 off coupon, which brings the price down to $275 per two pack. The company also provides a coupon for the name-brand EpiPen, which brings its price in cash down from $700 to $300 or $400.