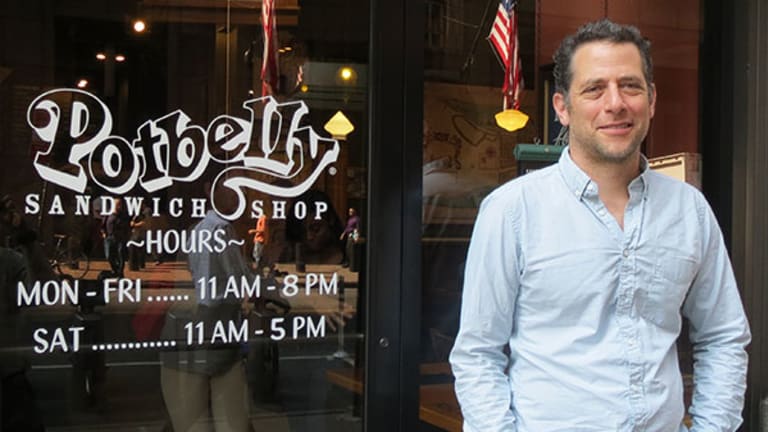 My Wonder Years at the Original Potbelly
Dan Freed remembers his high school summer job more than 25 years before the IPO.
NEW YORK (
) -- I am not a fan of change, of modernity, or of chain restaurants, so I fear it was inevitable that my reaction to Friday's IPO of
Potbelly
(PBPB) - Get Potbelly Corp. Report
, where I worked for a summer in 1987 after my junior year of high school, would be somewhat bearish.
I'm not making a call on the stock, just preparing to gripe about the fact that things ain't what they used to be. That said, I am surprised at the number of positive things I have to say about the corporatization of Potbelly and everything it represents.
But first allow a bit of nostalgia. Potbelly wasn't merely a summer job for me in high school: it was (and I think to a degree remains) an institution on Lincoln Avenue in the Chicago neighborhood where I grew up. My mother owned a store a few doors away, and when I was about six -- bored out of my mind waiting around for her -- she would let me walk over there and buy an ice cream. It was about three years before the six year-old Etan Patz would disappear in New York and missing children would start appearing on milk cartons. Needless to say, my six year-old daughter does not go to the store by herself.
I always liked hanging out at Potbelly. It was hard not to. It had a free jukebox and lots of antiques. The original owner, Peter Hastings, was an antique collector before it became cool, and he and my mom -- who collected weird things including antiques before that became cool -- had that in common.
I didn't really get to know Peter, though, until I went to work for him. My main observation about him was that he wasn't much fun. Upon reflection, what I think I observed is called being a boss. It's tough to be a boss and fun at the same time. It's one of the reasons I have tended to avoid opportunities to become one as they have come up in my career.
I very much remember the tension between trying to make customers happy and trying to make Peter happy. I was supposed to weigh the meat. Four ounces per sandwich, as I recall. Customers regularly leaned over the counter watching me make their sandwich and frequently asked me to "put a little more meat on there." I was supposed to charge 30 cents more. Sometimes I did and sometimes I didn't. It often depended upon my mood. If Peter was around, of course, I did things by the book.
I always thought of Peter as a good businessman. I think I even understood that when I was 17. I'm sure he made a lot of money by selling the business, but I notice his name does not appear in Potbelly's S-1 filing, so I guess he could have made more -- especially with Potbelly shares more than doubling in their first trading day.
If you are a fan of Potbelly in Arizona or Missouri or Pennsylvania or here in New York City, you may be interested to know that the subs (is that what they call them at the chains here in New York -- where "hero" is king? I never paid attention.) taste exactly the way they did in the 1980s. They are obviously far more expensive today than they were then, but they remain a relative bargain, despite being slightly too small to constitute a full meal. I think they also offer larger subs now, and even though that was probably a good idea, it bugs me just because, well, it's different. That said, my favorite sub -- "The Wreck"-- wasn't around in the 80's, so that's a good thing.
A couple of other observations about change and Potbelly that I will attempt to blow out of all proportion to indulge my passion for idiosyncratic social commentary.
First, the oatmeal chocolate chip cookies are sweeter than I remember. The thing that was so great about those cookies was that they weren't too sweet, but it's just like a business school graduate who relies on market research rather than gut to make all desserts too sweet. Also, the cookies come in packages that list all the unpronounceable ingredients on them. I suspect they used to be far simpler. If they weren't, I was better off not knowing.
Second, when I went into a Potbelly in New York for the first time, I of course had to reminisce with the cashier about my teenage experience. She was friendly -- seemed genuinely excited. But she was a West Indian immigrant in her forties. People like that -- adults with families to take care of -- didn't work at Potbelly in the 1980s. You might argue this woman has a better job today than a person with similar capabilities would have had in the 1980s. I am skeptical. I think summer high-school jobs have become full-time jobs for too many adults.
Another thing that troubles me about Potbelly's growth is that to me it serves as a reminder that eccentric one-of-a-kind businesses -- like the original Potbelly's -- have become increasingly scarce. I have worked in Manhattan's financial district on and off for about seven years, and even in that short time, two of my favorite lunch spots have closed, while more and more chains appear.
The most positive thing I have to say about Potbelly's growth is that Potbelly the chain is -- overall -- remarkably true to Peter's vision. It's part of a kind of fast food renaissance in America exemplified above all by
Chipotle Mexican Grill
(CMG) - Get Chipotle Mexican Grill, Inc. Report
.
I use the phrase "fast food renaissance" because, much as I hate
McDonald's
(MCD) - Get McDonald's Corporation Report
and nearly all it represents, I learned from the brilliant book "Fast Food Nation" that the people who created the fast food industry were true American visionaries. Unfortunately, their vision eventually led us down the road of sameness, obesity and traffic jams.
Chipotle, on the other hand, gets so many things right. It is so good, it kills nearly every incentive for me to go to a mom-and-pop Mexican take-out place for lunch. Sure, I'll go to the mom-and-pop place much of the time to give them my support, but I fear it's a futile exercise. They may be able to match Chipotle for price and quality, but it'll take a lot of hard work, and it's hard to see how they can surpass it. Soon, mom-and-pop Mexican will go the way of the free jukebox, and of six-year-old kids going to the store by themselves.
--
Written by Dan Freed in New York
.
Disclosure: TheStreet's editorial policy prohibits staff editors, reporters and analysts from holding positions in any individual stocks.