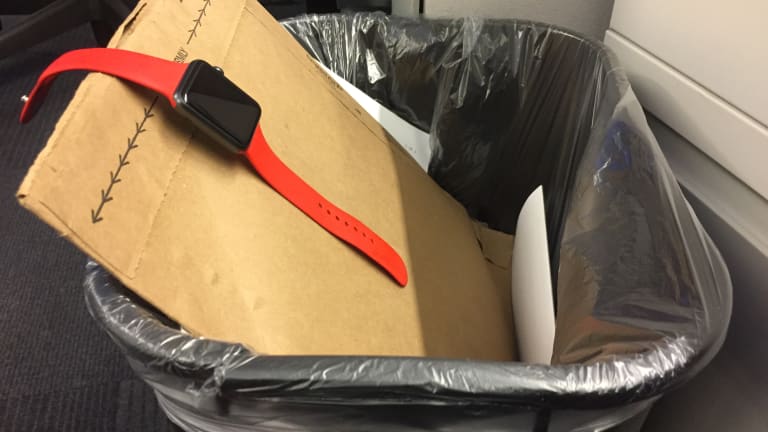 My Apple Watch Sucks, So I Want to Trash It by New Year's Eve
There has to be life in smartwatch land outside of the Apple Watch, no?
It was June 3, 2015, when I thought my life on Earth would change forever.
For on that sun-filled day, the nearly $500 Apple (AAPL) - Get Report Watch Sport I ordered several months prior during a calculated trip to a New York City Apple store finally arrived at the office. To say that the wait for the alleged holy grail of smartwatches--which was my first crack at wearing a digital timepiece--was chock full of nervous anticipation would be a gross understatement. There was the daily checking of the delivery status of my watch from an email Apple had sent the day I placed the order. It felt as if the status indicator would never change to "shipped." Remember, when the Apple Watch first launched the wait list was huge thanks in large part to hipster tech geeks and blog review sites sucking up all of the early slots. Damn hipsters, you ruin everything.
Anyway, there the Apple Watch Sport sat glistening on my desk in all her glory--a masterful smooth black rubbery band with a shiny bezel that in no way resembled any watch I have ever used in over 30 years alive. After marveling at Apple's dramatic packaging, I quickly dove into trying to learn all of the features of this foreign-made digital device. That included everything from using Starbucks' (SBUX) - Get Report new mobile payment function (scan wrist at the register) to making a phone call to mom to brag about Jetson-like technology finally existing. Those first few days of being an Apple Watch owner were full of discovery and possibilities.
"What if I can order a stretch limo from my Apple Watch in 2016," I wondered. "Very soon I will be able to park my car with this Apple Watch, so excited," I beamed to my editor who also was an early Apple Watch adopter. Unfortunately since those first five days of profound thoughts, I haven't used most any of the Apple Watch's functions. And obviously, the Apple Watch still can't park my red Dodge Challenger or hail a stretch limo.
In short, I have grown to secretly hate my Apple Watch while still begrudgingly wearing it to work each day. It's limiting in what it does even after recent software updates by Apple. Why can't I type real messages in it like a big boy? (You can type on the Samsung Gear.) It's annoying for all the alerts it wants to send me while interviewing a CEO on-camera. (Hey, it's my job.) The apps are still stupid slow to upload. Hell, I generally don't care if any apps show up on the watch to begin with, I don't use them at all.
The bands easily get dirty and don't come off as easily--because you can't wear the same watch band every day--as Apple promised. I am still not sure what cleaning solution I should apply to get the band looking as good as new. For some reason, I am still unable to pay for my $5 Starbucks iced coffee with the watch app, though my co-workers do it with ease.
The best part of the Apple Watch, believe it or not, has turned out to be the battery life. After over a year of ownership, the Apple Watch lasts about a day and a half on a single charge. That's not exactly amazing, especially compared to newer smartwatches on the market, such as the Samsung Gear, but I am cool charging each night before bed. It just has to get me through an entire day of meeting people from sun-up to sundown.
Time to cut ties with the Apple Watch?
So with the new year approaching, I have set off on a mission to find a new smartwatch. There has to be life beyond the Apple Watch. Granted, I only know the Apple Watch and its quirks, and how seamlessly it just works with my iPhone 6s. But certainly better smartwatches exist out there, no? Apple can't possibly have cracked the code on smartwatches, could they have? I don't know, but I want to find out because being shackled to the Apple Watch for another year would for lack of choicer words, suck.
Here are three watches up to bat on my pursuit of something better. I would like to thank Apple for making this exercise absurdly difficult. Since all of the smartwatches tested are Garmin Connect, Android Wear, or Samsung-based, many of the functions of the watch--such as voice calling--don't work as described due to my iPhone ownership. Can't all these tech guys get along?
Apple and Starbucks are holdings in Jim Cramer's Action Alerts PLUS Charitable Trust Portfolio. Want to be alerted before Cramer buys or sells APPL or SBUX? Learn more now.
The Garmin's screen quality needs a little work
Garmin Vivoactive HR
Price: $249.99
Pros: battery refuses to die; waterproof; seemingly indestructible construction; strong health-tracking data app; GPS equipped
Cons: sub-par screen quality; profound notification buzzer; small screen
I was particularly enthused about receiving the Garmin Vivoactive HR. The fitness smartwatch looked kind of bad-ass on Garmin's website--the screen's colors seemed extra bright and the overall device was manly, but soft enough to wear with a dress shirt to work. And it has GPS, which is perfect for bringing up a yardage-to-the-pin estimate while in the middle of a par 5 at the local golf course.
But there was ultimately a letdown factor with the Vivoactive HR that almost happened straight out of the box. In order to get the watch to last about eight days on a single charge, Garmin sacrificed on the screen's resolution. In turn, that makes the screen hard to read under most lighting conditions. Increasing the strength of the back-light doesn't help the reading experience much, either. All of this was too bad as the smartwatch excelled at what it's supposed to do.
The resting heart-rate screen was a great addition, as was a range of fitness tracking apps such as running, swimming, walking and playing golf. As for the Garmin Connect app, it's a treasure trove of data ranging from calorie counting to a body mass index reading to a live golf scorecard (thanks to the GPS). Great app layout, and it all worked rather well with a watch that is both waterproof and a stunner on battery life length.
In the end, it was too hard to get beyond the sub-par screen. For me to give up on the Apple Watch, the replacement device has to have a great screen--can't compromise on that given all of the alerts I read (and occasional emails) from it daily. The Garmin Vivoactive HR reminds me of that second car you buy to drive to the train station. It runs perfectly well, does what it's supposed to do, and you are OK with beating it up. A stronger fitness-focused watch relative to ones from Fitbit (FIT) - Get Report ? Absolutely, it's worth paying the premium to own the Vivoactive HR if in the market for a fitness-centric smartwatch. But an Apple Watch replacement? No, unfortunately.
Real-time heart-rate tracking was great--didn't have to press a button
The Casio WSD-F10 is huge
Casio WSD-F10
Price: $500
Pros: sheer size makes it an attention getter at happy hour; a man's man watch; the outdoor-friendly tools; cool watch faces
Cons: battery life evaporates quickly; watch is so big it won't fit under clothes; user interface a wee bit clunky; the watch's name; no GPS
As soon as I opened the box to the Casio WSD-F10 my heart fluttered. "Now here is the watch that will replace my Apple Watch," I said out loud to a co-worker. The Casio--which is billed as an outdoor enthusiast's must-own smartwatch--undeniably has some sex appeal.
It's by far one of the chunkiest smartwatches on the market, giving it a rugged look that goes very well with all of the edgy athleisure clothing that continues to dominate malls. Interestingly, despite its size the watch isn't heavy--only 92g with the somewhat lightweight rubber strap. Never did I once feel as though the watch's size and weight was holding me back from typing, etc.
Unfortunately, the user experience chips away at some of the WSD-F10's shining armor.
The battery flat out loves to suck up the juice. With light use of the screen, at best I got five hours of life out of the battery. Then, the watch switches into a mode where it solely displays the time and date. Under heavy use, the battery lasted roughly four hours before kicking into its sleep mode. The screen is a 1.32-inch LCD display with a resolution of 320300 pixels. It was certainly more pleasing on eye than the screen on the Garmin Vivoactive HR I tested, but it did lack crispness. I was scared to turn up the brightness on some days for fear of it draining the battery even quicker. Hey, I needed the thing to make it through the workday.
Using the Android Wear based WSD F-10 was fine, if not a shade clunky at times due to the round face. But it fielded messages, emails and calls fine. The Activity app -- which is why you are supposed to buy the watch -- is pretty neat. It provides tracking for outdoor sports such as fishing, cycling and trekking. The fishing mode offers atmospheric pressure change over the last two hours and the current atmospheric reading. So yes, you can track weather changes in real time while trying to hook a marlin.
All in all, the Casio WSD-F10 is my kind of watch. It's fashionable, and does almost everything the Apple Watch does. If you are a fan of the great outdoors, this is probably your watch even considering the $500 price. But, although I love the WSD-F10 it, too, falls short in being the one that replaces my Apple Watch. The weak battery life is a deal breaker--by now a smartwatch should be able to last one whole day on a single charge, under reasonable use.
P.S. Casio has to come up with another name for the next iteration of this watch--I kept forgetting what it was called when friends asked where they can buy one.
My old school Casio G-Shock is rugged, too
So pretty
Samsung Gear S3 Classic
Price: $299.99
Pros: looks great; phenomenally crisp screen; fast; can actually type out emails and messages; solid battery life; Samsung Pay
Cons: not fully waterproof; S Voice a little shaky
This will be the shortest review of the smartwatches I tested for this adventure. The reason why is rather simple: the Samsung Gear S3 Classic is damn good, so just buy it. Sorry Apple fanboys, but this particular smartwatch is a worthy replacement for anyone that like me is horribly sick of their limiting Apple Watch. 
The Samsung Gear S3 is gorgeous to look at, made so by the screen's crisp 360x360 pixel resolution, an always on display (AOD), and a silver-colored bezel. It feels luxurious in ways that the Apple Watch doesn't (in other words, it feels like a real watch). For those out there saying the Gear S3 is too big, get real. Not only does it fit fine under a shirt sleeve but we never felt as though our hand was being weighed down (the watch only weighs 57g, people). In terms of function, the Gear S3 excelled where the other smartwatches I tested came up short.
First, I was easily able to answer calls (on a Samsung phone) because the watch comes with a built-in speaker (like the Apple Watch). There is GPS and all of the resident monitors designed to help track health. Samsung Pay is a breeze to setup and use. The altimeter was fun to play around with in the hopes of trying to predict the weather. Although slightly clunky, the ability to type full length texts and emails was much welcome. I have never been able to nail the voice dictation on the Apple Watch, and the short pre-installed messages never seem to work right for what I need to say.
If I had to nitpick the Gear S3, the rotating bezel that is used to scroll through the watch's options often caused fingerprints on the screen. Also, the S Voice assistant was hit or miss, and the health-tracking layout could use some improvement.
Other than that, the Gear S3 is a winner through and through. Can't wait to see how Samsung tries to top this iteration in 2017.  
The Gear S3's face isn't that large, relax