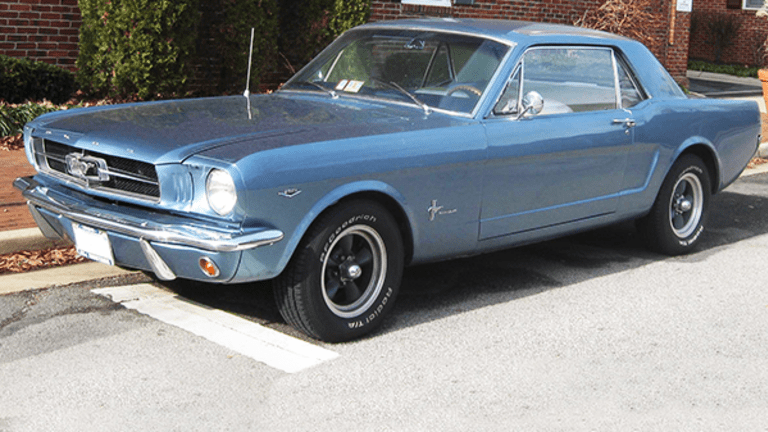 Ford Mustang Sales Are Plunging in America, but Surprisingly Accelerating Hard Overseas
Ford is shipping Mustangs to 140 countries this year.
Ford Motor Co (F) - Get Ford Motor Company Report unveiled the Mustang more than 50 years ago, and even though sales in the U.S. have lost their momentum, overseas demand has boomed, AP reported.
The Mustang became the best-selling sports car in the world last year, with more than 150,000 sold. It beat out sleeker competitors, including Bayer Motoren Werk's (BMWYY) BMW 4 Series and Porsche's (POAHY) 911 model, to win the title.
Sales in the U.S. dropped 13% in 2016 and are down 29% so far this year. But the car's sales shot up 40% in China during the first half of 2017 and haven't run out of gas.
The most recent iteration of the iconic car was built to appeal to buyers the world over. It can be customized with right-hand or left-hand driving, its air conditioning system was built for Middle Eastern sands and its front end meets European pedestrian-safety regulations.
Go Behind the Wheel of Dodge's Heart-Stopping Beast Known as the Dodge Demon
"It's democratic. A working-class person can drive this car to the plant, and a banker can drive it to the office. You can't do that with a Mercedes [Daimler AG (DDAIF) ]," University of Dayton professor John Heitmann said. A basic model with a V6 engine starts at $25,000. The Shelby GT350 with a V8 costs about double.
Mustang clubs exist across the globe from the 12,000-member Mustang Club of America to the 200-member Icelandic Mustang Club. The Mustang will hit markets for the first time this year in Brazil, Ivory Coast and Palau.
Here's a look at the Mustang through the years with insight from Car and Driver. 
The first generation Mustang was released in 1965 with 22,000 orders taken on the first day of sales.
The Mustang's design themes are solidly established by 1969 -- a blunt nose, long hood, short rear deck and scalloped sides.
The Mustang came in notchback, fastback and convertible body styles by 1972.
The 1974 model was nearly 500 pounds lighter in response to the 1973 oil crisis.
This 1986 Mustang was the last model year before a new "sexier" Mustang hit the market in '87.
The 1987 Mustang was much boxier in design and far from the original look.
Mustang lost the hatchback body for good in 1994.
With the 2005 model, Mustang production stopped at the old Dearborn factory, but stayed in Michigan at the Flat Rock factory.
The bodies of more recent designs, like this 2014 Mustang, were made to look more like the original.
The 2018 Mustang will be the first new model since 2015, when U.S. sales started slumping.
More of What's Trending on TheStreet: